---
"The Best Source On Dating Russian Women!"
E-book by Elena Petrova:
"Stop Wasting Money on Dating Russian, Ukrainian Women"
Comment from the reader:
"I hope not too many of my competitors find this book!"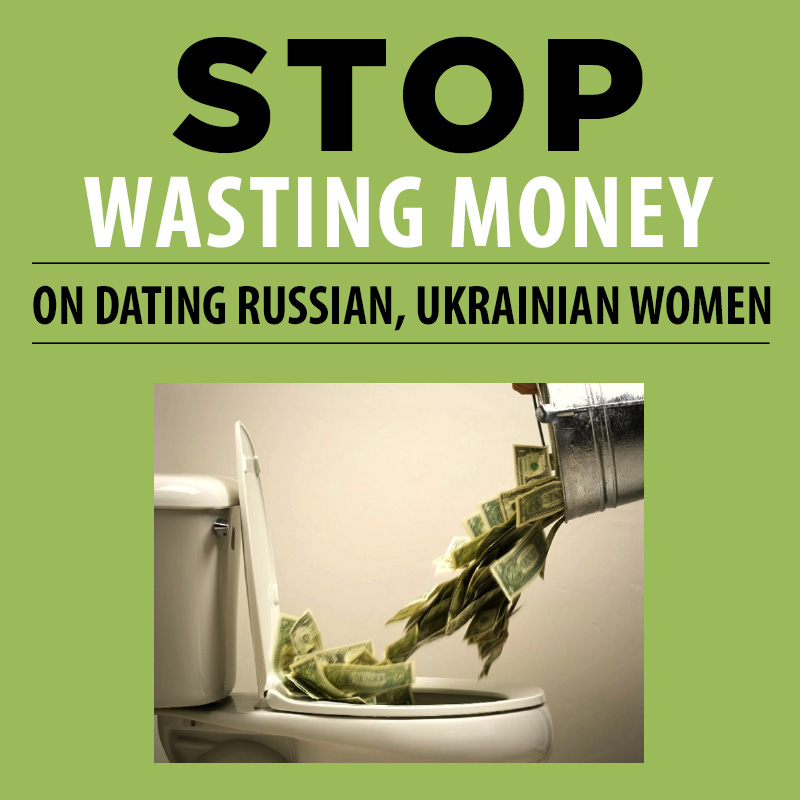 Are you dating Russian, Ukrainian women from the countries of the former USSR? Then you can't afford to miss this. This information can save you thousands of dollars and months of wasted time and effort. Elena Petrova, the former "mail order bride" from Russia, uncovers dirty tricks and traps of online relationships with Russian, Ukrainian girls, and how you can easily be scammed by unscrupulous players. Learn simple and quick ways how to shield yourself from scams and fraud in dating Eastern European women.
---

TOP STORIES:

Russian Brides a Cliche - There are some cliche ideas circulating about Russian brides and Russian women seeking marriage, is there any truth in them?

RUSSIAN BRIDES STORIES: 8 DAYS IN 7TH HEAVEN, How I ended Up In Hell - Our readers may remember Dr. Dawk Ziti, well known from his accounts of encounters with real Russian Women he meets online. Here is his newest adventure with another beautiful Russian woman that visited him in LA, CA, U.S.A.
Russian Women Dating - Russian women dating and photos of Russian women named Tatiana, special selection for our users!

Real Russian Brides - Read recent success stories from men and women who met their special one and want to share their experience with you.

Barry and Anastasia (USA-Ukraine): "I really wanted to get to know her and decided to make this a very special meeting. I made reservations for a ten day vacation over Christmas and New Years in the Bahamas. Then I asked her if I sent her plane tickets would she meet me?..." Read the whole story

Russian Brides Advice - How to bring your lady to your home country - what are the visa requirements?

How To Find An Honest And Serious Russian Woman: Advice From An American Who Did - By Allen (USA): "I have used the internet now for 8 months trying to find some women to meet in Russia. It has been success and mainly failure. I have learned much. Much about Russia. Much about Russian women. Much about internet scams. Much about laws. These are some of the things I learned and hope your readers will learn from this..."

St. Valentine's Love - By Mick (UK): "Yulia arrived at Heathrow on the 14th February (I think she'd planned it that way so as to add that romantic touch), so there I was on St. Valentines day stood at the Airport with a big bunch of Flowers and chocolates. I think we both knew as soon as she walked out of arrivals that we both felt the same for each other and early signs were looking good..."

Russian tradition? Sticking with Your Spouse Trough Thick And Thin - By Peter James: "Five years ago I met a very attractive and intelligent Russian lady through your website. We got married after a few months of correspondence and more than six months of waiting for her visa. I was married before but this marriage is so different from my previous marriage because of commitment to make it work."

Russian Brides Expert Is Invited To Contribute To Internet's First 'Instant Attraction Program' - Dating Russian women is a hot topic among hot-blooded western males! Elena Petrova from Russian Brides Cyber Guide has been invited as a contributing author to a new multimedia course for men seeking beautiful women. The new course unites Internet's top dating experts who are offering advice for men how to meet single women for love, romance, relationships and marriage.

Ukraine Women: What Is Special About Them? - How many times you've read in media that all that Russian and Ukrainian women want is to leave their country? Philip from UK shares his experience of meeting Ukrainian women, and what is special about them.

Russian Women, Ukrainian Ladies, Meeting Woman From Odessa, Ukraine - By Ian Spencer: "I thought I would share my experience with Russian or in this case Ukrainian ladies. I have now been to Odessa ten or more times. I really like it there; it is a wonderful place. My friend is now married to a lady from Odessa and has a son on the way. I have now found myself in the situation that I feel comfortable in Ukraine. I like the people, men and women, young and old."

My Trip to St. Petersburg to a Girl I Met Online - By Matt (USA): "I agree wholeheartedly with people who have written here about Russia and how safe it is, the friendliness of the people, the warmth, etc. The time we spent together was magical... Russian women are SMART, WARM, CARING, and most of all, desirous of being wanted, loved by, and cared for by a man who isn't playing games with them."
Comments:

Russian women are AWESOME! - This New Zealand company realized that, and designed their marketing campaign for a new Vodka under the cheeky "Find-a-Bride" tag, offering a trip to Moscow to find a Russian bride as the grand prize. "Russian brides had an excellent reputation for making life partners", said Gareth Hughes, the marketing manager for 42 Below Stil Vodka.

Are you desperate enough? - Today a reporter phoned me and among many others, asked this question: Is it true that it's mostly desperate people that are using Russian dating websites? Would you like to know what I answered? Then read on...

Russian Brides Scam EXPLAINED - How to protect yourself from "Russian Brides Scammers" - article by Elena Petrova. Find out how to detect a scam and be safe from scammers.

Sexy, beautiful, intelligent and educated women... Mail Order Brides! - by Elena Petrova - "There is no such a thing as "Russian mail order brides" - no more than there is Santa Claus!"..."So called "mail order brides" services do not sell women. They sell access to contact information of their members, that's it".

The Top 10 Reasons to Postpone Sex - by Susan Dunn, The EQ Coach - "Regardless of what you think (intellectually), sex has powerful consequences and implications." …Here are the top ten reasons to postpone physical intimacy.

International Dating - When Love Really Means Going The Distance! - by Angela S Davis - Unsure if international dating can lead to anything permanent? Anything might happen..."there are never any guarantees in the love and romance game. Even if you shared a sandbox with the partner you marry, there's no guarantee that the flame wont go out and one day you'll wake up and find you have nothing in common with the person who shares your life, your home, your bed."

Why Online-Dating is Better Than Dating in the Real World - By Marc De Jong. An American man, Marc de Jong, married to a Russian Wife, reveals all the details of his love life and experiences: "There are people who regard online dating as unnatural. Well, then tell me what IS natural? There was a time when bars and disco's were just as new as the Internet. There are countries where bars and disco's do not exist, even in the 21st century. And what is natural about joining a singles club and go out bowling with people who are only rating each other's looks?" Read more

Why Now Is The Perfect Moment For You To Succeed - Peter Murphy explains when is the best time to start this venture you were thinking about for ages... and make it a success!

The Path of Relationship - By Mark Susnow. How can you enhance the quality of your relationship and deepen your connection with your partner? Mark Susnow, a motivator, has shared his experience and thoughts on love life.

What Is Involved in an International Marriage, and in a Marriage to a Russian Woman - True story of a Russian woman married to an American man, personal experience in bringing this marriage about and living in it, and truth about cultural differences.
| | |
| --- | --- |
| Angels in Russia - A true-life Story of Dan and Val, who met over the Internet and fell in love in Moscow, Russia: "I subscribed to an internet dating service a couple years ago, expecting to only communicate with American women. I did that, met a few, had a girlfriend from Germany for about a year, but I also received a couple interests from Russian women (which turned out to be scams). They intrigued me enough to make me wonder if I should look outside our country, Russia in particular... " | |

The Biggest Problem Of Russian Brides - So what's wrong with Russian brides? Elena Petrova reveals what their biggest problem is...

How To Check a USA Visa - USA Visa identification: how to examine American visas if they are legitimate.

I will learn Russian for you... - A true Life story of S.Clark: "Most marriages fail because American or Foreign men wouldn't do the right thing for Russian woman..." She sacrifices her career, family and friends to be with you - what sacrifices are you prepared to make?

Family first and all else is a gift - a true-life story: "Many women from Russia stated that Family is the most important and the rest is a gift so as the adventures. I am married to a woman that places family first and she is wonderful!"

Through the eyes of Russian Brides - Suggestions from a man married to a Russian woman for four and a half years: "Look through the eyes of her. She is going to leave everything that she has ever known in her entire life for you."

She said I was a thief... I stole her heart - A true-life story from Claude:
"My 6th sense was kicking in and I knew I wanted more between us and so as she..."

Mr Good Citizen finds his Russian bride - I am married to a Russian woman: "Russian women can show tremendous warmth and personality through their eyes. Just seeing Irina's eyes in her initial photograph told me she was a special person..."

Russia and America, the quiet detente - "Marriage is a big step, and with it comes responsibility. Marrying a girl from overseas comes with additional responsibilities that fall right on the American man's shoulders. Ask me, I married a Russian woman..."

Sugar Daddy Gets His Baby - Would you like to meet a pretty Russian bride 30 years younger than yourself and marry her? Then you must read this...

Love, Dating, Marriage and... BACKGROUND CHECKS! - By Michael Berglin: "It would not surprise me if there are Russian girls who think all American men are named 'Ax Murder'. If there is anything that you have to over come, it is the growing perception of America and American men. But the solution is so very, very, simple and will cost you nothing other than 10 minutes of your time and a few dollars..."

Russian women online: Meet Real-Life Russian Brides! - You certainly have heard about mail order brides and Russian women seeking foreign men for marriage, but most likely you have not met any real-life Russian brides. Let me introduce you to a few of them - a tiny fraction of many thousands Russian women that found their love and marriage abroad...

12 Reasons Why Russian Women Are NOT Desperate To Leave Their Country - Article by Winston Wu: An American of Asian origin, Winston spent 6 months in Russia, visited nine cities, and met hundreds of people. He talked both to women that were seeking a partner abroad and the ones that did not consider it as an option. He was surprised to discover some things about Russian women - click here for a reality check!

Honest Russian Women - Are all Russian women scammers? No, surely not - but how many are honest and where to look for them?

Dating Russian Women: The Crazy Thing OR A Wonderful Opportunity? - I receive lots of requests for interviews from journalists all over the world, and the question they invariably ask is: "Why western men look for Russian women?" So let me once and forever explain you the reason why thousands western men flock to Russia in search for a love partner...

Marriage to a Foreigner - By John Gfoeller, an immigration lawyer: "Marriage with a foreigner is the adventure of a lifetime with a twist. It is challenging and expensive, in time and emotion and thoughtfulness and commitment. However, it can be very rewarding too: in joy and in love and in a broader, deeper and richer appreciation for life."

Russian Brides And Their Culture - How cultural differences affect Russian-western marriages: is it possible to survive marriage to a Russian woman?

Ukraine - statistics and world rankings: geography, population, health and education, economy, and society.
Latest Black Lists: || 684 | 683 | 682 | 681 | 680 | 679 | 678 | 677 | 676 | 675 ||

FEATURED SITES:
Russian Women Info - Learn from people who made it happen! Information and advice on how how to meet Russian women and girls from the Former Soviet Union.
Online Dating Australia - Dating and Personals for Australian singles.

Letters to Russian Brides Cyber Guide - Inconvenient questions, sharp comments, true-life tragedies, and new anti-scam techniques.
---
Check out our NEW, REAL ladies! (Click on the photo)
More photos