Hi,

I've read stories about scams end men, who were fooled by Russian women.

Of course these things happen. The problem is that because you often read about scams (much more often than all the honest women, who are just trying to find the man of their dreams) many people tend to think that most Russian women, who are on internet are scams, looking for money or a residence permit. Which is big nonsense.

I live in Holland and I have a Russian girlfriend, who came to live with me about a year ago. She didn't come to Holland because of the money or to get a residence permit. No she came because she wanted to live with me. And in the past year I've gotten acquainted with a number of other couples (Dutch men and Russian women). And all these women are honest and serious women. Nothing wrong with them. Good relationships, based on trust, respect and love.

I think part of the problem of scams is, that a number of men on internet have the feeling, that they can "buy" women. They show off with the great jobs and big salaries they have etc etc.

If you want to avoid being scammed, be natural and honest and just tell in one of your first letters, that you are not rich; that you just have a normal income and you are not able to spend a lot of money. Be yourself. If a woman is truly interested in you (knowing that you also have to make ends meet every month) then it is a first proof, that she is serious in her attempt to find a normal guy to spend her life with.

And by the way, talking about scams. There are also a lot of men, who are not really the ideal person to live with. I've met some "cases", where a Russian woman came to Holland to live with a guy, who presented himself as for instance being a doctor with a big income etc etc. But when she arrived things proved to be very difficult. Not only financially, but also in other aspects (like not being the nice guy she thought he'd be). Well I can tell you some stories, but you get the general idea. Maybe good to warn the ladies about such things. Appearances can be very deceptive.

As for me, I'm getting a bit tired of all those stories about scams. If you fall for it, it is your own mistake. Men who get scammed should know better and could have prevented it. I cannot really feel pity for them. Think before you act and keep your eyes open.

99% of the woman are honest and straight, I guess.

Best wishes, Chris

ANTI-SCAM GUIDE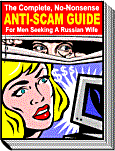 Met a Russian woman over the Internet?
Thinking about finding a Russian wife?
Russian woman wrote to you?
Don't move any further until you read The Complete, No-Nonsense ANTI-SCAM GUIDE For Men Seeking A Russian Wife. Too many men were caught up in a scam and lost great deal of money - want to be one of them? Ensure your safety and peace of mind - read the ANTI-SCAM GUIDE.
READ ALSO:
---
Comments, suggestions? We want to hear from you!
Click here to Contact us
Seek a reliable Russian Dating Agency? Why not check www.elenasmodels.com - RECOMMENDED
---
Check out our NEW, REAL ladies! (Click on the photo)
More photos