These are recent success stories of real couples, Russian women seeking marriage and men who met their beautiful brides.
---
Matty and Elya (Canada)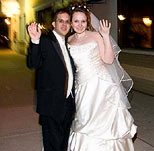 I decided to use Elenasmodels.com out of frustration in dealing with free dating sites. I subscribed in May of 2009 to look for a Russian lady to share my dreams, wishes and heart with. I was flattered to receive letters from ladies even before sending any out. It was an indication that many users of the website were serious in their search for a companion (something that seemed to be lacking from other dating sites).
One lady in particular was interesting to me. She was a law student who worked in aviation. When I got my first letter from Elya I felt an instant connection. We happened to be on-line at the same time and wrote letters to each other filled with curiosity and genuine intentions. It didn't take long for us to exchange e-mail addresses and Skype names so that photos could be shared and voices heard. At first Elya was shy about web chatting, but I helped her overcome her shyness by simply offering to turn my camera on first. A few days later she surprised me with a beautiful smile to go along with her sweet voice. We spent countless hours communicating.
I guess I can say that I'm a very lucky guy in that Elya was the one who travelled all the way to meet me. We shared an amazing two weeks together in New York, Washington, and Miami followed by a cruise in the Caribbean Sea. Day by day our love only grew. Within a couple of months after that first meeting I got on a plane to visit Elya in Moscow. Her family welcomed me with open arms and on her birthday I took her out to an elegant restaurant called Sky Lounge and proposed to her. She responded with an emphatic "YES" and her smile filled my heart with a joy which is indescribable.
Instead of wishing to be together on Christmas Elya encouraged a special meeting during this holiday. She flew from Russia so that we could spend some time together in New York City. Within weeks she was also able to visit me in my home country of Canada. She shared her passion for traveling with me and in getting to know each other we confirmed what we already knew early from the start: that we shared the same dreams and goals in life.
In between meetings we desperately spent hours writing e-mails, calling and doing web chats to try and be closer together. Over the months we made prodigious efforts to visit each other as often as possible and we moved from being simple acquaintances, to best friends and lovers.
On the 17th of April of 2010 we got married in Niagara Falls and after the honeymoon I was fortunate to be able to spend a month with Elya and her family.
My goals became real the moment I signed up to Elena's models. Both Elya and I feel very fortunate to have joined your site. Going online to search for my one and only wasn't an easy challenge, but I can say it was the best decision of my life. What helped was perseverance and self-reflection to discover the type of person that I was and then to realize the type of person that I not only needed in my life, but wanted to be along my side. I think taking the time to know that person as well as arranging to meet within a few months will help the relationship to develop normally. If you're serious about your intentions and are ready to put in the time then you WILL find your soul mate regardless of how you initially meet.
Thanx Elena for providing a unique opportunity and thank you Elya for making my life complete. I am full of happiness.
Matty and Elya (USA/Canada - Russia)
---
Jim and Natalya (USA)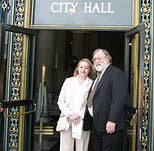 Natalia and I began our correspondence in January, 2009. We hit it off quite soon. At the end of March, we decided to meet and chose Istanbul, Turkey as our destination because neither of us needed a visa to enter the country. When we met, we both were overjoyed to see each other in person. Our stay in the "Sublime Porte" was the stuff of dreams, of paradise. I suppose we are now engaged because I asked Natalia for her hand in marriage and she consented. Presently, we are waiting for the K-1 Visa, that is expected to arrive in December and our wedding day was 10 January 2010.

I followed Elena's advice from the beginning:
1. Choose a compatible person from their profile. 2. Send expression of interest. 3. Communicate via: i. e-mail, ii. snail mail, iii. Skype (for free) iv. send many photographs & ask for many photographs.
And, make an effort to fall in love. Choose love and companionship as your goal. And, if one is of a cautious nature, check your intended's name and address for "scam" possibilities.

I am very, very pleased with "Elena's Models" website. I wish to thank you for enabling Natalia and me to find each other in this big world of ours. Without the computer, the WWW and your website, we would never have known about the other person in a thousand years. Your efforts have made both Natalia and me extremely happy. We salute you! And we will toast you at our wedding!
Jim and Natalya (USA)
---
Barry and Anastasia (U.S.A. - Ukraine)

When I started in October 2008, I sent out many letters to eligible ladies that I was attracted too. Anastasia responded almost immediately and we began communicating on a regular basis.
I was impressed by her inner and outer beauty so I asked her if she would like to meet me.
She said, yes!
But where? At first I though I would travel to Moscow and we could meet there. She was happy about that.
However, I really wanted to get to know her and decided to make this a very special meeting. I made reservations for a ten day vacation over Christmas and New Years in the Bahamas. Then I asked her if I sent her plane tickets would she meet me? She said, yes!
This was the most wonderful ten days in my life.
We met again in Kiev in February, again in Germany in March and we will meet again on May 12, 2009 in Stuttgart, Germany.
We applied for a Fiancee visa in January and we should have this completed by June.
Elena's Models is the best Eastern European Dating site in the world. I highly recommend this site for a man who is serious about meeting a quality lady.

Barry and Anastasia (U.S.A. - Ukraine)
---
Mark and Tatiana (United States of America)

Dear Elena,
We were introduced to each other from your site in June of 2007.
After sending each other many emails, we decided that we should meet each other in person.
I went to Russia in September of 2007 to be with Tatiana and her son to make sure that we are compatible with each other.
The 3 weeks that I was there, the time went by too fast and I asked Tatiana to be my wife and move to America with me.
She agreed to marry me and I am happy to announce that in January of 2009 we married.
We are both very thankful to you for having your Elena's site as it has brought us together from two different parts of the world.
Thank you so much!
Mark and Tatiana (USA)
---
You too can meet someone special.
Click here to join FREE!