Russian Brides Cyber Guide:
Russian-English / English-Russian
Electronic dictionaries

Irreplaceable when visiting Russia!

1,000,000 words bidirectional dictionary
Russian and English talking. Human native speaker voice!
Full-text translation
Voice travel phrasebook (hotel, restaurant, shopping, customs, etc)
14,000 phrases speech-to-speech translation
Russian and English language learning system
Car U-learn hands free system
GPS navigation with maps
eBook reader
mp3 player
Metric and currency converters, and more!
Punch in a word in English and it will pronounce it in Russian! Forget communicational problems - you can talk to any Russian-speaking person and they will understand you! More importantly, you will understand them!
Randy, Australia: "This was the single most important investment that I made for my trip to my Russian bride-to-be; it determined if our relationship would either blossom or fail."
Jeffrey, UK: "...When you travel to Russia, you need a translator! Your trip will be MUCH easier if you have a 'talking translator' - an electronic device that has in its memory about 400,000 words, travel phrases, grammar book, Russian speech translation and accent correction. Make your trip easier - you have no idea how much help you can get from a tiny handheld device. I guarantee you'll be as amazed as I was!"
John, USA: "Somebody in a Russian Women forum told me about this electronic translator. I went to the website, and the price seemed reasonable. I thought, what the hell, at least it would save me a few hundred bucks that I was going to spend on a personal interpreter during my visit. Thank God I ordered this electronic translator!!!
On my arrival to Moscow they would not allow me through the border, and took me to a room full of armed people. I was terrified. I could not figure out what was going on. They did not speak any English. I did not speak any Russian. Luckily I had the electronic dictionary with me. With its help I could ask questions and get answers, and Russians could understand me.
Apparently I arrived a few hours before the date when my visa would be valid; I arrived 10 P.M. 5 April and my visa was valid from 6 April. So I would have to wait for 2 hours in the room until I would be officially entitled to enter the Russian Federation. The problem was, my connecting flight to Novosibirsk was 12:30 A.M. and I would be too late to catch it.
I managed to talk the Russians into letting me go and one of them even helped me to find a taxi that took me to the local airport. I fear to think what would have happen if I did not have the dictionary with me. My girlfriend was supposed to meet me in Novosibirsk, and what would she think if I did not arrive???
We had a wonderful week together, and now our fiancee visa is pending. The electronic dictionary was of great help in our communication. We could communicate directly, without having somebody else with us, it was the most intimate and sincere experience.
I would definitely recommend that every man has an electronic translator when he visits Russia or the former Soviet Union. They all speak Russian from the former Soviet Union. You will feel so much safer when you know you can communicate with anybody, any policeman on the street, any guard from customs and any clerk. And you are going to have so much fun with your girlfriend using the translator and finding out about the meanings of different words. You will even pick up some Russian phrases and start speaking Russian yourself! It IS worth the money."
Popular English<->Russian pocket translators:
English <-> Russian electronic text translator, talking dictionary and Ultimate Travel Tool ECTACO iTRAVL NTL-2R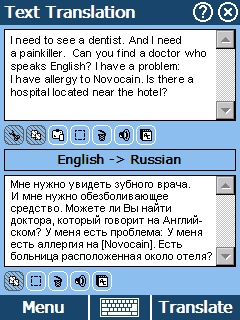 1,000,000 entry English <-> Russian bidirectional talking dictionary
Reliable and accurate 2-way Full-text Machine Translation (of any phrase or text) with voice output!
Travel Voice PhraseBook translates and speaks 14,000 phrases using native-speaker voice narration
The worlds most sophisticated Speech Recognition that understands exactly what you say and provides instant translation of words and phrases
iHELP pronounces emergency or frequently used phrases instantly
Indispensable travel resources that include Fodor Travel Guide, CIA World Factbook and Travel AudioBooks
Amazing English and Russian Language Teacher system and language learning games to help you learn foreign language in the time it takes to fly to your destination.
70,000 WordNet English explanatory dictionary
Hands free, voice navigation and hi-res touch screen for easy access to information
English and Russian interface
Mp3 player, games, calculator, metric converter, and word time clock utilities
By simply speaking into the iTRAVL, you can have the travel phrases (14,000) instantly translated and spoken aloud. It includes iHELP which lets you immediately access a list of emergency or most frequently used phrases instantly. You can also use the built-in speech enabled Language Teacher and language-learning games to improve your speech and accent.
Detailed maps with destination advice and addresses will help you find your way around in no time. The inclusion of the world-renowned Fodor Travel Guide lets you benefit from expert advice on hotels, restaurants, local attractions and transportation. Equipped with the CIA World Factbook, detailed information for 180 countries around the world: Maps, Flags, Country Profiles, People, Geography, History, Economy, Essential Statistics, International Organizations.
---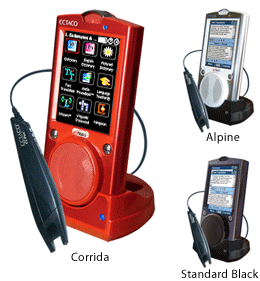 ECTACO Partner ER900 Grand - English <-> Russian Talking Electronic Dictionary, Audio PhraseBook, Cpen Scanner and GPS navigaton
The English <-> Russian electronic talking dictionary ECTACO Partner ER900 contains the largest ever vocabulary base: over 1,200,000 words in general and specialized dictionaries, Business, Financial, Law, Medical, Oil, Telecommunication and Computers.
Full-text translation from English to Russian and vice versa!
Advanced English and Russian voice feature for words and any text is powered by TTS (Text-to-Speech) technology - the most sophisticated and accurate available on today's competitive market.
English- Russian audio phrasebook with English and Russian speech recognition enabled (14,000 phrases) with live native human speech, featuring unlimited voice function will help you in a variety of standard everyday situations and activities: Shopping, Traveling, Everyday conversation, etc. Advanced iHELP utility gives you instant access to frequently used and emergency phrases which can be spoken by the device on a simple voice-activated command.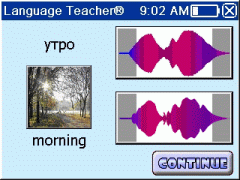 Language Teacher program acts as your own personal language tutor to help you learn more effectively and improve your skills. Flashcards: classical game helping you memorize the words and improve spelling while you play: Flash Cards, Pockets, Spell It, Translation Test. WordNet Princeton English dictionary - 70,000 words with explanations: this dictionary will get the meaning of every single English word you may request.
Need a fast translation you can't find anywhere else? With the included Ectaco/C-pen Handheld Scanner you can now grab entire texts from wherever you find them – in a book or newspaper, on a prescription, even from a poster on the subway wall – scan it, instantly upload it directly into the device and get a translation into your chosen language immediately! Using the latest Full Text Translation modules you will now be able to translate even longer texts easily and accurately!
"Add new word" function allows to create your own vocabulary bases and add them to the existing ones. Slang lock. Advanced word recognition and MorphoFinder. Phonetic transcription, essential tool for those learning to speak and write English properly. Vector Ultima spell-checker. Bilingual interface, superior organizing system, MP3 media player, currency and metric conversions, world time, daily alarm, calculator. High-resolution color touch screen. AC/DC adapter and rechargeable battery are included. 1 year warranty.
CLICK HERE TO SEE ALL ECTACO ENGLISH - RUSSIAN - ENGLISH ELECTRONIC DICTIONARIES MODELS
---
Lingvosoft English<->Russian downloadable LingvoSoft Translation Software
Download free trial versions online now:

English<->Russian LingvoSoft Translation Software for Windows
English<->Russian LingvoSoft Translation Software for Pocket PC
English<->Russian LingvoSoft Translation Software for Palm OS
English<->Russian LingvoSoft Translation Software for Mobile phones
---
LingvoSoft Suite 2010 English <-> Russian for Windows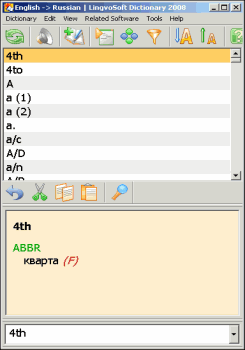 Getting the most out of a foreign language has never been more accurate or reliable. Featuring an advanced talking Dictionary, talking travel PhraseBook with extended human voice capabilities, and five enjoyable and effective FlashCards learning games, it is a fully integrated system that includes all the latest innovations from the team of LingvoSoft specialists.
With state-of-the-art voice output capabilities that combine superior English and Russian native-speaker voice narration and TTS (text-to-speech) functionality with the world's most advanced speech recognition modules accessed via an intuitive and completely customizable interface, it delivers the accuracy you depend on to provide the knowledge you need to feel completely confident in all your language use.
Incorporating extensively updated vocabularies, unique User Dictionaries, comprehensive language and grammar resources LingvoSoft Suite features unsurpassed integration across the entire suite thanks to a new Application Manager. Offering full compatibility with MS Word, Internet Explorer and Excel, it makes learning and using a foreign language more successful than ever before. And with the fastest search functions, intuitive cut, copy and paste between components and a choice of display languages, this intelligent combination of indispensable applications offers access to one of the most powerful collections of utilities ever designed to deliver consistent results you can always rely on.
Dictionary 2010 Features:
Extensively updated vocabulary
Text To Speech (TTS) functionality
Compatible with Microsoft Office Internet Explorer, Outlook, Word
Advanced Spell-Check function
Sophisticated synonyms search
Translations complete with part of speech, gender, comment, examples and English transcriptions
Part of Speech Filter
PhraseBook 2010 Features:
Authentic native-speaker voice narration of all included phrases
14,000 indispensable phrases divided into 15 easily navigated topic areas
Adjustable speech recognition
Special Useful Words section that can be converted into a FlashCards Language Learning database file
FlashCards 2010 Features:
Five enjoyable learning games: Review It!, Pair It!, Guess It!, Recall It! and Type It!
User options include word count per page, random or sorted word order
Dictionary and word statistic displays
Ability to remove words from previously learned words from study or mark the word as already learned
Possibility to choose the default dictionary so that entries from LingvoSoft Dictionary and LingvoSoft PhraseBook can be added.
FlashCards Builder:
A free resource let you transform your own text files into personalized FlashCards databases you can study and learn.
This remarkable application includes the following language tools:
LingvoSoft Talking Dictionary 2010 English <-> Russian for Windows (Retail price: $49.95)
LingvoSoft FlashCards Builder 2010
LingvoSoft Learning Voice PhraseBook 2010 English <-> Russian for Windows (Retail price: $49.95)
LingvoSoft FlashCards 2010 English <-> Russian for Windows (Retail price: $49.95)

CLICK HERE TO SEE ALL ECTACO ENGLISH - RUSSIAN - ENGLISH TRANSLATION SOFTWARE
Enjoy peace of mind and ensure the future of your relationship!
Buy a Russian-English dictionary with gifts and free shipping
---
Russian Brides Cyber Guide's navigation bar:
Russian women secrets: Myths and reality | FAQ | Russian names | Russian women glossary | Russian wives
About Russia: Russia | Russian culture | Visiting Russia | Russian visas | Travel Tips
Black List: Black List Archive | Dating scams | The shocking truth about Russian brides | ANTI-SCAM GUIDE
E-books and articles: Books | Articles | Dating Russian women | Fiancee visas | FREE articles
Russian Brides: Russian models | Russian Brides Advice | Real Russian Brides
Admin: About us | Contact us | Customer support | Affiliate program | Links | Site map
Copyright © Russian Brides Cyber Guide, 1999-2016. All rights reserved.
No portion of this site may be reproduced without written permission from the author. Feel free to link to.
The use of this site implies your agreement with: Privacy Policy and Terms of Use