By Peter Breslin

"The meeting of two personalities is like the contact of two chemical substances; if there is any reaction, both are transformed." - C.G. Jung
Rings have been exchanged as a symbol of the bond of marriage for so long, and in so many different cultures, that the origin of the practice is obscure. Certainly, the circle of a ring represents undying love and the continually renewed vows of the married couple. Circles have long been archetypes for not only timelessness, but also wholeness and homecoming. The circle also speaks to the constant round of the heavens, as well as the eternal return of the seasons, marked by cyclical ritual and celebration.
In addition, the circle in rock art, sacred stone arrays, and astrology represents both the Sun and the Moon, themselves astrological and alchemical symbols for the masculine and feminine aspects of the cosmos. This correspondence with the Sun and Moon is emphasized by the frequent practice of choosing gold for one betrothed and silver for the other, as gold and silver are the metals long associated with the Sun and Moon respectively.
Rings in general have a deeply rooted magical significance. Enchanted rings figure in many ancient folk tales. Incantations and spells for the protection of the wearer of rings are common motifs. Today, in traditional religious ceremonies, Christian and otherwise, the wedding rings are blessed by a minister or priest, thus continuing the symbolic practice of imbuing rings with protective powers.
The widespread tradition of embellishing the plain gold or silver wedding band with various designs and patterns has been known since at least 700 AD, in both Pan-Hellenic and Celtic cultures. The quite ancient symbol of the "ouroboros", the serpent which consumes its own tail, was a theme used for wedding rings made of iron in Rome. The ouroboros itself is a symbol of the oneness of creation and destruction in renewal, and the life principle which timelessly feeds on its own inspiration. It also represents the hope for a lifelong marriage union that's continually renewed.
Celtic wedding rings are often gorgeously decorated with geometrically knot work patterns that have a long history and central place in Celtic art. These patterns are strongly vegetative, suggesting tendrils and vines. In fact, in much of Celtic art, including the famous illuminated Bible, The Book of Kells, these Celtic Knots emerge from or transform into vegetative foliage. The beautiful symmetry of these woven patterns is often not square, rigid, or overly formal, but organic, flowing, and a stylized reflection of the curves and spirals found in nature. Indeed, the Celtic Knots that embellish wedding rings herald the ideas of spring, fertility, and the eternal reawakening of the life force - all of which bode well for a fruitful life partnership.
Wedding rings have most commonly been worn on the third finger of the left hand. Speculation has it that this is because the Romans believed that a vein ran directly from this finger to the heart. An alternate suggestion for this tradition is that each finger on the hand is associated with a planet in the ancient systems of astrology, and the ring finger of the left hand was associated with the Sun. In this way, the wearing of a wedding ring on that finger signifies the public proclamation of the union in the daylight, in other words, the conscious and clearly visible world of human community. This correspondence is perhaps even more strongly emphasized by the general tendency to craft wedding rings out of gold, which is symbolically the metal of the Sun throughout folk history and across cultures.
Wedding rings capture the full range of the ceremonial, symbolic, and communal aspects of marriage, and preserve these many levels of significance as a durable and constant reminder. Ancient yet contemporary, steeped in lore and mystery yet almost universally exchanged, wedding rings combine the art of the jeweller, the reverence of the betrothed, and the beauty of love and partnership in a single, resonant symbol.
---
ABOUT THE AUTHOR:
Peter Breslin is a musician, astrologer, Tarot reader, teacher and freelance writer for Artisanweddingrings.com and Celticjewelry.com living in Santa Fe, New Mexico. He has a teacher for over twenty years in Pennsylvania, New York, New Mexico, and California. He is currently at work on a novel. http://www.artisanweddingrings.com. Please send email inquiries to: marek@celticjewelry.com
---
Do you have an article we could publish? We want to hear from you!
Click here to Submit your article
---
READ ALSO:
TOP STORY: THE GOLDEN RULE AND OTHER BALDERDASH - A Compendium of Comportment for Courting an Angel - a VERY funny, non-conventional, serendipitous guide to meeting, dating and courting Russian women - this will have you laughing out loud and provide you with some invaluable advice you should never follow. By famous Dawk Ziti, PhD:

"Do your ex-girlfriend and her cackling pals resemble the witches on Walpurgis Night? Are you tired of having to kiss someone's plump rump all day only to find, to your chagrin, that her bedroom door has a sturdy deadbolt and she sleeps like a lamb? Throw away your handcuffs and listen to one who knows..."
Marriage Proposals -- Why Doing It Right Will Make All the Difference - By Susan Daniel and Debbie Overstreet. Proposing marriage to your Russian Woman is a very big step. You get the ring, but then you don't know when, where, or how to actually pop the question and to be memorable at the same time. Find out how you can do it the perfect way!
5 Tips to Make the Right Decisions in the Midst of Chaos - By Beth A. Tabak. The quality of decision making skills shrunk drastically in the midst of chaos. We make hundreds of decisions daily. They make or break us. Are we making good ones? Learn how
Money Matters: Strengthen Your Marriage by Putting Finances in Order - By Cynthia Cooper, Ph.D. Did you know that 43% of all married couples argue over money issues, making it the major reason couples fight? If you and your spouse handle money differently, now is the time to talk, establish expectations, and draw up a financial plan!
Why Anger is Essential to Healthy Relationships - By Kevin B. Burk. Does anger always mean bad and violent? If there is a way to channel your anger for good, would you do it. Must learn to revive your relationship or marriage.
---
JUST RELEASED! New E-book by Elena Petrova:
"How To Find And Marry A Girl Like Me"
Comment from the reader:
"This may well turn out to be the best purchase I have made... I hope not too many of my competitors find this book!"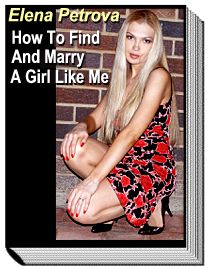 Discover how to find, court and finally marry a beautiful Russian woman... from a beautiful Russian woman!
Find out once and forever what Russian women are really looking for, why they are looking for it and how you can give them exactly what they want!
With "How To Find And Marry A Girl Like Me" you'll learn knock-out techniques that will instantly boost your success rate in dating Russian women - online and in real life. You will have more beautiful girls that want to be with you than you can handle!
And not just ordinary girls! They will be beautiful, intelligent, but most of all - honest and sincere! You will be the one to take your pick!
STOP wasting your time and money in search for a Russian wife... Get it done - painlessly, easily, and certainly! Moreover, have lots of fun along the way!
Yes, you too can marry a girl like the one on the picture... Click here!
---
RECOMMENDED:
New Ebook You Cannot Afford To Miss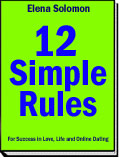 Dating can be complicated... it doesn't have to be! You can jump start your love life - or you can keep wandering in the dark; the choice is yours!
When it comes to dating, most men make the same silly mistakes with women - over and over, with disastrous results.
Do you want to do BETTER than 99% of other guys? Click here
---