Every couple of days I used to receive a question about reliable services I could recommend.

Of course the best thing I could recommend is my service, here I know what's going on and how. It does work, very effective and fast, and I believe I provide good value for money (at least my clients think so :-). It provides lots of different options, and you can choose whatever suits you the best - contacting women first, or being contacted by women who are interested in you, for more information on which option will fit you the best please click here.

Still, you probably cannot find what you are looking for in my agency, and wish to know where else you can look for. Well, here it is - the list of reliable dating agencies introducing Russian women for marriage.

There are hundreds of marriage and dating agencies on the Net. No one is able to be aware of all of them. So there just a few names on this list - but the ones that deliver.

PLEASE NOTE: I have nothing to do with those agencies: I do not work through them; they do not work for me. They are businesses on their own. (Even though I personally know the owners - but it is just like in any industry, people who successfully work in the market for a long time tend to know each other!)

A word of wisdom. When you try to save couple of bucks using free services, you may plug yourself into huge material and emotional investments done for nothing. Choose well established services - after all, you are looking for no less than a rewarding family life and life time happiness...
---
PLEASE NOTE: I express here MY PERSONAL OPINION only.
Method of work: selling addresses, membership.
On the market since 1997. The team includes 2 international families. Around 30 new profiles are added to database weekly. Despite of the ugly pink color of the pages and hardly readable text, the women are really pretty.
UPS:
Offer copies of women's original letters – if you want to make sure they are real.
When order personal listing, ladies contact you directly.
Extended search facilities, you can choose searching only for beautiful women, or even very beautiful if you wish. You also can enter your own data and look through the profiles of ladies whose requirements you meet. (Just don't miss the little link named search on the top otherwise you will have to browse pages one by one.)
DOWNS:
The design of the site definitely leaves room for improvement. Sometimes it's difficult to find info that you need; for example, price for the tours is given only after you press the button Order Form.
Prices:
Addresses: $7-15 each
Copies of ladies' original letters - $5 each
Basic personal listing - $120
Premium personal listing - $240
Information how to bring your lady to USA - $40
Tours: $3250-5295
Membership plans:
Standard - $100 (50 addresses, 90 days, no copies of letters included)
Super - $150 (100 addresses, 90 days, 20 copies of ladies letters)
Deluxe - $200 (200 addresses, 90 days, 40 copies of ladies letters, basic personal listing in catalogue)
Vip - $400 (500 addresses, 365 days, unlimited copies of ladies letters, premium personal listing in catalogue + extras: writing tips, extra photos of all ladies, most popular ladies, number of times girl's addresses ordered)
Method of work: membership
On the market since 1996. Offices in the USA, Russia, Ukraine, Kazakhstan. Introducing about 2,000 eligible ladies. Contact information of the ladies is easily available and on most plans it is free of charge. Range of services includes personal screening of the ladies, personal matchmaking, other personalized services; gift delivery, email forwarding, translation, interpreter assisted video conferencing. All trip arrangements: business and tourist visas, train and plane tickets, transfers, hotels and apartments, excursions, resorts, medical insurance.

UPS:
Long FREE TRIAL period.
Tough Anti-Scam policy.
Unlimited correspondence including both ways translation (on some membership plans).
Flexible plans and reasonable prices (use their helpful wizard to select the best plan for you).
'One-stop' service: you don't need to go anywhere else.
You can count on the personal assistance of the owner - Maksim - should you have any question or need help.
DOWNS:
I cannot think about real shortcomings, probably only the fact that additional photos of women are displayed only for the members.
Prices:
Please see the website for current prices
Method of work: membership

On the market since 1998. Run by a Russian couple living abroad. They have an office in Saint-Petersburg and representatives in USA, France and UK. This one seem to be a relatively small agency but there is a reason for that: they do not keep in the database profiles of women who have not updated their ads for more than 3 months. The database never exceeds 250-300 members but they make their point to make sure all of them are available by keeping permanent contact will all the women and removing outdated ads. 30-50 new profiles are added every month (and almost the same quantity is removed).
UPS:
They use long ladies letters instead of questionnaires (which can be also one of the "downs" if you are in a hurry and just want to "scan" profiles quickly).
Multilingual support (English, French, Spanish).
All women have access to the Internet, and most have their own personal email addresses.
They supply the date of posting for the profiles.
Really serious, committed and honest ladies.
Access to the whole database for the fixed price: you do not have to pay every time for new addresses.
VERY reasonable membership fee.
DOWNS:
Services and prices:
1 year membership (access to addresses of all existing and future female members) for one-time, non-recurring fee of only $49.95
Translation (English, French, Spanish): $10 per page.
E-mail forwarding: $3 per letter
---
Short tips
Do not forget to send a letter via regular mail when you send first email message, if you have lady's postal address. You may need the lady having a hard copy of your letters for visa purposes.
Do not forget to ask a lady to give you her real postal address and phone number in the first letter, if you only can contact her via email.
ALWAYS tell the lady you are REALLY interested in serious relationship with her and don't write to her to just play around.
If she does not answer, don't hesitate to send a letter again with a note that you are worrying why she does not respond. Say again that you are interested in her and ask her to respond anyway, just to let you know. Provide a prepaid envelope when send letters by mail.
Think ahead that you will need to visit your lady, and don't forget that Russia is the largest country in the world. Choose ladies, who live not far from each other, if you plan to see a few.
As a rule, avoid ladies who start openly talking about their feelings and fall in love with you within a few letters: Russian ladies are very shy in expressing their feelings in words. She might say that she likes you and happy to hear from you, but won't profess undying love after 2 weeks of correspondence.
When found your One and Only, don't hesitate to let her know about that as soon as possible, and make sure she feels the same.
---
Comments, suggestions? We want to hear from you!
Click here to Contact us
---
READ ALSO:
The latest E-book of Elena Petrova:
"How To Find And Marry A Girl Like Me"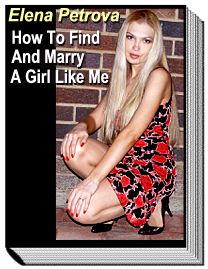 This is not just another book about dating Russian women!
This is the book that will change the way you look at Internet dating. It will boost your success rate with Russian women in an instant. You will have more girls that want to be with you than you can handle!
And not just ordinary girls! They will be beautiful, intelligent, but most of all - HONEST AND SINCERE! You will be the one to take your pick!
Want to marry a girl like the one on the picture? Click here

The Universal Crib On Finding A Russian Wife - the most compressed, step-by-step guidance on finding, courting and marrying a Russian woman.
Why Russian Women? - If you decided to find a Russian wife, you would be inundated with questions of the type "Why Russian Women?" from everybody you cared to share your idea with. Surprisingly, every Russian woman you are writing to will ask the same question: "Why do you want to find a wife in Russia?" After a while, you might start questioning your own sanity in doing the thing which everybody, including your dates in this Internet rendezvous, consider strange enough to request explanations. Here you will find some ready-to-use answers for your family, friends and Russian women you are writing to.
New e-book by Marina Smiley (the author of famous "The shocking truth about Russian brides"):

"Sex and Love With Russian Women"

Discover where so many guys fall short when visit their girlfriends in Russia;
Learn how you can dramatically improve your success with Russian women and win when others fail.
Most intimate questions answered by a Russian woman - Medical Doctor.