By Robert (USA)
Comment to the article: My Trip to St. Petersburg to a Girl I Met Online (by Matt, USA)
I liked reading about this man's trip. I also have been to Saint Petersburg twice... I met a woman who I can tell you for once in my life it was love at first sight... Not just because of her good looks but her smiles and looks at me.. She was so happy to meet me...Contrary to the Myths that the women just want to leave Russia and will marry anyone to do so, she would marry me only if I moved to Saint Petersburg... I would love to live there and I would have done just that but could not as I'm not of retirement age..

I now am engaged to Ekaterina from Chelyabinsk. Her interview date is September 22 of this year.. My Visa was filed on February 23 of this year.. A 7 month waiting period is a long time to be apart but our time to be together is getting closer everyday.

I met an American man from California who was in Kharkov in November of 2004. He had been in Russia and Ukraine for over a month. Had slept with 9 women... really made me sick...using a woman's dream for his pleasure

Sincerely,
Robert (Idaho, USA)
---
Do you have an article we could publish? We want to hear from you!
Click here to Submit your article
---
READ ALSO:

Why Russian Women? - If you decided to find yourself a Russian wife, you would be inundated with questions of the type "Why Russian Women?" from everybody you cared to share your idea with. Surprisingly, every Russian woman you are writing to will ask the same question: "Why do you want to find a wife in Russia?" After a while, you might start questioning your own sanity in doing the thing which everybody, including your dates in this Internet rendezvous, consider strange enough to request explanations. Here you will find some ready-to-use answers for your family, friends and Russian women you are writing to.

10 reasons why Russian women are NOT desperate to leave their country - an unbiased opinion of the American man who has spent in Russia 6 months, traveled to 9 cities and talked to hundreds of Russian people.

Immigration scams: ARE YOU AT RISK?
Any man who even remotely considers the idea of marrying a Russian woman will face the question of immigration scams: that a woman will marry him with the only purpose of gaining residence to his country, and will divorce him soon after the marriage. Is it true that there are many Russian women that will marry a man only for the purpose of immigration? How common are immigration scams in marriages with Russian women?

Myths and Reality - There is too much prejudice towards Russian women seeking men, both positive and negative. I call this prejudice "myths", and consider them one by one.

Russian women secrets - Do's and don'ts in your relationship with a Russian lady.

The Universal Crib On Finding A Russian Wife - 101 tips for men seeking a young, beautiful Russian bride: the most compressed, step-by-step guidance on finding, courting and marrying a Russian woman.
---
RECOMMENDED: New E-book by Elena Petrova:
"How To Find And Marry A Girl Like Me"
Comment from the reader:
"This may well turn out to be the best purchase I have made... I hope not too many of my competitors find this book!"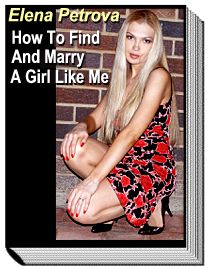 Discover how to find, court and finally marry a beautiful Russian woman... from a beautiful Russian woman!
Find out once and forever what Russian women are really looking for, why they are looking for it and how you can give them exactly what they want!
With "How To Find And Marry A Girl Like Me" you'll learn knock-out techniques that will instantly boost your success rate in dating Russian women - online and in real life. You will have more beautiful girls that want to be with you than you can handle!
And not just ordinary girls! They will be beautiful, intelligent, but most of all - honest and sincere! You will be the one to take your pick!
STOP wasting your time and money in search for a Russian wife... Get it done - painlessly, easily, and certainly! Moreover, have lots of fun along the way!
Yes, you too can marry a girl like the one on the picture... Click here!
---
---