Contest: "Personal Experiences"
---

MY OTHER HALF, MY SOULMATE
by Warren D Wheatle

My name is Warren and I am a 37yr old Australian male who has had 3 failed relationships in a row. It makes you think when this is happening, if you are doing something wrong. Perhaps, but, I was the faithful one, not my partners, who saw unfaithfulness and betrayal of the heart more important than my Love and devotion for them. It is sad that our women here do not value a relationship as generations of the past did. So, 3 failed relationships was like a game of Baseball, strike 3, You're OUT...
About 11 years ago I remember a conversation I had with my Father one day on the verandah. Saying to him that I really think the person I am to be with is not even here in Australia, but somewhere else in this big world. And the chances of us ever meeting were millions to one. This idea was left at that 11 years ago, but, never lost in my mind since. It was one day in March of 2002, I woke and felt an urge to finally test this idea out. Armed with a pen and paper, I began to write down the profile of my "Dream Lady" in great detail. I than wrote the profiles of the women from the 3 failed relationships one after the other and compared them all. I was not surprised to find all 3 were similar in some aspects, but, compared to the Dream profile I created, only one came close to it. I was shocked, but, surprised all the same. Perhaps this profile is all it is, just a Dream and cannot be real.
Now the task was to find this person, but where? I searched the internet for many weeks and many sleepless nights, researching all I can to the journey I was to undertake. I was amazed at all the sites and even the costs to contact such ladies of Russia, and it's former Countries. I kept researching more and more, until I came across the "Russian Brides Cyber Guide". I spent hours reading all the information to this site and every link, and was now convinced that this search is possible. This site is the most valued tool and information any man can arm himself with, to ensure his search is a success. Without this, I can say that my search would have been so much more difficult to take than it has been. Now, if any man ever thinks that this journey is an easy one. He is only kidding himself. I was not aware as to the true difficulties that this search to find "true love and happiness" would be as difficult as I have found out. To be honest it would have to be the biggest challenge ever in my life that I have experienced. For, I am a man not to give up on something that I truly believe in and I am very optimistic that I will find my Soulmate this way.
I want to say that I have experienced the most wonderful history lesson of a lifetime. To learn about Russia and Ukraine and all it's places, traditions and cultures was so fascinating to me. It opened up a whole new world to me to learn about places that were hidden from us all for so long. To be honest, I know more about these Countries, the Cities and Towns than I perhaps do in my own country, Australia. Not only have I had the history lesson to dream of, but, I have had the pleasure to correspond to so many wonderful and lovely ladies. I have found that it has been such a wonderful experience to learn a small part of each and every person that I have had the chance to correspond with, to get know them more. As I have found, not everyone is suited to each other. Many women I wrote to never replied. Others on the other hand did, and it was these women that I had to see if they matched my "dream profile". It is so true what is said, never only look at a Photo and think "this is the one". I never have. I am looking for someone to have that inner beauty we all look for in someone. Someone to be able to share my life, love, devotion, heart and soul with and see if we share the same beat of our hearts. To walk that road of "true love and happiness" together and forever. Can this person be found in this world? I say "yes, she can ".
Over the many months I have been searching, I came to a point where I nearly gave up all hope to find this person that matched that "dream profile" I created. There does come a time where you think, is all this "real" . Is all this really happening. There comes a time where the pressure can be so great to decide who is who and who is more real, and who is more suited. At first you only have letters and photos with the correspondence to know someone more. And It is true that after about 5 to 10 letters you know who is more sincere and who is more real. I have found that the ones that vow their Love for me so early in the correspondence are the ones that are not so genuine. When I started all this it was so overwhelming to have so many replies and trying to keep up with them all became an effort, that took up all my nights and weekends at the beginning. Over time the numbers become less and less. The women disappear, or, you may decide that you do not have much in common. But, it is the women that you do have much in common with that you have to really decide who is more suitable. This is what I have discovered and there does come a time that the question will arise that they want to meet you. And they will ask. And I tell you they all did. I have found this with many women and I also found that when I told them it is possible, some of the Ladies disappeared. I thought this was strange. But, I continued to correspond to the only women that I had remaining and that was only 3. One from Donetsk, one from Lugansk in Ukraine and one from Barnaul in Russia.
All three women are their own person and are so different from each other. But, in some way they all have the qualities that I am looking for in someone I search for. Can one of these women be my "dream profile"? I think one of them is that special person I search for. Already we have exchanged many letters, photos, our dreams, hopes, lives to each other. And it has been such a great experience for me so far. There comes a time where the question "I want to hear her voice" came to me. So when I asked the 2 women from Ukraine this, they both agreed. It was such an exciting and happy moment for our correspondence and it seemed to make all this more real and take away that Cyber World for a short time as we spoke to enjoy each other's voices. The lady from Barnaul beat me to this question and it was she that wanted to talk to me. I was happy to phone her, to hear her voice, finally. It was also a wonderful and happy moment in my life. So, the moment came that all three were all equal in some aspect to who I was looking for. All three I had spoken to over the phone. And all three I had posted a nice card to. So far, no one has received the card I sent. Perhaps it has not arrived as yet, perhaps it has been lost in the postal service that I hear so much about. But, I cannot let such a thing as a lost card deter me, or, worry me that these ladies are not real.
Now, when I began my search I only wanted to eventually correspond to and visit one lady only. I am not a man to give false hope to anyone and waste their time. I read on the internet where it tells men to write and visit a few ladies to help decide who is more suitable. As to only visit one, would be a waste of a trip, a visit. It may be so, but, I have belief in all this, and this is why I only wanted to visit and arrange a meeting with one person.
What I have noticed in this method of correspondence is that you do in fact have strong feelings for who you are corresponding with. I am not sure if anyone can fall in love through only letters, photos and phone calls. But, I am certain that you can share strong feelings and much affection with someone this way. I believe Love can only be decided with a personal meeting to see if the same is felt in reality as was felt during all that correspondence. Because to me, Love is a very precious and sacred thing and so is a person's heart. That is why they both need to be treasured. I believe that there are 2 parts to a person that cannot lie. And that is the heart and the eyes. For the heart is true to how it feels and the eyes are the windows to a person's heart. It will be this that will determine if the person I decide to meet is this "dream profile" I have created in my mind. Words do not even have to be spoken, as I will listen to what my heart will tell me.
So my advice to all these men who I hope will read my story, my experiences of my search, is to follow your heart and listen to what it tells you. It will eventually lead you to the person that you have been searching for all your life. I believe this, and I believe that soon I will know where my heart will truly be.
As the correspondence continued it was nice to know that one of my cards had in fact reached it's destination. And that destination was to Barnaul in Russia. I was very happy to hear this and everything from that moment seemed to flow. The correspondence to the 2 Ladies from the Ukraine just vanished. I never heard from them ever again. I did write to them both, one last time, to thank them for the wonderful correspondence, to know them as a person and to have the chance to hear their voice over the telephone.
It was this moment that I was left with this wonderful person from Barnaul in Russia that seemed to brighten my days so much already. As we continued to get to know each other more through our letters, our phone conversations, we once again came to the same conclusion that we really needed a personal meeting. I want to share with you all, that we have agreed to have our meeting in late April of 2003. Although we still have to discuss and arrange the finer details to this meeting, when the time gets closer. It is something that we both are looking so forward to in our days apart. At the moment I am learning as much as I can of the Russian Language and I must say, I am having so much fun. I now have an exciting time to arrange all I will need, before I leave on this very important trip to Russia, to Barnaul. To meet with this wonderful and beautiful person, who has opened and warmed my heart so much. And given me so much hope, that she is the one I have been looking for all my life. Not only will I have the chance to meet with her, but also, her adorable daughter and her family.
The sad thing is, that my experiences and my story I share with you all now, is only a part of it. For I will not be able to tell you what the outcome will be of our meeting. I can only imagine and hope, that everyone who reads this will share in my optimism, and my happiness when I actually do meet this person in reality. For it will be the very first time that I have been abroad. And who would have thought that my first time abroad would be like this. Can you all imagine how I will feel when I arrive in Moscow, to be greeted by her and see her, talk to her for the very first time in reality. So, as exciting as it will be. As nervous as I will seem. It will be the trip, the visit of a lifetime for me. And wish me all the best, that the result is a good one and I will return home to Australia the happiest man in the world to begin the process to hopefully marry this person and share our lives together, forever, and as a family, as I would have found the "true love and happiness" I was searching for. And the only way to find this, is to find my other half, my Soulmate.
---
READ ALSO:
I've just began
by Jared Stocksmith: "I remembered from my days in the university that I considered living for 2 months in Denmark to find a lovely, trustworthy wife. I figured that many Europeans do not have the heavily materialist expectations that Americans bring into a marriage."
E-groups: A Gold Mine of Information and Help
by Stephan Wanzek: "The fact you are reading this right now proves that you have found one of the best sources for information about FSUW available for men, the Russian Bride Cyber Guide..."
---
Do you have a story to share? We want to hear from you!
Click here to Contact us
---
JUST RELEASED! New E-book by Elena Petrova:
"How To Find And Marry A Girl Like Me"
Comment from the reader:
"This may well turn out to be the best purchase I have made... I hope not too many of my competitors find this book!"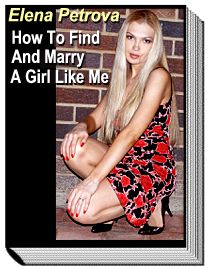 Discover how to find, court and finally marry a beautiful Russian woman!
This is the only book written by a beautiful Russian woman married to a western man - for more than 5 years! - and who is also the owner of a highly successful Internet dating agency.
Find out once and forever what Russian women are really looking for, why they are looking for it and how you can give them exactly what they want!
Get responses on your letters to beautiful Russian women - 9 out of 10, GUARANTEED!
With "How To Find And Marry A Girl Like Me" you'll learn knock-out techniques that will instantly boost your success rate in dating Russian women - online and in real life. You will have more beautiful girls that want to be with you than you can handle!
And not just ordinary girls! They will be beautiful, intelligent, but most of all - honest and sincere! You will be the one to take your pick!
STOP wasting your time and money in search for a Russian wife... Get it done - painlessly, easily, and certainly! Moreover, have lots of fun along the way!
Yes, you too can marry a girl like the one on the picture... Click here!
---
RECOMMENDED:
New Ebook You Cannot Afford To Miss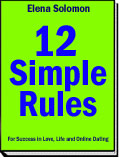 Dating can be complicated... it doesn't have to be! You can jump start your love life - or you can keep wandering in the dark; the choice is yours!
When it comes to dating, most men make the same silly mistakes with women - over and over, with disastrous results.
Do you want to do BETTER than 99% of other guys? Click here
---