Contest: "Personal Experiences"
---

Strange way maybe the best way
by Steve Chapple

It seems a rather unusual way to meet your wife, but maybe it's the best way getting to know someone's personality via letters and conversations before meeting in person and hormones start affecting thoughts and decisions. I don't know if I'll meet my wife via "the web", but I know she'll be one of Elena's Models if I do.
I was born (in the late 60's) in Alberta and have lived here all my life. Between my early shyness and the poor demographics here, I can probably count the number of women I've dated on both hands, and it wasn't till my late 20's that I even had my first kiss. Knowing what it's like to be rejected when asking someone out, I had resolved that if a woman asked me out - even if I wasn't interested in her - I'd go out with her at least once. That policy (now changed) subjected me to a two year sentence with my first girlfriend. She wanted to get married, but from fairly early on that seemed unlikely to me. Nevertheless things weren't too bad while we were together, and I had no basis of comparison, so it ended up being a two year relationship. (Ever seen 87's "Fatal Attraction" or 93's "The Crush"?) If only I'd known then what I know now - I wouldn't be missing two years of my life and thousands of dollars.
As continued to observe that the only women worth marrying were already married, I started to wonder; Is it just me, or are things really this bad. I checked the latest census data and found that it's not just me. If I was a generation older the ratio would be almost two to one in my favor, but for my age range and province, there are three single men for every two single women. Add in other factors like smoking, over-eating, etc. and the odds are quite poor.
Having had a year to recover from the worst mistake of my life, it occurred to me that with women statistically living longer than men, perhaps I should consider "older women". With that in mind I tried a local telephone dating service and met a lady almost a decade older than myself - though she looked and acted younger than her age. From our first meeting we couldn't keep our hands off each other, and she too expected us to get married. As our two year anniversary approached, it was only fair that I either do so or let her go. Even though it probably meant I would never be a husband or father, I decided to follow some trusted advice; "Don't marry the one you can live with - marry the one you can't live without." She was heartbroken, but within a year she was married - ironically to a guy I was almost roommates with. He's a much better match for her both in age and personality, and I'm happy for her.
Meanwhile, my sister came back home after several years in Japan and it occurred to me that while her being the only "marriable" woman I know doesn't help me, my four best friends are in the same predicament as myself. I invited two of them to my birthday party (which of course my sister was at) and sure enough, less than a year later my buddy became my brother-in-law. He couldn't return the favor as he's an only child, but he did tell me about a website with Russian and Ukrainian ladies looking for a husbands here in "the west". Until I introduced him to my sister, he was planning to write to some of these ladies himself.
I was amazed by what I found on the website he recommended and others that I found. Here were literally thousands of beautiful women who wanted to be wives and mothers. But how do I choose whom to write to? Even if I managed to choose, what would I say? With our different backgrounds would a marriage last? A common view over here is that "these women just want a 'green card' "; Was it true? I know I would be a good husband and father - If I could find a sincere lady, our marriage should stand the test of time.
With the shortage of "marriable" men there and of "marriable" women here, it seems the ideal solution, but whom to write to? One of my favorite websites included the number of times a ladies' address had been requested. I found this quite helpful - why bother writing to a lady whom a hundred other men have written to? Likewise if she's had only a few (or zero) men write to her she should be more interested. The most useful feature I found was a search engine on the website for "A Foreign Affair". (At the time I didn't know of Elena's website - perhaps it didn't even exist yet.) AFA said that they had taken the approximately quarter million applications and selected the best 10% or so. By using their search engine I would effectively be narrowing the field from a quarter million to the few that seemed best suited to me. From the 20,000 or so profiles AFA had for ladies for the former Soviet Union, I used the search engine to narrow the field to 52. Of the 52 ladies, the first one I saw was Polina - from the little information there, she seemed an excellent match for me. Would I need to write 52 letters? As it turned out - no. She was the only one of 52 that I was interested in writing to.
A year ago I spent many hours composing my letter to Polina - I hoped it might be a sort of Christmas (or New Year's) present for her and that perhaps even her reply might arrive on Valentine's Day. I told her about me and my family, a bit of what my life is like, etc. and included a few photos. I never heard back from her. Either my letter didn't reach her, or her reply didn't reach me, or she chose not to reply - most likely the latter.
I became somewhat disenchanted with the whole idea, but a couple months ago I was "surfing" and saw an ad for yet another dating website. I followed some links to some other sites and eventually found this site as the "black list" was linked to from another site. (I have tried to find the site that "referred" me here, but have been unable to do so.) Now here was a site worth visiting - a wealth of information - the answers and explanations to most of the mysteries of this whole scenario, written by someone who would actually know and seems to care about making matches that will succeed long term. Where other sites often gave little more than a photo, here the ladies could actually write about themselves and the type of man they were looking for. With these additional words the search engine actually becomes useful, and choosing a lady to write to can be based on more than a mere photograph. The advice, the myths and reality, the many FAQs, even finding out what "active rest" and "shaping" mean. Whether Elena's insights were a surprise or confirmed what I thought, all of it was (and is) interesting and informative. I even found the probable cause for not hearing back from Polina. I had told her that she was the only lady I was writing to, thinking that would make her feel special, but apparently that was about "the most stupid thing one can write to a woman". Of course I wasn't (and could not be) in love with a woman I hadn't even met yet, but after reading FAQ13 and the rest of Elena's advice, I no longer wonder what happened, and I'm ready to try again - properly this time.
When I think of the aspects of this whole scenario - it seems like such a strange way to meet your wife - but maybe it's the best way. With the snow on the ground it reminds me of one of my favorite songs - of what Joseph probably thought that first Christmas night;
Why me? I'm just a simple man of trade.
Why Him, of all the rulers in the world?
Why here? Inside this stable filled with hay.
Why her? She's just an ordinary girl.
Now I'm not one to second-guess what angels have to say,
But this is such a strange way to save the world.
---
READ ALSO:
E-groups: A Gold Mine of Information and Help
by Stephan Wanzek: "The fact you are reading this right now proves that you have found one of the best sources for information about FSUW available for men, the Russian Bride Cyber Guide..."
Strange way maybe the best way
by Steve Chapple: "It seems a rather unusual way to meet your wife, but maybe it's the best way getting to know someone's personality via letters and conversations before meeting in person and hormones start affecting thoughts and decisions..."
---
Do you have a story to share? We want to hear from you!
Click here to Contact us
---
JUST RELEASED! New E-book by Elena Petrova:
"How To Find And Marry A Girl Like Me"
Comment from the reader:
"This may well turn out to be the best purchase I have made... I hope not too many of my competitors find this book!"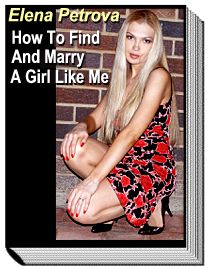 Discover how to find, court and finally marry a beautiful Russian woman!
This is the only book written by a beautiful Russian woman married to a western man - for more than 5 years! - and who is also the owner of a highly successful Internet dating agency.
Find out once and forever what Russian women are really looking for, why they are looking for it and how you can give them exactly what they want!
Get responses on your letters to beautiful Russian women - 9 out of 10, GUARANTEED!
With "How To Find And Marry A Girl Like Me" you'll learn knock-out techniques that will instantly boost your success rate in dating Russian women - online and in real life. You will have more beautiful girls that want to be with you than you can handle!
And not just ordinary girls! They will be beautiful, intelligent, but most of all - honest and sincere! You will be the one to take your pick!
STOP wasting your time and money in search for a Russian wife... Get it done - painlessly, easily, and certainly! Moreover, have lots of fun along the way!
Yes, you too can marry a girl like the one on the picture... Click here!
---
RECOMMENDED:
New Ebook You Cannot Afford To Miss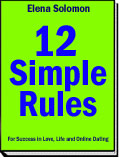 Dating can be complicated... it doesn't have to be! You can jump start your love life - or you can keep wandering in the dark; the choice is yours!
When it comes to dating, most men make the same silly mistakes with women - over and over, with disastrous results.
Do you want to do BETTER than 99% of other guys? Click here
---