That night we went to a restaurant called "Dragon," which had a Chinese theme outside, served European food, played MTV-like videos on a TV monitor, but played different Russian music over the speakers. Did I mention the disco ball? It was quite a mix of different styles! Irina liked to quiz me to see if I knew the music that was playing in the restaurant. She quickly discovered that I was not familiar with any of the European artists, which seemed to cause her some distress. Many times during the week she quizzed me about music that was playing in cafes or over the radio for example, and never missed an opportunity to tease me about not knowing European music. (But really, with so much American music in American, who wants to hear European music?) Anyway, after dinner it was getting late so we called it a day and planned to meet again the next day.
As it turned out, Tuesday was not our best day together, although it started well enough. Irina liked the ladies wristwatch I gave her. She told me that she had had a watch, but that it stopped working a few months ago. So my gift was ... timely, if you pardon the pun. She made a point of wearing it throughout our week together. But I think Irina was a little overwhelmed with trying to communicate with me in English, although I was very happy with her effort. We spent the afternoon touring another War memorial, but Irina had been there before and didn't seem very engaged. Also, when I tried to ask her some questions to get her talking about herself, she didn't seem very interested in answering, or maybe it was just a little too difficult for her to do it in English. So the afternoon was disappointing.
I had mentioned in a letter that I wanted to meet her friends, so in the evening she invited her friend Nelly to join us for dinner. Dinner was difficult because I could not really participate in the (mostly Russian) conversation, although Irina did her best to translate. After dinner we went out to a dance club that also had four bowling lanes in an adjacent area. Irina had never bowled before so she asked me if I would teach her. Well, I'm not much of a bowler, although I did enjoy it the few times I went bowling in college. So I was happy to have something that all of us could do together that didn't depend so much on language. Luckily, the machine kept score automatically so I didn't have to try to remember how to keep score. And on my first attempt, I got a very lucky strike so I looked like I knew what I was doing. Although after that I didn't do so well, but that worked in my favor, as Irina and Nelly did not look so bad by comparison. We all had a lot of fun bowling so that seemed to make up for earlier in the afternoon. Then Irina took me dancing which was quite interesting. She loves to dance and so while I don't particularly, I did my best because at least it was something else we could do together. She really enjoyed the music and dancing, and knew many of the song lyrics by heart - whether Russian or English. At the end of the night, we made plans for the three of us to catch a bus to Mikhailovka the next day. Nelly had never visited Irina's hometown either, so she joined us.
In retrospect, I wish I had asked Nelly not to join us for the trip to Mikhailovka. I found it hard to compete with her for Irina's attention since it was so much easier for Irina to talk to her friend in her native language, and about things they had in common, than it was to talk to me, a man who's practically a stranger, and in a second language.
For an American man like me, seeing Mikhailovka was like stepping back in time. It's a relatively small town of 5,000 people or so. The major industry in the town is a concrete manufacturing plant and practically the whole town is covered with fine concrete dust. The houses were small and packed close together. A train station and its tracks cut the town in half. Most of the road was unpaved. Nevertheless, her mother's home was quite nice and tidy on the inside, although there was no running hot water during summer months. Water was heated on the stove for bathing in the morning or at night.
When we arrived at her mother's home, her mother, Aunt, and her Aunt's daughter Christina greeted us. I greeted them in Russian. Inside, they asked me how much Russian I spoke. They seemed quite pleased even though I reeled off only about 7-8 Russian phrases. But they were gracious to say that it was the quality of Russian I knew, not the quantity that mattered. Now Irina had warned them beforehand that I didn't like fish or "rabbit food" (my term), so they knew I was a fussy eater. So I was quite proud of myself when I managed to choke down a whole bowl of borscht, which really wasn't so bad all things considered. That made Irina and her family very happy. Then we had chicken and rice with champagne, then wine. Irina likes red wine, preferably dry and Georgian. I sipped a little champagne so that I could participate in the toasts, but never did manage to finish the whole glass and therefore, never did make it to the wine. I did learn that the 3rd toast is always for "love." And the fourth toast was mine, so I proposed a toast to traveling half way around the world and making new friends, which seemed to please all.
After dinner, an announcement that I wanted to take some pictures sent all of the women scurrying to freshen up their make-up. I'd never seen a table abandoned so quickly! Apparently, picture taking is serious business in that household! My digital camera was a big hit for instant viewing (and for re-taking photos that didn't turn out so well).
In the evening we shared family photos. I had brought quite a few copies of our family photos that I had scanned and had printed, as well as pictures of my home, and some vacation pictures too. By the way, Irina's family sends a "hello" to all of you. They seemed to really enjoy the photos and Irina enjoyed playing interpreter, although she (mocked) complained almost constantly. I offered her a (mere) 5-ruble coin for her translating services and she was (suitably) unimpressed! Then it was time for them to show me their family pictures, and they certainly had a lot. It was a lot of fun to see their family history in pictures. Well, it was a long day so we called it a night at last. Although I noticed that Irina and Nelly looked through a fashion magazine before going to bed, so that made me wish that I had brought some English fashion magazines such as Glamour or Vogue. I'm sure Irina would have enjoyed comparing fashions, and I'm equally sure that the magazines would have made their way through the hands of her Mother, Aunt, and each of her friends, and each of their friends too. Anyway, I was really tired and slept quite well on their sleeper sofa, which they had made up for me.
Early the next morning, Irina's mother left for work, but her Aunt and daughter had stayed over so that they could make us breakfast when we got up. Irina likes to sleep 10 hours a day and, by the way, has a "very healthy" appetite, to put it politely. How she manages to stay so small is beyond me. But I like her small figure so I'm not complaining by any means. However, my appetite could not keep up with hers. For breakfast, we had the Russian equivalent of flapjacks, which were very tasty. They served them hot off the stove, with melted cream and sugar sprinkled on top. Irina instructed me on the importance of spreading the cream on the flapjacks immediately so the cream would melt on top. They were very good I must say, but I could only eat three. I think Irina had at least 4 or 5! And we also had this melon called "deenya" or something like that, which looked like a big oval cantaloupe. But the melon is light in color and quite sweet. I'm thinking it's like honeydew melon, but I'm not certain about that. Regardless, it's one of Irina's favorites.
After breakfast we took "showers," which were just sponge baths, really. After washing up, Irina spent some time taking me through her "baby book," which I really enjoyed. I remember thinking that this was the reason I had traveled so far, to get a first hand glimpse into her life growing up in Russia, so I was very glad for the personal time.
I surprised Irina with another gift that I had packed in my bag. The gift of the day was a leather "back-pack" purse. The shoulder strap unzips down the middle, so when zipped together, it's a shoulder bag, and when unzipped, it's a little backpack. I told her the style was quite fashionable these days and she said "yes, in Russia too." After that, we went on a little walking tour of her hometown and Irina made a point of wearing the purse I had given her. We walked through a park in the city, met her mother on the road who was out doing an errand, and took some pictures by the artificial lake in Mikhailovka.
I enjoyed walking around Mikhailovka and seeing the town where Irina grew up. It was a lot of fun taking pictures of her, holding hands, and just enjoying her company. We were lucky that the weather was very good the whole week with sunny skies and temperatures in the 70's and low 80's. I'm glad that I visited when I did, rather than during some of the more intemperate months.
After walking around town and seeing the sights of Mikhailovka, we were due to visit Irina's Aunt, who had invited us over the previous day. She lived in an apartment building that wasn't too impressive on the outside, but again was quite nice on the inside. Now Irina's Aunt served us soup, sandwiches, chocolate, tea, and generally had quite a bit of food on hand. But it was getting late in the afternoon and I knew that I had to save room for a meal that Irina's Mother was planning. So while Irina seemed to have no concerns about packing away a full meal, I chose to eat sparingly so that I could eat dinner with Irina's mother. I took a little "heat" for not eating a full meal, I must say - it was a classic "no win" situation.
However, a little later when we sat down for dinner, I was vindicated a bit as I was able to partake in each of the dinner's three courses. Irina, on the other hand, had to skip the first course (a rice soup) and paid for it with a heated argument with her Mother. We also talked a little about what seemed like a "competition" between Irina's Mother and Aunt over who would get me to eat the most (and therefore be the better hostess).
That evening, Irina and I looked through more of her pictures (she's quite the photo model and has books and books of pictures). It seems like a recreational activity with her family, to dress up and pose for photos.
On Friday, we had originally planned to catch an early bus back to Volgograd, but there were not enough seats for Irina, Nelly, and me. So we took an afternoon bus for the three-hour ride back to Volgograd. Before leaving, Irina practically ransacked the place for food. Her final year at the President's Academy would start in just a few days, so she wanted to take back everything she could lay her hands on. She even scoured their garden for anything she could take back to Volgograd with her. I teased her that her Mother would think that her home had been robbed!
Irina's Mom came with a friend from work (who had a car) to take us to the bus station and see us off. I thanked her Mom for her hospitality and she made me promise to send copies of the picture I had taken. The bus was honking at us so the farewells were cut a bit short.
The bus was quite hot inside even though the air temperature was quite mild. I asked Irina what she did when the weather was hotter, but she replied only that she didn't want to think about it. On the bus ride back, Irina loaned me her CD player so that I could listen to some music that she liked. She and Nelly used the translator to quiz each other on their English vocabulary. I helped out a little here and there with pronunciation, which made me feel better than it should have I suppose - to finally be able to contribute something that I knew. We stopped once at a small roadside market, but were soon back on our way. I noticed a couple of other buses broken down along the way and mentioned to Irina that it seemed that bus drivers also had to be mechanics, to which she agreed. Luckily, we returned to Volgograd without incident. As we approached the town, Irina used her cell phone to schedule a taxi to take me back to the hotel, and then to take Nelly and finally Irina home. Irina and I made plans to go out to dinner together, and then to go bowling again since we both enjoyed that a lot the first time. However, this time I wanted it to be just the two of us - not that I had anything against Nelly, but I felt that Irina and I needed to have some time together by ourselves.
After cleaning up a bit, Irina met me at the hotel and we took a taxi to a pizza restaurant. I was really looking forward to having some pizza, which, as you know, is my favorite. But Irina was quite tired and there would have been quite a wait at the pizza restaurant, so we ended up going to another place for dinner. Again she helped me order something to eat, and while we were waiting for the food to arrive, I presented her with the day's present. She had wanted some CD's by Chris Rhea and "The Best of Sade," which I learned she had had on cassette, but had loaned it to a friend and never got it back. She was very, very happy to get the CD's. I also gave her an Eva Cassidy CD, whose voice I just love. And lastly, I had made her a compilation CD of various pop/rock songs that I like. I was happy to "turn the tables" on her and introduce her to some artists that she didn't know after so much teasing about me not knowing European music. While pleased with the presents, she was very tired, as I mentioned, and not too talkative. Which was really a shame because I was in a talkative mood - a rarity for me as I am usually the quiet one. After dinner we decided to call it an early night and meet again the next day - our last day together.
So on Saturday we met for lunch, as Irina likes to sleep in. I was up a little earlier and did most of my packing, which turned out to be a good thing, as Irina would keep me out dancing late that night! But first Irina met me at the hotel, looking really nice in a light blue summer dress. We went to have lunch at the other major hotel in Volgograd, which I must say, was a little nicer than the Intourist, where I was staying. After lunch we walked around the city a little, and then headed over to the Planetarium, which was quite interesting, even though I couldn't follow the guided tour in Russian. Luckily, Irina provided some translation. However, she seemed a bit bored; she had been there before.
After the Planetarium, we walked through a section of town where various artworks were outside on display. We enjoyed looking at all of these things and after some time, sat down in the park to have a little bit more of a serious conversation. It was here that I wanted to talk about our relationship, and say an early "goodbye" so we wouldn't have to do it at the airport the next morning. Despite this long description of my trip, I haven't gone into all of the ups and downs of our time together. But here I told her that I thought she was really a wonderful girl. She didn't know the word "wonderful," but she knew "terrific." I told her that she was the kind of girl that I would always be proud of. But I also told her that I thought she had a really nice life here in Volgograd, that I saw that she was really close to her family and friends, and honestly I wondered if I, or any man for that matter, would be able to take her away from all of that. Of course she understood what I was talking about. She told me that I was what she had expected, and that she always felt good with me.
I think the reality of me actually being there, and being serious about us was a little much for her to take. In some sense I think it's lucky that she's committed to staying in Volgograd for one more academic year. It will be an important transition year for her (as it would be for anyone). I hope that in this time she is able to decide what she wants for her future. I told her that after a fairly intense week together, that we should take some time to think about what we might want next.
If we do meet again, I would prefer to do so outside of Russia. While it was good for me to see her in her "natural environment," so to speak, she did not see me in mine. I'm an independent person normally, but I couldn't be independent with her in Russia. I had to rely on her for most everything, which I really didn't like at all - even though she took good care of me.
At last, it was time for the final present. A gold locket, inside of which I had placed small pictures of each of us. She seemed surprised, even a little stunned. She objected that the present was too expensive. But I told her that I wanted her to have it. So she accepted it and asked me to help her put it on. Of course I had to take a picture of her wearing it. (And yes, her eyes really are that green.)
After this conversation and our early "goodbyes," things seemed to go really well between us. We decided to go bowling that evening since we didn't get the chance the previous night. But first we went home to freshen up and change for our last night together. We went to a restaurant down by the Volga River, next to where we had been our first day together. We had a nice talk during dinner. We shared several toasts - her with wine and me with fruit juice. I seemed to surprise her when I proposed something having to do with "love," for the third toast. "Oh, you know this custom?" she asked. "Yes, I learned."
After dinner, it was our plan to go bowling, but there was about a 2-hour wait, so it was off to the dance floor for us. After a little dancing, Irina wanted to play pool in the poolroom upstairs from the dance floor. So we played a game of pool. Now I'm about as good at pool as I am at bowling, which is terrible, but regardless I still wanted to break. She insisted on breaking though, and is really cute so that was that. After she broke, I managed a few lucky shots and despite some "do overs" on her part, managed to win the game. After another little while, it was finally our time for bowling. We had a lot of fun again, but I managed to pull one of the muscles I don't normally use, and really could not get down as low as I needed to. (She never believed me though.) Despite my "injury," I did manage to squeak out the first couple of games, but she got a few strikes during the third games and beat me pretty easily so she was happy about that.
It was starting to get pretty late at this point, but Irina wanted to do some more dancing. The club was playing a lot of Russian folk music apparently, updated with a dance beat of course, and Irina couldn't resist. But I enjoyed myself. She was a good dance partner and was having a lot of fun. Finally we called it a night and shared a taxi back to the hotel where we said our goodbyes, and shared a brief kiss. I called before leaving for the airport the next morning to say what a great girl she is, and that I look forward to seeing her again someday.
So that's the story of my Russian vacation. It certainly had its ups and downs. I was hoping that the whole week would have been more like the last day or two. But it takes time to get to know one another. Letter writing is really no substitute for spending time together.
With all of that, I have to say that I'm undecided about our relationship. On one hand, I think Irina would make a good partner. On the other hand, it's hard to imagine her giving up the only life she ever knew. She scoffed at the idea that her life in Volgograd is a good one, but it certainly seems that way to me. Nonetheless, I plan to continue corresponding with her. Perhaps we'll meet again. If we do, I think I'd like us to meet in "neutral territory" such as France or Italy, where we can struggle with the language together, instead of me relying completely on her for everything.
So you see that when I say my trip was successful, it was successful in the sense of meeting Irina in person, getting to know her better, her city, family, and even one of her friends. I certainly know more about the things she likes and doesn't like than I could have learned from only letters.
If you've managed to read this far hoping for a fairy tale or Hollywood ending, I'm sorry to disappoint you. However things turn out, I know you will wish us well. I hope you enjoyed my story. Thanks to all of you for your interest.
Rick
---
Do you have a story to tell? We want to hear from you!
Click here to Send your story
---
READ ALSO:
So many sites out there, so many women and so few men
By Randy Gates: "Many companies make promises, say things that aren't true or never live up to what they promise..."
My Experiences looking for a Russian Bride
by Norman W. Crenshaw: "I spent a wonderful, amazing week each with the two Russian beauties in Cyprus. My relationship with my first girlfriend advanced, and we had a great time together. But still, it moved slowly. But with the new girl, I had a totally awesome time! She was quite wonderful in a different way than I had expected. She spoke English fairly well, and her personality was fantastic! She was quite a kitten, and she made me feel like a king. ..."
---
JUST RELEASED! New E-book by Elena Petrova:
"How To Find And Marry A Girl Like Me"
Comment from the reader:
"This may well turn out to be the best purchase I have made... I hope not too many of my competitors find this book!"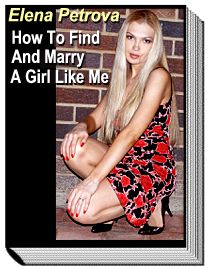 Discover how to find, court and finally marry a beautiful Russian woman!
This is the only book written by a beautiful Russian woman married to a western man - for more than 5 years! - and who is also the owner of a highly successful Internet dating agency.
Find out once and forever what Russian women are really looking for, why they are looking for it and how you can give them exactly what they want!
Get responses on your letters to beautiful Russian women - 9 out of 10, GUARANTEED!
With "How To Find And Marry A Girl Like Me" you'll learn knock-out techniques that will instantly boost your success rate in dating Russian women - online and in real life. You will have more beautiful girls that want to be with you than you can handle!
And not just ordinary girls! They will be beautiful, intelligent, but most of all - honest and sincere! You will be the one to take your pick!
STOP wasting your time and money in search for a Russian wife... Get it done - painlessly, easily, and certainly! Moreover, have lots of fun along the way!
Yes, you too can marry a girl like the one on the picture... Click here!
---
RECOMMENDED:
New Ebook You Cannot Afford To Miss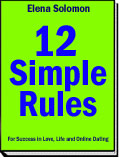 Dating can be complicated... it doesn't have to be! You can jump start your love life - or you can keep wandering in the dark; the choice is yours!
When it comes to dating, most men make the same silly mistakes with women - over and over, with disastrous results.
Do you want to do BETTER than 99% of other guys? Click here
---