Contest: "Personal Experiences"
---

My Experiences looking for a Russian Bride
by Anonymous


My experiences in looking for a Russian woman have been quite interesting. If you are looking for a woman, congratulations, you are already on the right track by using Elena's site, it's invaluable. Russian women are special. They're amazing. There are pitfalls, and womenrussia.com helped educate me and helped me find my way to success.
Here's my story. My marriage was in separation, and I had moved from North Carolina to Tampa, Florida to be with my high-school girlfriend of over 25 years ago. We had found each other again through the Internet, and I thought our reunion and rekindling of our relationship was going to be my big and amazing story in life. After no more than 30 days I realized this relationship wasn't to be.

I was very discouraged and heart-broken. I thought the best way to get over this relationship was to start a new one. I found a couple of American dating websites, and posted my profile. I met a few women online, met a few of those in person, but no sparks. The pretty women on these sites have hundreds of letters from guys. Many women don't post their pictures. And, many details are obscured in these sites and in the way American women post their information. I found a lot of "damaged goods".
One thing I found that surprised me was that I got some letters from women from Russia. I was very impressed with the quality of the few Russian girls that wrote to me, and this whole new world that I hadn't even thought about. One girl, a beautiful young blonde, invited me to Russia. I was very excited about the possibilities in front of me. We chatted on ICQ, and I called her on the telephone once. She spoke very little English, but I could tell, she was a little shy and very sweet. I thought, why not! I was interested to see Russia, and especially with the opportunity of meeting and spending time with this pretty young thing. What an adventure! What if she ended up my wife!

I renewed my passport and got my visa to Russia, and bought my airplane ticket, and flew to Moscow. This all transpired in a period of about 1 month (October 2001) from the time I met her online until I was at the airport in Moscow. I made my way through customs, and waiting for me was this drop-dead beautiful girl who had traveled 24 hours by train to meet me. My immediate thoughts were something like, "Oh my God!" We got along well, although there was quite a language barrier. She spoke just a small amount of English. We drew a lot of pictures! I was a bit in awe of her beauty, and she was a little unsure about me. She was extremely nice, warm, and we tried hard to get to know each other. We shared a room at the hotel, but our relationship went along slowly.

We spent a few days in Moscow, and then we took a train to her hometown, Balakovo, about 600 miles away. Her family was awesome! I was treated to the best hospitality imaginable. Her mom gave me her bed to sleep in while she and my girlfriend shared a foldout couch. They both cooked amazingly well. I must have put on 5 or 6 pounds while I stayed in with them in their apartment for a week. I met a few of my girlfriend's friends. Some spoke English, some did not. They helped my girlfriend with her analysis of me, and with my analysis of her. I stayed about 2 weeks on this trip, and returned home. I gained much respect for my girlfriend's intentions, her family, and their way of life. But we didn't progress very far with a relationship, and I thought I'd probably never see her again.
Upon returning I began in earnest with a couple of other girls from Russia I had been corresponding with. One wanted to meet me in the USA. I wanted her here too, and I began to help her with money for papers. (I didn't know at the time that it's almost impossible for her to travel to the USA because she can't get a tourist visa.) On the third request for money, I finally began to get suspicious. So I went out on Yahoo, searching for information about Russian Women. Wow, I had no idea. I found all these dating/marriage websites for Russian Women. I quickly located Elena's WomenRussia.com when I searched for information about scamming. I found the exact letters I had received were a cleverly crafted set of scam letters. At first, I had a hard time believing it. I had given some of my heart to this new girl. But I realized it could be some guy sitting back in Russia sending me these letters and pictures. So I reported the scam I had fallen for, and moved on. I was a little daunted, but I decided all Russian women couldn't be scammers. Besides, the girl I had just met was true blue, wonderful, honest, and quite beautiful. I decided the best for me among all the ways to meet Russian women, my being a little shy, was to post an advertisement with WomenRussia.com. Let the women who are interested write to me.
I put together my picture and letter, and within a week I began to get emails from women all over Russia, Ukraine, and Belarus. I must of received letters from close to 100 sincere women before I finally asked that my advertisement be removed. Even afterwards, I still received some letters since my ad had reached far and wide in Russia and Russian-speaking countries. Many of these women were more beautiful than I would have had the confidence to approach on my own. And they were very open with their intentions, and had no problem sharing vital statistics, their weight, height, habits, education, children, etc. along with excellent pictures. I corresponded with dozens, and eventually trimmed my list down to about six awesome babes. I still chatted with my first Russian girlfriend too on ICQ. We decided we'd meet again, give it another shot. This was in March 2002.
I had an idea. I knew the chances with my first Russian girlfriend that it might not work out. So, I'd try to meet a second girl. I also decided a more tropical location would be better, if one could be found to travel to at a reasonable cost. Then I found Cyprus. Russian girls have a hard time getting visas to many western countries because of fear that they will try to immigrate. But they can go to Cyprus and to Turkey without a visa [since then Cyprus introduced visas to Russian citizens - inclusion ours, www.womenrussia.com), and the Mediterranean Sea makes for a lovely and romantic setting. So, along with my first girlfriend, I invited a second girl I had been corresponding with, and she eagerly accepted. So, in late April/Early May 2002 I spent a wonderful, amazing week each with the two Russian beauties in Cyprus. My relationship with my first girlfriend advanced, and we had a great time together. But still, it moved slowly. But with the new girl, I had a totally awesome time! She was quite wonderful in a different way than I had expected. She spoke English fairly well, and her personality was fantastic! She was quite a kitten, and she made me feel like a king.
Upon returning to the states, the correspondence with my first girlfriend slowed to almost nothing, and with the new girlfriend it increased. We were falling in love. I decided to meet her again this past August in Minsk. We rented an apartment together in the city's center. What a great, clean city, and what awesome women! I've never seen such a place. It seems beautiful women there are more the norm than the exception! It was hard for me to stay totally focused on my girlfriend. It's like being invited to the chocolate factory, but with the expectations that you will only be interested in one piece of chocolate. We had a few moments of heated discussion about that! I decided one beautiful Russian is enough for me. I like the adventure, but when it comes down to it, I'm a one-woman man. I met some of my girlfriend's family, and they are great people.
I totally love Minsk. I'd love to live there a few months of the year. With all the American stereotypes about Russian people, you realize how much the media has influenced your perceptions, and how different the real people are from what you thought. In my experience, they just try to live and let live, and I like how they do it. They have a clean, safe, and friendly city with great parks, great public transportation, and respectful people.
A couple of weeks after my return to the States, I realized that I wanted this girl with me always. Over the telephone I asked her to marry me. She accepted!
We're now working on her fiancée visa. The paperwork can be quite daunting, so we acquired the help of a Russian / American couple who have experience in doing this. My advice is to learn about the fiancée visa requirements before your trip to meet your girl!

My fiancee and I are preparing for the new life we are building. It's quite a time of change for her and for me, and there are lots of challenges. We meet with undeniable love for each other. She's the best thing ever in my life.
---
READ ALSO:
My personal experience of finding a Russian wife
by Greg Wilson: "My personal experience of finding a Russian wife began several years back. I was home one day watching a television program about several beautiful Russian women indicating that they were interested in marrying men from countries outside the former Soviet Union..."
I've just began
by Jared Stocksmith: "I remembered from my days in the university that I considered living for 2 months in Denmark to find a lovely, trustworthy wife. I figured that many Europeans do not have the heavily materialist expectations that Americans bring into a marriage."
---
Do you have a story to tell? We want to hear from you!
Click here to Send your story
---
JUST RELEASED! New E-book by Elena Petrova:
"How To Find And Marry A Girl Like Me"
Comment from the reader:
"This may well turn out to be the best purchase I have made... I hope not too many of my competitors find this book!"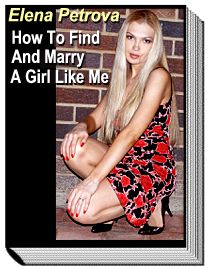 Discover how to find, court and finally marry a beautiful Russian woman!
This is the only book written by a beautiful Russian woman married to a western man - for more than 5 years! - and who is also the owner of a highly successful Internet dating agency.
Find out once and forever what Russian women are really looking for, why they are looking for it and how you can give them exactly what they want!
Get responses on your letters to beautiful Russian women - 9 out of 10, GUARANTEED!
With "How To Find And Marry A Girl Like Me" you'll learn knock-out techniques that will instantly boost your success rate in dating Russian women - online and in real life. You will have more beautiful girls that want to be with you than you can handle!
And not just ordinary girls! They will be beautiful, intelligent, but most of all - honest and sincere! You will be the one to take your pick!
STOP wasting your time and money in search for a Russian wife... Get it done - painlessly, easily, and certainly! Moreover, have lots of fun along the way!
Yes, you too can marry a girl like the one on the picture... Click here!
---