Contest: "Personal Experiences"
---

My personal experience of finding a Russian wife
by Greg Wilson

My personal experience of finding a Russian wife began several years back. I was home one day watching a television program about several beautiful Russian women indicating that they were interested in marrying men from countries outside the former Soviet Union. I recall writing down the telephone number of the agency but I misplaced the telephone number. When I purchased my second computer, it was my first time becoming involved with the Internet. I came across the same agency I had seen on television. I contacted the agency and I received some additional free information through the mail. After becoming a member of the agency, I started selecting some of the women from the agency's website. I also received four VHS tapes with a brief introduction of over 100 Russian ladies. Although, the majority of the women did not look like the women who appeared on the television commercial (very beautiful - model type), it was difficult to understand there names due to the fact that they said their names in Russian and the ladies' short video interview was than less than 20 seconds. Having no ideal of the Russian language, I was finding it difficult writing the Russian women's names I was interested in. A few months later, I received from the agency four more VHS tapes. These tapes were a vast improvement and it had at the top of the ladies' video interview her name and age appeared. I also selected twenty women from the agency's website. Although I received few letters from the ladies I was interested in, the agency indicated that the majority of these women were interested in meeting me in Russia. I also contacted several men on their website who had traveled to Russia to find a Russian bride. Each of the responses indicated that I would be overwhelmed with so many beautiful women. One man said his experience was similar to being in a candy store where there are so many different candies to choices from (beautiful Russian ladies). They also informed me that the city I was traveling I could not use any credit cards. I should only bring cash (U.S. money).

In March of 1998, I decided to travel to Russia to find a Russian bride. The agency made all of my accommodations, my round-trip airline ticket to Russia, my apartment accommodations, a driver and interpreter to meet me at the airport and to drive me to Tver, Russia. When I arrived at the Moscow airport, my interpreter and driver were waiting for me. When we arrived at the apartment I was supposed to stay in, I did not feel comfortable due to the fact that I am an Afro-American male and the area did not appear to be safe. I requested to be taken to a hotel. Later that evening, I met two Russian women from the agency. None of the women I met that evening were the women on my list. After returning to the hotel and taking the elevator to my room, a Russian man had stopped on a floor before my floor and he was unloading supplies for a restaurant located on that floor. I decided to help him unload his supplies. When I finished helping him, which was less than two minutes, the man offered me two packs of cigarettes. Although I did not speak any Russian, I indicated that I do not smoke. He gave me two bottles of beer that I gladly accepted.

The next day, I met one of the women off my list. Throughout my stay, I did not meet any more women that I was supposed to meet. They continued to give me photo albums of Russian women to choose from. After being somewhat frustrated, I met a woman named Sveta. I indicated that this is the woman I want to marry. So I spent the rest of my time getting to know Sveta. During one of my dates with Sveta, one of my interpreters smelled bad of alcohol. I decided that I would no longer use this interpreter. I used the other interpret, Helen, for the duration of my trip. Helen is the same interpreter who met me at the airport when I arrived in Moscow. While I was in my hotel room and looking out the window, I noticed across the street appeared to be a bank. I asked Helen if that was a bank and she informed it was a bank. Although I had enough money, I wanted to know if I could get a cash advance on my credit card. Helen and Sveta accompanied me to the bank. I was able to get a cash advance from my credit card in US dollars and I exchanged the money for rubles.

After returning to the United States, I called the agency's U.S. representative, Alex, and informed him of my experience in Russia. After paying for a couple of months of English lessons for Sveta, I decided that I could no longer work with the agency. I broke off my engagement to Sveta. While at my job, I met a Russian lady, Natasha, who was attending graduate school. I informed her of my experience in Russia. Natasha became my best friend. During this time, I decided to join another agency. I found a nice young lady, Anna, and we seem to connect right away. After several months of exchanging correspondence and a few telephone calls, I decided to meet Anna in Moscow in March 1999. Although Anna did not initially tell me she was in the process of getting a divorce, Natasha had a telephone conversation with Anna and she learned that Anna was married. Natasha informed me that Anna was married and she was in the process of getting a divorce. Natasha's mother and brother live in Moscow and they went a week before I arrived to meet Anna in Moscow. After arriving in Moscow for the second time, I was greeted by Anna, Anna's mother, Natasha and Natasha's husband at the airport. Anna and I stayed in separate rooms at a hotel across from the Red Square. I stayed a week in Moscow. I had a great time with Anna and her mother in Moscow. Natasha had some reservations about Anna not being honest with me about her marital status. After returning to the United States, Anna sent me a copy of her divorce papers. I was having mix emotions about Anna and I decided to stop corresponding with her. After several months had passed by, I contact the agency I met her through, and I was informed that Anna was no longer available and she was currently residing in the United States.

I completed another search of Russian agencies on the Internet. I found another agency. I had a telephone conversation with the agency' U.S Representative and founder of the agency. I informed her of my previous experiences to Russia. She indicated that I should join her agency, which I did. I paid $1,800.00 to join her agency. She also sent me five women that were interested in me. I contacted the five women and I did not get a response from any of the women. My membership is good for life until I find a Russian bride. I corresponded with a few women but I did not feel I had made a real connection with any of them.

Being an Afro-American, I was aware that many Russian women have never had contact with an Afro-American and many Russian women were not interested in marrying an Afro-American male. When I came across ELENA'S MODEL AGENCY, I was extremely impressed with their search engine that you can indicate your age and your ethnicity. The search results indicated many women. I decided to become a member of Elena's Model Agency. While trying to pay for the premium membership through the website, I was not able to complete the transaction. I inadvertently signed up to be involved in the men's catalogue that is included in the premium package. Elena advised me that there were some problems with processing my membership and she sent me another website link to become a member of her agency. I also informed her that I inadvertently was charged for the men's publication that is included in the premium package. Later that day, I received an email from Elena that my credit card was being credited a refund for the men's catalogue, $49.99. I also received an email from the bank that processed both transactions and that I should receive a credit of $49.99, and I received the above credit to my credit card.

The next is history. I received an email from Elena advising me that I should answer all responses even if I am not interested in the woman. Considering my previous experience with these agencies, I only expected to receive a few responses. After my photograph was sent to the various publications, I started receiving unbelievable number of responses from Russian women. The most of the women who contacted me are very beautiful and they appeared to be honest and sincere in their intentions of wanting to find a serious man for marriage. There were so many women it was impossible to try to correspond with all of them. I even wrote some of the women that I was also writing to other women and they still sent me another letter. It became increasingly difficult to turn these women down but I knew that I could not communicate with most of them because; I would more than likely have difficulty remembering whom I was writing to due to the fact that there were so many excellent responses. I even started informing them that I was writing to a particular woman that if things did not work out and if they were still available, I would like to get in contact with them. Several women sent me a thank you note for being honest with them and wishing me good luck that the woman I chose was the right woman for me.

For only $499 for premium membership to Elena's Model Agency, I can honestly say that this is the best agency and the least expensive that produce excellent results. I have never in my life turned down so many beautiful, sexy intelligent women. Just the other day, I received an excellent response from a beautiful 20 years old young lady. I felt really bad because this woman appeared to be sincere about her intentions of wanting to find a man and she was willing to marry me even though I am old enough to be her father. Even if your self-esteem is a little down and you are serious of wanting to find a woman from the former Soviet Union, then I highly recommend that you join Elena's Model Agency. The $499 is less than you would spend on several therapy sessions, and the results I guaranteed will bring joy to your life and you'll never know, you will more than likely find the woman of your dreams. Thank you Elena's Model Agency for allowing me to be a member of your agency.
I am currently corresponding with three beautiful young women. I also purchased the online report regarding what you need to know about Russian women. It was pretty helpful. It is really kind of hard corresponding with these three women knowing that I can only be with one of them. It is going to be extremely difficult when I travel to Russia. I do not know if I could meet all three of them. It is real easy for me to communicate with them with very little out of pocket expense. I know it is somewhat expensive for them to use the internet. These women are paying for their own internet service. Neither of them has asked me to help pay for their internet service. I have found three wonderful, beautiful young ladies.
Your agency has been very helpful to me and the cost for your services are not expensive at all. I have paid a great deal more to other agencies and I have never gotten the kind of response that I have from your agency. I will keep you abreast when I will visit Russia in 2003 and which one of the three women I will marry.

Sincerely,
Greg Wilson
---
Do you have a story to tell? We want to hear from you!
Click here to Send your story
---
READ ALSO:
My Experiences looking for a Russian Bride
by Norman W. Crenshaw: "I spent a wonderful, amazing week each with the two Russian beauties in Cyprus. My relationship with my first girlfriend advanced, and we had a great time together. But still, it moved slowly. But with the new girl, I had a totally awesome time! She was quite wonderful in a different way than I had expected. She spoke English fairly well, and her personality was fantastic! She was quite a kitten, and she made me feel like a king. ..."
---
JUST RELEASED! New E-book by Elena Petrova:
"How To Find And Marry A Girl Like Me"
Comment from the reader:
"This may well turn out to be the best purchase I have made... I hope not too many of my competitors find this book!"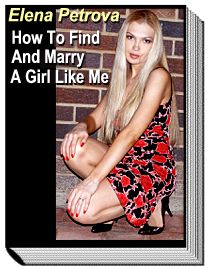 Discover how to find, court and finally marry a beautiful Russian woman!
This is the only book written by a beautiful Russian woman married to a western man - for more than 5 years! - and who is also the owner of a highly successful Internet dating agency.
Find out once and forever what Russian women are really looking for, why they are looking for it and how you can give them exactly what they want!
Get responses on your letters to beautiful Russian women - 9 out of 10, GUARANTEED!
With "How To Find And Marry A Girl Like Me" you'll learn knock-out techniques that will instantly boost your success rate in dating Russian women - online and in real life. You will have more beautiful girls that want to be with you than you can handle!
And not just ordinary girls! They will be beautiful, intelligent, but most of all - honest and sincere! You will be the one to take your pick!
STOP wasting your time and money in search for a Russian wife... Get it done - painlessly, easily, and certainly! Moreover, have lots of fun along the way!
Yes, you too can marry a girl like the one on the picture... Click here!
---
RECOMMENDED:
New Ebook You Cannot Afford To Miss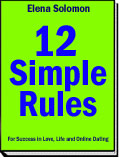 Dating can be complicated... it doesn't have to be! You can jump start your love life - or you can keep wandering in the dark; the choice is yours!
When it comes to dating, most men make the same silly mistakes with women - over and over, with disastrous results.
Do you want to do BETTER than 99% of other guys? Click here
---