Contest: "Personal Experiences"
---

Our lives changed in seconds...
By Ernesto Martinez
Two years ago my life and my family's was very normal, like any other people's. We had our own home, a car each and the kids were at private schools, all with good health and a secure own business. I thought that the only thing that we had to do, was keep working toward our long term plans.
Unfortunately an accident occurred and my wife died, leaving me with three wonderful kids Bruno (6 years old), Monica (4 years old), and Erick (2 years old). Our hearts broken, but in god we trusted and we accepted real life.
For some reason, my wife and I were talking before the accident, we said that we would not marry again if one of us died. We did not consider the real facts of an incomplete family. Time went by and I begun to understand how important a mother is at home. Actually, my mother is helping us and is living with us, but this is not the same. I wanted my kids to have a good education according to my own way of thinking and not according to my mother's ways, because times are changing and education is changing too.
To find an answer to this situation I started looking for a partner, for myself and my children. I looked in the city were I live (Zacatecas, with a 150 000 population). My request was for women between 32 and 36 years of age, with any marital status (taking into account that my wife was 33 when she died) and the only thing that I found, were women that didn't want to spend their time with children. They all wanted to keep working. Other women, with a low level education, wouldn't be able help the kids with their schoolwork (my wife had a university degree, as I have, and I want my kids to have the same too). After a while I tried a larger city (Mexico City), were I lived when I was single, but I couldn't spend too much time on this because the kids needed my attention. The other way to find a partner that I found was the Internet. But in Mexico we don't have a culture of showing your real profile or photograph in a catalog on the web, because they think that some friend or relative could see you in the catalog and they could think that you are a loser or something like that.
Anyway, I kept looking at international web pages, first in the USA. The only thing that I found there were empty women without connections to their families. They wanted a divorce if something went wrong and they didn't care if they were single because the government helped them with food and money. (And I want a partner for the rest of my life). The other thing is that they use too many drugs and that could be a great risk for my family. The education level is not so good either (low). And they don't want to live outside of their own country.
When I was looking at other countries, I saw that Russia had a lot more women looking for a partner than other countries. This caught my attention and I began to investigate these web pages but the only thing that I found were photographs of very beautiful women with some descriptions of themselves and what they were looking for. But that didn't tell me anything about how they were living, how they felt, how they thought and what they were looking for? And why they were looking to marry a foreigner?
Then I found your site, where you explain most of the real situations that are happening. I begun to read each of the options on your site and the way a Russian woman thinks. I liked the family union very much as well, so I was amazed to know that most of them can make their own clothes and cook, and that these things are very valued in a woman in their culture. Making a sharp analysis I decided to marry a Russian woman and I didn't care if she had a little boy or girl, because I think that she would want better for her kid and we could help each other. I think, compared with the web sites that I visited, that your page is the best option to find a Russian bride and I hope that you will help me with my search to complete my family. My kids will be very happy for this too. Anyway, when I am at visiting your page I feel that I'm talking with a friend because you are worried about your clients (men and ladies). The other agencies are only looking for your money and they don't care what happens with your search or what you are looking for.
So I think that your job is not just a service, it's the power of giving happiness to a family or couple, and these people will have this for the rest of their lives thanks to you, because without your job this would never have happened.
Some days ago I visited your page again and found the contest that you are holding. For this reason I wrote this story, so you to know were I stand and what I'm doing.
Thank you very much for reading these lines and I send you my best wishes for you and your family and I hope to win first place.
Bye.
Ernesto Martinez
---
Do you have a story to tell? We want to hear from you!
Click here to Send your story
---
READ ALSO:
My other half, my soul mate
by Warren D. Wheatle: "I remember a conversation I had with my Father one day on the verandah. Saying to him that I really think the person I am to be with is not even here in Australia, but somewhere else in this big world. And the chances of us ever meeting were millions to one..."
---
JUST RELEASED! New E-book by Elena Petrova:
"How To Find And Marry A Girl Like Me"
Comment from the reader:
"This may well turn out to be the best purchase I have made... I hope not too many of my competitors find this book!"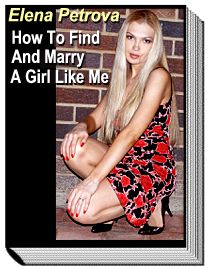 Discover how to find, court and finally marry a beautiful Russian woman!
This is the only book written by a beautiful Russian woman married to a western man - for more than 5 years! - and who is also the owner of a highly successful Internet dating agency.
Find out once and forever what Russian women are really looking for, why they are looking for it and how you can give them exactly what they want!
Get responses on your letters to beautiful Russian women - 9 out of 10, GUARANTEED!
With "How To Find And Marry A Girl Like Me" you'll learn knock-out techniques that will instantly boost your success rate in dating Russian women - online and in real life. You will have more beautiful girls that want to be with you than you can handle!
And not just ordinary girls! They will be beautiful, intelligent, but most of all - honest and sincere! You will be the one to take your pick!
STOP wasting your time and money in search for a Russian wife... Get it done - painlessly, easily, and certainly! Moreover, have lots of fun along the way!
Yes, you too can marry a girl like the one on the picture... Click here!
---