Tuesday 22nd October- The trip to Cheboksary
Well Tuesday had arrived. I woke up at 5am and tried to get some more sleep. My body was still adjusting to the time difference as Melbourne is 6 hours ahead and it would have been 11am there. I managed to get a few more zzz's and I got up at 9am. Olya was coming around at 1:00pm today and we were going to Cheboksary for the day with Lyudmila as the guide. I had 4 hours to kill so I had a shower, got dressed and decided to go for a walk around the town. I wandered around and came across the markets. The previous day I said I would like to buy some gloves and other cold weather things in the market and Lyudmila refused this request saying I would not need them. Well I was going to buy some gloves today. I wandered around the market and finally found a pair of gloves I liked. Now came the tricky part, buying them. I asked how much and the young lady selling them could not understand a word of English (Damn, where was my phrasebook when I needed it). This was going to be fun. We spent about 10 minutes trying to communicate before someone who spoke a little English came past and helped out. He told me they were 200 roubles. I checked my pocket and I only had about 100 roubles on me. I started yesterday with about 3000 roubles so Day 1 was rather expensive by YO standards. Now I had a new problem. Where to exchange roubles? Luckily the guy who could speak a little English was around still so I asked him and he pointed me in the direction of 4 big heavy looking blokes. I exchanged $100 with them then it was back to get the gloves. I got back there and the lady was talking to another 3 ladies. They were all giggling as I did the transaction. I could make out some words what the lady selling them was saying and I believe she said something along the lines of "This guys knows no Russian". Well the transaction was now finished and I smiled at the lady and said spasiba. Everyone started laughing and I carried on my way back home. On my way back I passed Maksim's so I decided to stop in and see Fedor. He asked how it was going and I said great except for some accent problems. We had a good chat and I apologized for leaving so abruptly the day before. After the chat I wandered off home and waited until 1:00pm. Well Olya came around at 1:00pm and we headed downstairs to catch up with Lyudmila and Alec (the driver). We all got in the car and it was off to Cheboksary. On the way I had asked to see the beer museum, which Cheboksary was famous for but every time I bought it up Lyudmila would say she could not understand me. I made it as simple as possible for her to understand but it kept falling on deaf ears every time I asked. I eventually got sick and tired of asking. Well, we got to Cheboksary and drove around looking for a place to eat. Lyudmila finally found a place and suggested we go there. She seemed to have an eye for picking out the most expensive places because lunch cost 1300 roubles. Naturally Lyudmila did all the ordering and Olya and I did not have much say in it. Lunch was not good as I had explained I was allergic to tomatoes and did not want anything with tomatoes in it. Guess what I got. 2 dishes smothered in tomatoes. She ordered me a beer and as I started to drink it she started lecturing me on the evils of alcohol. "Who the bloody hell are you to lecture me, you don't know me from a bar of soap" I thought to myself but I didn't want to create any friction as I knew she was a good friend of Olya's. After lunch the tour began. It was without the doubt the crappiest tour you could imagine. The tour consisted of things Lyudmila wanted to do, not a thing Olya and I might like to see. The first stop was Lyudmila's favorite house. Wow...what a thrill that was. Then it was off to the Cheboksary Shopping Centre where Lyudmila guided us around all her favorite shops. We ended up at McDonalds, which I said I did not want to go to, but obviously Lyudmila did. On the trip back every time I talked, whether it was to Olya or Lyudmila, Lyudmila would immediately reply "We can't understand you" and quickly phase me out of any conversation. In my eyes Lyudmila was a total bitch and no good for Olya and I and I had to somehow figure out how to remove her from the picture because I could perceive her being a problem. This was my tour to Cheboksary. It sucked!!! The only highlight for me was Olya buying me a rune protection amulet. You see during lunch a strange thing happened. I had a Maori Tiki I wear for good luck and safe travels overseas. The link on the necklace broke and it fell on the ground and the Tiki broke. In New Zealand this is considered very bad luck. Olya was upset by this as she had asked me previously about my necklace because she was interested in the design of the Tiki and her gift to me was very thoughtful and it is the one and only endearing moment I will remember from my Cheboksary trip. I got home and Olya asked me if I enjoyed myself. I politely said it was okay but in hindsight I should have told her my concerns then and there. We said goodbye to each other and she left for home. 20 minutes later the phone rang. I picked it up and an American voice spoke to me "Gudday Dave, I'm Bob, Natasha told me you were in town". Bob's voice was a breath of fresh air. It was great to hear from him. We chatted for about half an hour and arranged to meet the next day. Bob was having lady problems and was alone and Lyudmila had organized to show us around town the next day to all the museums and sights from 10:00am. I invited Bob to join us, and he had nothing planned for the morning and thought the idea would be great. Anyway, I hung up and about an hour later I got a strange call. It was Olya's mother. She had not returned home. I said the last time I saw her she left with Alec and she was not here. Lyudmila rang up about 5 minutes later and asked the same questions. I explained to her what I explained to Olya's mother. I told her to ring Alec. He was the last person to see her, he would know and I hang up. I sat awake that night contemplating a few things. The main one was getting Lyudmila out of the picture. I finally got myself to sleep around midnight.
Wednesday 23rd October- Daytime: Bob
Well, got up early again the next day and got ready for a new day. Time difference was still a factor but I was slowly overcoming it. I had arranged to meet Bob outside Maksim's as it was the halfway point from where we both stayed. The arranged time was 9:30am. We had described ourselves to each other. Bob's description of himself was he was a Big Martian, 6ft 4 wearing a baseball cap. I told him I was 6ft 5 and wearing a beanie (woolen hat). Bob was pretty easy to spot. I spotted him before he did me. We introduced ourselves to each other and being outside Maksim's we decided to stop in and see if the famous Max was in. Unfortunately he wasn't, he was sick again so we stopped in and talked to Fedor instead. Fedor asked how things were going and I explained I was having a few problems with the guide. Fedor said just don't use her but I explained how she was a close friend of Olya's and he could see my dilemma. Well, after our chat we headed around to the apartment to meet Olya. Olya arrived at 10 and I introduced her to Bob. We got ready and headed for the Mari museum. The main one was closed for renovation so we went to a little one. Lyudmila was waiting outside to guide us. Here we go again I thought. I told Bob about her the night before so he had an idea of what to expect. Well we started going around the museum and Lyudmila was doing her guide routine. She was pretty hopeless. She didn't really know what she was talking about and just seemed to make up stories as she went along. She continued to comment on how she could not understand me and Bob came to my aid. A funny thing happened on the tour. Lyudmila was prattling on making up one of her stories when the curator came along. She put Lyudmila right in her place and gave a proper explanation for the items we were looking at. Lyudmila did not like being made to look like an idiot at all. This was quite amusing. Well 12:00 o'clock rolled around and Bob had arranged to meet Natasha. I suggested to Olya we join Bob and Natasha and she said what about seeing sights with Lyudmila this afternoon. I said we have plenty of time to do this and Bob wasn't in town long so Olya agreed and told Lyudmila. Now, Lyudmila did not like this one bit when told of it. She had a temper tantrum in the middle of the street and stormed off muttering something. Bob noticed this too. I asked Olya if Lyudmila was okay out of concern. Olya said she had some students to see this afternoon and did not mind. Yeah right I thought, Good Riddance Lyudmila. Well, Natasha took us to a local café for lunch. Lunch was great. We all spent 3 hours talking and listening to Bob's stories. Everyone had a great afternoon. Bob was a real character. It was his second time to the FSU having been to Sevastapol previously and he only knew three Russian words still, Da, Nyet and Spasiba. Bob looked a little like Howard Cunningham from Happy Days. You'd almost expect Richie and the Fonz to turn up when he was around (sorry Bob, had to say it :). Bob had told us over lunch of the lady problems he was having. His lady did not want to see him at all. Every morning he had left flowers at the agency and still nothing. He kept asking himself how someone who could write such sweet letters to him, did not want to see him at all. Well, it was now 3:30pm and lunch was over. We all headed outside and someone came running up to Bob on the street. It was a lady from his agency. She told Bob that his lady would meet him at 4:00pm that afternoon. We wished Bob the best and he and Natasha headed off to the agency. I asked Olya if she liked lunch and she said she had a great time. Well, Olya and I continued down the road. She held my arm and we were like a real couple. We had a great walk and conversation and really enjoyed each others company. We stopped in a local shop that sold Matrioska's and looked at them. She explained the meaning of some of them and I purchased some Matrioska's of traditional Mari-El design. She found a little handcrafted mirror she liked and I purchased this for her as well. We left the shop and carried on down the road as a couple back to the apartment. We got to the apartment and I had a little surprise for her. I had bought a opal necklace in the shape of a koala for her and was waiting for the right time to give it to her. Now was as good a time as any I thought. I retrieved the necklace and handed it to her. I said you know how you got me a lucky amulet yesterday, I would like you to have this as a lucky amulet from me. She was very happy by this gesture and gave me a goodbye kiss and said she would see me tonight. The afternoon was perfect and I could not have scripted it better.
Wednesday 23rd October- Nighttime: Baltika Nine
Well, I was at home and I got a phone call from, you guessed it, Lyudmila, around 8:00pm. She said Olya would come around at 10:00pm and you would go to the concert with her at 10:00pm. I thought to myself what bloody business of it is yours and why isn't Olya ringing to tell me this but I bit my tongue and said okay, I understand. We had got tickets on Monday to see a British Band "The London Beat Group" that was playing in the local disco. I got a table but it was not where Olya wanted to sit as those tickets were sold out. Olya was disappointed but she really liked the band and was looking forward to the concert. Well, she came around at 10:00pm, looking stunning as always. I complimented her on her looks and she thanked me and said I looked very handsome as well. We caught a taxi to the disco and went through the airport level security to enter the disco (metal detectors, frisking etc). We sat down an Olya ordered a wine and I ordered a couple of bottles of the infamous Baltika Nine. I don't know what had happened between now and early that afternoon but the warm friendly lady that I spent the wonderful afternoon with was now reserved. I tried starting conversations with her and they ended up being short and sharp. I asked her if she wanted to dance and she said no. There was another couple at the table that could speak no English and trying to talk to them was fun. Olya seemed a bit embarrassed by the fact I was not able to talk with them. The other lady at the table motioned to me to dance. I asked Olya if it was okay and she said yes so I got up and we danced. I returned to the table and Olya was still distant so I started to drink some Baltika. A short while later the band came on stage and Olya jumped out of her seat and headed straight for the stage. I tried to follow but it crowded very quickly and I lost her in the crowd. I returned to the table and sat down and piled down a few more Baltika Nines until the band finished. I thought it was pretty inconsiderate of her not to ask if I wanted to join her up on the stage. I would have liked this. I sat there at the table and two Russian ladies where talking to me but they spoke no English and I no Russian. About an hour and a half later the band finished and Olya returned to the table. By this time I was rather toasted and on to my 5th and 6th Baltika Nines. I started to talk to her then the DJ started talking and she told me to be quiet. The DJ was giving away door prizes. I just sat back and continued to drink Baltika Nines. I was up to number 6 now when Olya's name was called out and she had won a door prize. She went up and got the prize and returned to the table. I congratulated her and all she did was hand me the prize and said to me "Wait there, look after my prize, I will dance now". Well I just sat back and polished off number 6. After I finished that I thought screw this, I'm going to get some fresh air, so I staggered to my feet and headed for the entrance. I was waiting for my coat when Olya came following behind me. This was about 5 minutes later. She asked what I was doing and I said I needed fresh air. She was not impressed so we grabbed our coats and headed outside and waited for a taxi. I was well and truly toasted now and could hardly stand. About 20 minutes later a taxi came. Olya had prearranged a taxi and we entered the taxi. In the front seat was a man. Olya introduced me. This is my father, Nikolai. Oh s**t, I thought. Not the best first impression to make. In the most sober way I could muster I introduced myself to Nikolai. Olya dropped me off home and said she would ring me tomorrow afternoon fearing I would have a terrible hangover. I staggered up the stairs to the apartment and it was lights out as soon as I reached the bed. I've drunk a few beers in my time but without a doubt Baltika Nine is in a league of it's own. That stuff can drop an Elephant!!!
Thursday 24th October- The Day After
Well I woke up around 11:00am and I was as fresh as a daisy. No hangover, No ill effects. I pretty much knew this would be the case as Mezcal is the only drink that gives me hangovers. Well I decided to go for my daily walk so I wandered down the road and stopped in to see if Max was there. Still no Max, so I stopped in and saw Fedor instead. I told him about the Baltika Nine and he had a good laugh. In fact everyone I told about it had a good chuckle except Olya. I don't blame Olya though. We had a good chat and I said I would like to catch up for a coffee and chat at 6pm today if possible. I continued on down to the markets. I bought a bunch of flowers, a pen and some paper. I knew I had to make a good apology to Olya when we met today. I got back at 1:30pm and rung Olya. Olya answered, I said hello, Olya said hello back then Lyudmila grabbed the phone and said Olya cannot understand what you said. What the hell I thought. In hindsight I should have torn shreds out of Lyudmila there and then but I was in the bad books so I just bit my lip again. I told Lyudmila to tell Olya I was fine after last night. Lyudmila said Olya would come to me at 5:00pm for a Jazz concert tonight and hung up. Well, I hung around the apartment until 5:00pm waiting for Olya. She didn't turn up until 6:00pm. I was a bit upset as I wanted to meet with Fedor for a coffee but I never got a chance to tell her this as Lyudmila did not give me the chance. I gave her the flowers and an apology note. She appreciated the gesture but I could see she was still a little upset by last night. We headed out for the jazz concert. Before we headed out we had a little disagreement as to what I should wear. I want to dress casually, she wanted me to dress up, so I finally submitted to her demand. We got to the jazz concert and 95% of the crowd was dressed casually as I wanted to. I bit my lip again. I was on my best behavior. No Alcohol at all. Olya was very icy that night. No intimacy, short sharp conversations only and the likes. Everyone at the concert seemed to be intimate except us. I was like she was embarrassed to be with me. Not a comfortable feeling at all. The concert finished and Olya bolted out the door about 20 yards in front of me. We did not leave the concert together. I got my jacket and we left together for the apartment. Still the icy demeanor and short sharp conversations all the way home. We got back home, she asked me for 500 roubles to reimburse her for some items she bought at the concert, I gave it to her and she said she would see me at 8:00am tomorrow for the trip to Kazan. No goodnight at all, short and sharp. I was less than impressed by this and spent the next 30 minutes weighing up whether I wanted to go to Kazan for 16 hours with her in this mood, Lyudmila who I could not stand and Alec, the driver who couldn't speak a word of English but was a nice guy all the same. I rung Natasha on the phone and asked if she could come around early tomorrow to do some laundry for me and so I could speak to her about some problems I was having. She said she would try to come around before 8:00am so I decided to sleep on it before I made any final decision.
Friday 25th October- I hope Lyudmila burns in hell
Well I was up at 7:00am and got a bite to eat and got dressed. I waited for Natasha to show but she did not. 8:00am came around so I rung her and she said she could come around until 10:30am. I walked out the apartment and met with Alec. I had decided not to go to Kazan so I told him Nyet Kazan. He stood there motioning for me to get in the car and I kept saying Nyet Kazan. He finally rung Lyudmila and I spoke to her. I told her "I will postpone my trip to Kazan. There are some problems I would like to resolve first. I am going to speak to my friend Natasha about them. Tell Olya I will ring her after I speak to Natasha". I decided to go for a walk to clear my head. I wandered around for about an hour and decided to stop into Maksims. I sat down and talked to Fedor. Olya had rung Maksim's at 8:30 wondering if I had been there. Fedor had told her he had not seen me. He asked how things were going and I said not good. We had a good conversation and he tried to sell me on some of Maksim's ladies. Always the opportunist I thought. After our chat I carried on back to the apartment to meet with Natasha. Natasha came around and she was worried. Olya had rung her as well. Nobody knew where I was. We sat down and talked for a few hours. It was a good conversation and gave me a lot of insight into the psyche of a Russian Lady from the perspective of another Russian Lady. During this conversation she mentioned what Lyudmila had told Olya about why I did not go to Kazan. Lyudmila had told Olya I did not want to go to Kazan so I could spend the day with Natasha. Did I see red when I heard this. Natasha did not see it but I knew exactly what Lyudmila would have implied to Olya with this comment. I knew Lyudmila's type and had her pegged from Tuesday. She was a manipulative, self-serving control freak and a freeloader. I spoilt her free trip to Kazan so now I was being made to pay, most likely like other instances earlier in the week. So now it would be my word over Lyudmila's and Olya thinking that I am seeing Natasha. After Natasha left, I rang Olya. Her parents answered and said she was not home. I tried again about 3 hours later, the same and again later. I spent all day by the phone and did not go out at all waiting for her call. I spent this day writing most of this trip report. I got a phone call from Bob around 8:00pm. He asked how things were going and I told him. Bob told me he had a free ticket on the train and was 99.9% sure it would be vacant. At this moment I told him I was 99.9% sure I would take his offer. I rung Natasha and told her of my decision. Natasha urged me not to be too hasty and even suggested trying Fedor for a new lady but I did not want this. She told me to sleep on it so I went to sleep upset by the day's events. Not exactly a memorable last night in Yoshkar Ola.
Saturday 26th October- Goodbye Yoshkar Ola
Woke up in the morning to a phone call. It was a friend Kurt from the US. Natasha rung Kurt concerned about me and Kurt had rung me. Natasha thought I was leaving Russia altogether but I was going to spend my last week in Moscow. Talked to Kurt for a while, laughed about the Baltika incident, told him of Lyudmila and the jam I was in and how I met a friend of Zina's in Moscow and I would see how things went in Moscow. After our chat, I tried Olya one last time. I had not completely given up on her at this stage. I still believed there was a slight chance if only she would speak to me. Her parents answered again and said Olya was not there. They were still smoke-screening for her. I told her mother to say goodbye to Olya. I would leave for Moskva today. I came to Yoshkar Ola to see just her and if she did not want to speak to me then I did not want to be in Yoshkar Ola. Her mother sounded a bit shocked by this. Her mother probably got fed the same crap by Lyudmila as Olya was and thought I was with someone else. Well after this call I rung Natasha. I told her I was out of here. Natasha said she would arrange for the train ticket and meet me at 12:00pm. I waited around and she finally came at 2:00pm. Natasha came around with her daughter Katya. She was a lovely little girl. Natasha told me it would cost some money to change the name on the ticket at short notice. I said no problems and she told me she would meet me at 4:00pm. I decided to head down to Maksim's and say goodbye to Fedor but Fedor was not in and instead I got a surprise. Max was in the house. I walked in and he said hello to me. I turned around and saw Max. I went up and introduced myself to him. I met another guy from the states as well. His name was Eric. He was Chinese but had lived in Baltimore for the last 13 years. He was due to leave on the same train as Bob and I. We all sat around talking to Max, philosophizing and the likes. I told Max my story and well Max, being Max of course, tried one last hard sell on me. I wouldn't have expected anything less from him :) I liked Max a lot. He kind of reminded me of a Russian version of Buddha. Someone people would gather around to hear his words of wisdom. What Max lacked in because of his physical disabilities he more than made up for in his heart and soul. We talked for around an hour and a half. While we were talking a surprise visitor showed up. I got the privilege to meet Lena (Reeechaaards Fiancee). Reeechaaard, you are a very lucky man. Lena is a very beautiful, cheerful lady with a great personality. I hope you are together soon :) Well now it was back to the apartment to await Natasha to take me to the train station. Natasha arrived around 4:15pm and it was off to catch the train and meet with Bob. Bob arrived shortly after me and we met Eric as well who was looking for his lady. I grabbed some snacks for the trip back and we all waited for the train. I thanked Natasha for all her help and said goodbye to her and Katya. I wished her all the best with her Italian boyfriend. Well Bob and I boarded the train and it was farewell to Yoshkar Ola. I made some great friends in Yoshkar Ola. In Natasha, Fedor and Max but it was also marred by one of the most despicable people I have ever encountered in Lyudmila who spoilt any chance Olya and I had.
Saturday 26th October- The Train Back to Moskva
Well, the train rolled out of Yoshkar Ola. Bob and I sat there contemplating how things had gone so wrong for us. With Bob his lady had wrote him all these wonderful letters about her and he turned up and she was nothing like what she wrote and did not have the time of day for him, with me a vile despicable creature had destroyed my relationship with lies and manipulation. We wondered if we would ever step foot in Yoshkar Ola again. I mulled around with the "what if" scenarios. What if I stamped my foot down Tuesday about Lyudmila, what if this, what if that, but at the end of the day it was over and nothing could be done about it. Time to move on. I will miss Olya, she remains a great lady in my mind. It will probably take a few more failures before she realizes that she will need to remove Lyudmila from the process for it to work for her. Well Bob and I decided to see how Eric was going and whether his lady had turned up. Eric was in the same carriage as us so he was pretty easy to find. His lady Olga had turned up. It was nice to see someone had some success. Eric and Olga were pretty much whirlwind. They had only met yesterday. They were a nice couple and I wish them the best. We all sat down and had a great conversation. Olga asked where our ladies were so we told her our hard luck stories. An interesting thing came up in the conversation. It was the old age issue. Before people jump up and down let me state this came from Olga as I know this is a favorite topic of many here :) Bob explained to Olga the age difference between him and his lady. It was 22 years. Olga said to Bob you were old enough to be her father and that is probably why it did not work. I asked Eric his age. It was 39 although he did look younger. We asked Olga her age. It was 23 years old. What? 16 years is okay but not 22? Strange? I was confused. Olga asked how old I was. I said 33 years old. She replied I am too young for Russia. Ladies are interested in men 35 years and older. I quizzed her why this is the thought. Why not be with someone closer to your age group? She replied with the classic more security with older men. If this was the case, then what about Bob? He would have been a great provider and provided much security to his lady. It was an interesting chat to say the least. Well after a few hours of chatting we retired back to our compartment. Bob and I chatted some more then we got some sleep (or at least Bob did). Bob could out-snore any drunken Boris. I didn't get much sleep. We woke up in the morning. I wished Eric and Olga all the best and we waited for the train to roll into Kazansky station.
Sunday 27th October- Back in Moskva
Got into Moskva and Zina and Kolya where waiting for Bob and I. Zina was a little shocked because she had expected to see me in a weeks time, not now. Zina recommended I stay in the Rossiya Hotel and told me the rates. They sounded fair so we all headed on out to the hotel to check in. I booked in for a week and it cost a little more than 12,000 roubles. Very reasonable considering the great location. Zina gave me the once over about prostitutes disturbing patrons all night but I told her I knew already as I had read this on the group website. Bob left with Zina for a little sightseeing excursion and I went up to the room to unpack. The room was great. It had everything I needed. If I was to have any complaints it would probably be the poor lighting in the bathroom but apart from that I was more than satisfied. I unpacked and waited for 12 o'clock when my passport would be ready down stairs. 12 o'clock came around and I grabbed my passport and decided to go for a little walk to check out where everything was. I wandered around for about an hour familiarizing myself with the surrounds and returned to the hotel. Whilst I was in the lobby I heard Zina call out to me. Her, Kolya and Bob were upstairs having a coffee. Bob sightseeing adventure was aborted due to poor weather. I went up and joined them. We all sat around and chatted for a while. While we were chatting Bob asked Zina if she had any kids. Zina said yes but her daughter looked completely different to her. I had met Zina's daughter Polinka the previous week so I knew what she looked like. I said to Zina "Nyet, You and Polinka have one thing in common. You are both midgets". Zina replied "Daveed, I vill kill you" and we all had a great laugh. Zina then made a few phone calls and set Bob up with a date later that afternoon and set me up with a lady as well. Zina told me the lady would come at 3:15pm but Natasha would ring me at 4pm and I would need to be in my room. Zina had pre-arranged an excuse earlier that I would be receiving a phone call from Australia and had to leave so I went along with it. Well 3:15pm came around and I met with Irina. She was a very beautiful lady but very small as well. She was about the same height as Zina (A little over 5ft). We had a coffee together and chatted until 4pm. It was great and I wished her farewell and headed up to my room awaiting Natasha's call. Well Natasha rung about 4:30pm and said she would meet me at 11:30pm tonight with a friend because she had to work. I said okay and we agreed to meet in the hotel lobby. I rung Bob to see what he was doing and he was still waiting for his date Galina to show up. Well I hung around the hotel room then I got a phone call from Bob around 6pm. He had been stood up again. He said he wasn't doing anything and I told him same here until 11:30 that night so we decided to have a few beers together being Bobs last night and all. So we went to one of the cafés in the Rossiya and here I met the only other Australian I could find in Russia. Crikey, It was a cockatoo (Australian Parrot) and she was a beaut mate. It was good to finally see an Aussie even though it was just a bird. Bob and I had a great time while we waited for the ladies to arrive. Well 11:45 and the ladies arrived, conveniently late as all ladies tend to be. Natasha had bought her best friend Janna with her. She was a real character. Very forthright and cosmopolitan in nature. I think Bob was a little scared of her but we all had a great time over drinks. Bob had bought his electronic gadgets with him tonight. His spy tape-recorder and pocket translator. Bob told the ladies how he worked for US Defense Dept. so the ladies decided to call him Bob Bond (James Bonds American Brother). Well the bar closed a little after 2:00am and the ladies decided to go home so Bob and I retired for the night. I knew Bob had to leave at 6:00am in the morning and the odds of me getting up then where pretty remote. I said goodbye to Bob and thanked him for being such a great friend. I was going to miss Bob. In the few days we knew each other we built up such a strong friendship. If you are reading this Bob, I feel very privileged to have met you. Thanks for being there and all the memories mate. Maybe we will catch up some time in the future, who knows? I hope we do because I made a friend for life in you :)
Monday 28th October- Moskva Day 2
Well I got Natasha's phone number the night before and we had agreed to meet for lunch the next day. Natasha had to work 3pm to 11pm so it was lunch only. She came around the hotel around 11 o'clock and it was off to lunch. Natasha took me to the starlite café. We ordered lunch and it was great. I barely finished my meal and Natasha could only eat half of hers. It really hit the spot as I hadn't much to eat the previous day. We chatted a lot over lunch and I could still see she was a bit surprised to see me back in town. She asked what happened in Yoshkar Ola and I told her. She seemed sorry it did not work out but she also expressed how crazy she thought this whole Internet romance thing was. The Concept of two people from different sides of the world falling in love over a few letters was hard for her to fathom. Well lunch was over and we walked around a little until Natasha finally had to go to work. I thanked her for a lovely day and returned to the hotel. A little later Zina rung. She knew Natasha had to work so she set me up with a friend of hers to keep me company for the night. Her name was Anna and she was coming around to meet me at 6pm. Well Anna came around and she was a delightful lady. She had a dance class that night. She did tradition Indian dancing. I walked with her to her class and she got changed into a Sari. It was quite funny seeing a whole load of Russian dressed in traditional Indian costumes. I sat there and watched as her class rehearsed. One of her classmates had bought her little brother along. He was about 6 and his name was Misha. I ended up being this little boys best friend throughout the rehearsal. It was quite funny. He was a real little rascal. Well the rehearsal finished about 9pm. Anna was a great dancer. We walked around for a while and talked. She was great company. We stopped into a little bar not too far from the Rossiya and had a few drinks. We chatted for a few hours. She was great company and very sweet. Well the bar closed, she gave me her phone number and we parted ways. I went back to the hotel and retired for the night.
Tuesday October 29th - A quiet day
Well got up in the morning and I rung Zina. I knew Sean was coming into town and I was hoping to catch up with him and say Gudday. Zina was at the airport still waiting for Sean. I rung Natasha to see what she was doing. She had work later at 3pm. I told her I would like to catch up with Sean today and if she would like to come along. She wasn't really too keen because of work so we arranged to meet the next day when she had the day off. I rung Zina back about midday to see if she had met Sean. She said yes and handed Sean the phone. We talked briefly and he said he was off to the Embassy in search of some answers. I said no worries and that I would try to catch up with him later. I went out for a walk and returned to the hotel a few hours later. I rung Zina and everyone was down the embassy. This was about 2:30 and Sean had only just started to be seen. Zina suggested I meet up with them down Kazansky station as they were on a very tight schedule. I said yes, hung up and went downstairs to try and order a cab for Kazansky station. I would have asked about 10 taxi drivers to go to Kazansky station but the only English word they seemed to know was Taxi. To cut a long story short I never was able to get to Kazansky station so I missed out on seeing Sean and Marina. It was a shame because I was waiting for the can of fosters to come flying my way. Well anyway the day had been a waste. I went back in the hotel, got a bite to eat and returned to the hotel room. With no plans I decided to catch up on some sleep and try and get rid of a niggling cold that was coming on so I spent all of the evening nice and warm in bed.
Wednesday October 30th - Natasha's Day Off
Got up around 10, fresh as a daisy. I gave Natasha a call. She said she would meet me around 2 and that her friend Janna will be with her. I had met Janna on Sunday Night and we got on well together. Her English was a little better than Natasha's so her presence would make communicating a little easier. I decided to go for my daily walk and sightseeing excursion, which had now become like a morning ritual for me as I passed the time waiting for 2pm to come. 2pm came and we met at the hotel and headed up for a café by Red Square for some lunch. Lunch was great and well priced by Moscow standards. We all chatted for around 2 hours over lunch and had a great time. The girls then said they would like to take me to the Tretyakov Gallery. I said sure, how would we get there? They said taxi or metro. I thought for a while then said the metro. I had heard about it but wanted to see it first hand. So we headed down to the metro. I could hear classical music when walking down the tunnel and I wondered where it was coming from. Then I saw this amazing sight. There was a 12 piece string orchestra busking. I thought crikey, this is a bit more upscale than the blind guitarist singing Roy Orbison I see back in Australia. After about a ten minute walk we finally arrived on the platform and boarded the train. We got off a few stops later and headed for the museum. We entered and Natasha went up to buy the tickets. She came back and said it was 35 roubles for Russians, 120 for foreigners. She said she would sneak me in as a Russian so be quiet. I replied Da. I had picked up a few words so far on my stay so I thought now would be good to try them out. We entered and spent the next 3 hours looking at the artwork. The artwork inside was amazing. If anyone is interested in galleries or religion then you must visit this gallery. It would have one of the most impressive collections in the world. Well after the gallery I decided to take the ladies to the bar I was in Monday Night. They seemed a bit surprised. Where was I taking them they thought? We arrived at the bar and sat down, order a meal and a round of drink. I chose my meal off the Russian menu, even pronounced it in Russian and they were even more surprised. It was quite a laugh. Natasha asked me how I found this place and I told her I went her with a friend of Zina's on Monday Night. The girls had a good laugh and complimented me on how independent I had shown myself to be in finding the place and ordering a meal. We all sat around, laughing and joking over a few drinks. The ladies tried teaching me new Russian words and I in turn tried teaching them some Australian words. It was a great night. I got the bill at the end of the night. Now remember this is Moscow folks. 3 excellent meals, 4 Baltika, 8 Vodka & Cokes and 3 B52's. 1400 Roubles!!! I had found a decently priced place in Moscow close to the Rossiya as well. Well we stayed until close and the ladies thanked me for a great night. They got a taxi home and Natasha said they had Thursday off as well so we arranged to meet again. I went back to the hotel and retired for the night.
Thursday October 31st - Halloween
Woke up and rung Natasha. She said she would meet me around 3pm so I decided to kill the time by going for my daily walk. Today would be a little different though. Today I was going to get in trouble with the local Militskaya. I was happily puffing away on a Zolotaya cigarette taking photos around where Zero Mile and the Eternal Flame are when someone came up to me to ask for papers. Turned around and it was the Militskaya (gulp!). This was the first time all trip this had been requested of me so I showed him the passport and visa. He then pointed to a sign and said can you read this. I said Nope. He said it said no smoking (would have been nice if they had the universal no smoking sign on it). I said sorry, I didn't realize and I would not do it again. Well he got me to follow him over to his supervisor. They discussed whether to take me to the station or not. After I while he turned to me and said I did not have to go to the station and the fine for this was US $20. Now it got fun. All he was doing was telling me how much the fine was but the way he said it I thought he wanted me to pay a fine. This went on for about 20 minutes before another guy came over who could speak better English and I asked him where I pay the fine. He explained to the other guy and he laughed and said to me no fine then told me I could go. If wandered off and thought 'Well hey, it's all part of the Russian experience'. Got back to the hotel and waited for the ladies. They arrived and we headed out for the Metro again. Didn't see the Orchestra today :( They decided to take me to the movies. I thought great. Got to the theatre and bought a jumbo popcorn. The ladies laughed at me and I wondered why. Then I discovered when the popcorn came. I was the size of a 10 litre bucket. Well we went in the theatre. Cant wait to see an English movie in Russian I thought but instead the movie was in English and the Russian people used headphones to listen to it. I told the girls I was hoping it would be in Russian but they looked at me strange. Why would you want to see a movie when you cant understand the words they thought so I explained and they laughed and thought I was crazy. After the movie we left and in the foyer there was about 50 people dressed up in Halloween costumes. It was a laugh and we had a bit of fun with them. We decided to leave the shopping centre where the theatre was and on the way out this lady in a Halloween costume grabbed me and dragged me into this salon. I thought hello, what's happening here. She started talking to me in Russian and I just played along, nodding my head saying Da. The ladies were cracking up laughing. I didn't know what was happening but we all having a good laugh. Anyway this lady gave me a whole load of beauty products and we took a photo together and left. I don't know and still don't what exactly happened. I think it might have been some sort of promotion. The ladies swooped on the beauty products as soon as I left anyway. Well it was off to a café now to meet Natasha's sister. She had forgotten something and arranged to meet Natasha to pick it up. Natasha's sister was great. She couldn't speak a word of English but seemed very curious about me. We all had a chat and her sister went her own way. Well after the café we decided to go back to the bar we were at the night before. The ladies ordered dinner and I passed. I was still stuffed from devouring the jumbo popcorn. We had a few drinks and laughs and the ladies told me they had to leave so the night ended about 10pm. They were on morning shift the next day and had to start at 5:30am. I said I understand and we called it a night. I went back to the hotel and retired for the night.
Friday November 1st - On my own for the day
Well I woke up, went for a walk and returned to the hotel. I waited until about 3pm and rung Natasha. I asked her if she was doing anything tonight and she said she was tired after starting so early and she needed some rest. I said okay so we agreed to meet the next day. I went back to the hotel room and thought about what to do. Well about 6pm came around and I was feeling hungry. I didn't want to go to the hotel restaurant so I decided to visit my favourite bar again. I got to the bar and all the upstairs tables were taken. I asked if there was any free tables and they said downstairs but I would have to pay a cover charge because there was a nightclub down there. I said okay. It was 100 roubles. They ladies then started chatting amongst themselves and said it was 150 roubles. I asked why and they said it was a public holiday. I asked what and they said Halloween. I laughed and said Halloween was yesterday. I gave them the extra 50 roubles but they knew I wasn't naïve so milking me would be difficult. Well I went downstairs and ordered a Baltika 7 and a steak meal. I sat there, ate the meal and downed another 6 Baltika's over the course of the night. My only real friend there was a bar lady named Elena. She was great. I got the bill and it was a nice tidy 500 roubles. I gave Elena a 500 rouble tip and thanked her. She was very happy. I was happy, drunk as well :) and I returned back to the hotel to retire for the night.
Saturday November 2nd - Last Night in Moscow
Same old routine. Woke up, went for a walk and returned to the hotel. Rung Natasha and we were due to meet at 4pm. I decided to kill some time so I watched some TV in Russian. Couldn't understand a word they said but I didn't care. 4pm rolled around and I caught up with the ladies. Natasha told me they had to leave at 6pm for a work meeting so my last night in Russia was not going to be a big one. We went out to a café and had some coffee and cake. I gave them both an Authentic Aussie Cork hat each and they laughed as they wore them in the café. We got some really strange looks but we all didn't mind. We chatted and then 5:30pm rolled around and it was time for the ladies to go. I gave them both a big goodbye hug. I knew Natasha had her sister's birthday the next day so this would be the last time I would see her. I thank both the ladies for a great time and they thanked me and wished me a safe trip and we headed our separate ways. I went back to the hotel. I sat in my room for a little while then decided to go downstairs and grab a few beers. I got to the bar we were at Sunday Night and started to drink a few Baltika's. I just sat there reflecting on my time in Russia. I would have polished off about 10 Baltika's before they ran out. I asked what else they had and they tried to sell me some Millers. I said Nyet. I want Russian Beer only. So I started on the only other brand they had and drunk that out of stock. There was no Russian beer left now so I called it a night. I asked for the bill and they must have felt sorry for me because they only charged me for 5 beers. I would have sunk close to 20. Staggered back to my room and retired for the night.
Sunday November 3rd - Farewell Russia
Well I got up in the morning not feeling too flash. It was off to the toilet right from the moment I got up. This is how I spent the morning. Packing and rushing to the toilet. Too many beers the night before I guess. Well I checked out and stowed my luggage until Zina was going to come around and pick me up later that evening to take me to the airport. I had 7 hours to kill so it was off doing some shopping. I decided to stock up on some cigarettes for the trip back so I went around all the local places and bought 15 cartons of smokes. Next I got some vodka. Then it was off to get some souvenirs. I found a place that sold some hats and t-shirts. I talked to the lady there and she spoke great English. She asked if I was from Australia and I said Da. She had spent some time in Perth so knew a bit about Australia. We had a great chat. Well the shopping was done so I went back to the hotel and grabbed something to eat before Zina turned up. Well 7:30 came around and Zina turned up and it was off to the airport. I told her my plan about the smokes and she said I would never get them through Moscow customs. She said I was crazy and we had a good laugh. I said I would take my chances. We got to the airport and Zina ran me through the process and I said goodbye to Zina and Kolya.
Sunday November 3rd to Tuesday November 5th - The trip back
Well I went through customs and everything was sweet. I got the smokes through. Got to the ticket counter and they weigh my bags. I was 3kg's over. They charged me 3700 roubles. I was not happy. I could have opened the bags and taken some stuff out but they were loaded full of smokes so I decided not to. Next was passport control. This only took an hour. Boarded the plane a short while later. It was a little better than the flying piece of crap I flew in on. It had been recently refurbished whereas the other had the original seats. Decided to try and catch some zzz's but once again no legroom and I had Boris the Snorer sitting next to me. Got into Bangkok. A nice pleasant 30 degrees then it was off to Singapore. Arrived there, same temperature. It took 13 hours to get there from Moscow. I checked in with Qantas and boarded the flight to Melbourne. The flight back was better as it was direct to Melbourne and only 7 hours. Arrived in Melbourne around 6:30am on Tuesday, completely stuffed. Got very little sleep at all and I was glad to be back home. Grabbed my luggage and everything was sweet right up until the last checkpoint. I went through the green line and almost home. They were checking people at random and wouldn't you know it, I was randomly stopped. The guy x-rayed my luggage and asked me to open my bag. Oh crap I thought...he found 10 cartons of smokes and took 9 away :( Luckily he didn't keep checking and come across the other 5 :) He told me if I wanted them I would have to pay US$250 in duty. Well there was no way I was going to pay that so I told him to keep them. Well got out of the airport not too happy, caught a taxi home and straight to bed.
The End
Well looking back on my trip it did not turn out how I expected but as far as a learning experience goes it was priceless. I made some great friends in Bob, Zina, Kolya, Natasha from Yoshkar Ola, Natasha from Moscow and Janna. I got to meet some great characters in Max and Fedor. I got to see some amazing sights. I experienced some great times and some bad times. I had a relationship with a great lady Olya, ruined by a friend of hers who I will despise till the day I die. I may have found a lady in Natasha from Moscow, only time will tell. I learnt a lot about Russian Culture and also improved my Russian a lot. If I could do it all again then I think the main thing I would change is learning Russian. I believe knowing basic conversational Russian is very important and when I next travel I intend to have these skills. One thing really appreciated by all I met was my efforts to learn the language. I will never be able to speak Russian like a native Russian but seeing the appreciation for trying makes it all worth while. After all, in most cases the ladies have made the effort to learn basic English.
---
Do you have a story to share? We want to hear from you!
Click here to Send your story
---
READ ALSO:
I'm doing my homework
by Paul Bannon: "There is something appealing and very romantic about finding a Russian lady. Once you experience the sound of her voice and the touch of her hand you will be caught in the grip of love. Russian ladies are sweet, intelligent, and beautiful women just waiting for a western man to sweep her off her feet or should I say she will sweep you off your feet. ..."
My personal experience of finding a Russian wife
by Greg Wilson: "My personal experience of finding a Russian wife began several years back. I was home one day watching a television program about several beautiful Russian women indicating that they were interested in marrying men from countries outside the former Soviet Union..."
---
JUST RELEASED! New E-book by Elena Petrova:
"How To Find And Marry A Girl Like Me"
Comment from the reader:
"This may well turn out to be the best purchase I have made... I hope not too many of my competitors find this book!"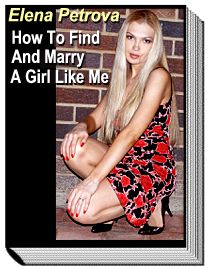 Discover how to find, court and finally marry a beautiful Russian woman!
This is the only book written by a beautiful Russian woman married to a western man - for more than 5 years! - and who is also the owner of a highly successful Internet dating agency.
Find out once and forever what Russian women are really looking for, why they are looking for it and how you can give them exactly what they want!
Get responses on your letters to beautiful Russian women - 9 out of 10, GUARANTEED!
With "How To Find And Marry A Girl Like Me" you'll learn knock-out techniques that will instantly boost your success rate in dating Russian women - online and in real life. You will have more beautiful girls that want to be with you than you can handle!
And not just ordinary girls! They will be beautiful, intelligent, but most of all - honest and sincere! You will be the one to take your pick!
STOP wasting your time and money in search for a Russian wife... Get it done - painlessly, easily, and certainly! Moreover, have lots of fun along the way!
Yes, you too can marry a girl like the one on the picture... Click here!
---
RECOMMENDED:
New Ebook You Cannot Afford To Miss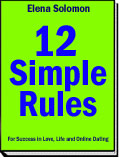 Dating can be complicated... it doesn't have to be! You can jump start your love life - or you can keep wandering in the dark; the choice is yours!
When it comes to dating, most men make the same silly mistakes with women - over and over, with disastrous results.
Do you want to do BETTER than 99% of other guys? Click here
---