Dr. Marc De Jong
www.network-love.com,
www.russianladiesagency.com,
www.perfectrussianlady.com

"More and more people find their love online. No wonder", says Marc de Jong. He thinks that online dating is even better than dating in the real world.
Let me tell you a story. For years I went to bars, festivals and other meetings, and it wasn't always for the beer or the music. To be honest, many times I was mainly looking for a girl friend, for a woman to spend the rest of my life with. I had my share of dates, don't worry: Frankenstein was not my father, some ladies even consider me handsome. But in the end I was still living on my own, and slept in a bed that was always too big.
Life changed when I bought a modem and went on the Internet. Initially my connection wasn't meant for a ride on the electronic highway to love - remember: I am a music fan - but it lasted only a few days before I first visited a dating site. Within seconds, thousands of women entered my cramped living room, and after a little surfin' around I wrote a girl that called herself Pearlemma. I hope it was not her real name.
Only 24 hours later Pearlemma wrote me back. We exchanged up to six letters. Then it became clear she was only interested in having a chat once in a while. I knew the type - from bars, festivals and other meetings. My next stop was FriendFinder, one of the oldest and best known dating sites. I found a lady with whom I shared some hobbies and interests, but I soon had enough when she sent me her picture.
Online dating finally became serious when I put my ad on a site called Soul mates or something like that. I got a few replies, wrote back, got more replies, wrote back again, made a selection, wrote more, met her. Love, romance, you got it, and I got it. And then we split up. These things happen, not only in the virtual world. But at least I knew, online dating could work. So when I had come to terms with the emotional damage, I put another ad, and this time it was really bingo time. Over one hundred replies. And you know what? I'm happily married now, for over eighteen months, with a lady who used to live on the other side of the world.
Why am I telling you all this? Because I truly believe online dating works. And even better than real world dating. First of all, there's choice. Second, there's comfort. On the net, you can meet thousands of potential partners and still stay at home. Your choice is incredible: as long as you speak a few words of English, you can communicate with almost the whole world. And even when you only speak your native tongue (if not English) then you can still reach more people than you will ever be able to meet in a bar. You can write at daytime, at your work, during one of these dull and lonely evenings, in the middle of the night when the bed's too big again. Doesn't matter: you can choose time and place yourself.
Maybe you only want someone who lives just around the corner, but let me tell you this: the international aspect of online dating adds some extra flavour, which you will never regret to try. Other countries means other cultures, and other cultures are not scary, no, they enrich your life. They broaden your view, tell you what's strange about your own culture, and show you things you had never dreamt of. Besides, it's very exciting to go on holiday knowing you'll meet this mysterious man or woman for the first time. And if love is true and the country nice, you have a great holiday destination for the future as well.
Online dating is also honest. O.K., there are people who place an ad without taking it seriously, and some might even try to scam you, but that's not different from the real world. If you take the right precautions and use your brains, you will only meet men or women who don't hide their intentions. On the net you do not have to say 'Can I buy you drink', then wait for hours, weeks, sometimes months - or even years - to find out that your 'partner' liked the drink more than you or already had someone else. No, on the net the world is simple and clear. By just putting an ad, people say: 'I want love'. Now, that's an opening sentence!
When starting points are so obvious, it's also much easier to speak about issues that really matter.
What do you expect from life?

What kind of relationship would you prefer?

Do you want children?
Just a few questions you will never ask a boy or girl in a crowded bar or noisy discotheque, while being watched by your and his or her friends. But when you write an email you CAN ask it, and you don't have to wait for the right moment. If you don't limit your correspondence to superficial talk, but achieve real in depth communication, you save a lot of time. So invest in your writing skills and be honest, and your relationship will benefit from it for years.
The great thing about email is it's inbuilt paradox. It can be very personal and intimate, but still it's anonymous, because you use a 'third party', your computer, to express your thoughts and feelings. With no direct listener you can come to the point. And the great thing is: most people are easily touched by a personal letter. A letter also gives them time to react, while a live conversation requires immediate answer, which can be an obstacle when you are overwhelmed by emotion.
There are people who regard online dating as unnatural. Well, then tell me what IS natural? There was a time when bars and disco's were just as new as the Internet. There are countries where bars and disco's do not exist, even in the 21st century. And what is natural about joining a singles club and go out bowling with people who are only rating each other's looks?
I may be romantic, but I think the man or woman of your dreams might well be living somewhere else, on a place where you haven't looked yet. It can be your neighbouring city, or an almost deserted island in the Pacific. But thanks to your computer you can find him. Or find her. Go for it.
---
ABOUT THE AUTHOR:
Marc de Jong is a journalist and professional writer. Together with his wife he runs a few websites in the dating industry, among which www.network-love.com, www.russianladiesagency.com, www.perfectrussianlady.com
---
Do you have an article we could publish? We want to hear from you!
Click here to Submit your article
---
READ ALSO:
TOP STORY: THE GOLDEN RULE AND OTHER BALDERDASH - A Compendium of Comportment for Courting an Angel - a VERY funny, non-conventional, serendipitous guide to meeting, dating and courting Russian women - this will have you laughing out loud and provide you with some invaluable advice you should never follow. By famous Dawk Ziti, PhD:

"Do your ex-girlfriend and her cackling pals resemble the witches on Walpurgis Night? Are you tired of having to kiss someone's plump rump all day only to find, to your chagrin, that her bedroom door has a sturdy deadbolt and she sleeps like a lamb? Throw away your handcuffs and listen to one who knows..."
How To Write A Romantic Love Letter - By Renee Michaels. Does the thought of writing a love letter or poem automatically reduce your vocabulary to a 5-year-old's level? To impress your new Russian bride or your partner to fall in love with you, don't afraid to use the suggestions from Renee Michaels. You won't regret it.
Symbolism Of Wedding Rings - By Peter Breslin. Have you ever wonder about the history, the meaning and the symbolism of wedding rings? Now you can find out in details...
Marriage Proposals -- Why Doing It Right Will Make All the Difference - By Susan Daniel and Debbie Overstreet. Proposing marriage to your Russian Woman is a very big step. You get the ring, but then you don't know when, where, or how to actually pop the question and to be memorable at the same time. Find out how you can do it the perfect way!
5 Tips to Make the Right Decisions in the Midst of Chaos - By Beth A. Tabak. The quality of decision making skills shrunk drastically in the midst of chaos. We make hundreds of decisions daily. They make or break us. Are we making good ones? Learn how
---
JUST RELEASED! New E-book by Elena Petrova:
"How To Find And Marry A Girl Like Me"
Comment from the reader:
"This may well turn out to be the best purchase I have made... I hope not too many of my competitors find this book!"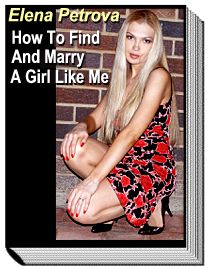 Discover how to find, court and finally marry a beautiful Russian woman... from a beautiful Russian woman!
Find out once and forever what Russian women are really looking for, why they are looking for it and how you can give them exactly what they want!
With "How To Find And Marry A Girl Like Me" you'll learn knock-out techniques that will instantly boost your success rate in dating Russian women - online and in real life. You will have more beautiful girls that want to be with you than you can handle!
And not just ordinary girls! They will be beautiful, intelligent, but most of all - honest and sincere! You will be the one to take your pick!
STOP wasting your time and money in search for a Russian wife... Get it done - painlessly, easily, and certainly! Moreover, have lots of fun along the way!
Yes, you too can marry a girl like the one on the picture... Click here!
---
MUST READ!
12 Simple Rules

This book will light a few light bulbs in your head.

If you wonder what is the cause of your problems with women/men, this book will open your eyes and give you precise instructions on how you can get the love life you always wanted.
If you were out of the game for a while and struggle to get back, this book will help you re-gain your lost confidence and learn a few new tricks along the road.
If you consider yourself an expert on dating, you will find several tips that will make you pinch yourself and say, "I can't believe I didn't think about it before!"

The secrets in this book will give you an unfair advantage in the battle of sexes, so much that you may even feel guilty of using them... because you know EXACTLY what results you are going to get when the other party doesn't have a clue! It's like taking a candy from a baby.

So, if you want to keep your life the way it is...
DON'T read this book.
Because you'll NEVER be the same person again.
I promise.

DON'T CLICK HERE unless you are ready to get MORE love, MORE money and MORE success in your life!
---