I want to do everything right from the very beginning, and I want to write the right letter of introduction. Any advice?

You must be clear and precise about things, and avoid being too general. Discussing your opinions about family life is important, but do not forget to supply a lady with all the important information she is looking for.

If you own a house, tell about it. If you own some businesses, tell about it. If you live in a small town, tell about the town and what life there is like. Tell about the climate and what entertainments are close by.

Try to tell about the things not as if you are numbering them, but from your own personal experience. For example, "I own 3 bedroom house" will sound better if you say "I like my house; it's cozy and comfortable, and there is enough space for visitors - 3 bedrooms, if somebody of your family wants to visit us one day."

You've got the idea? Don't just tell about the things but give your personal emotional assessments, all women ARE emotional by nature.

Say that you are serious, if you are going to visit Russia one day, what kind of life she will live if comes to the country as your wife. You probably think it's dull things and it goes without saying; NO, you MUST mention it.

You must not try to look too good. Women like strong, powerful men, who are not easy to handle, but will appreciate if it's only SHE who can do it. Women in general don't like men who are nobody's target.

Check your spelling when send letters to girls. If your letter is full of spelling mistakes, it looks messy. Just use the option Tools from your word processor.

More about it in the part Your First Letter.


Why should I tell a woman when I am going to visit her?

I guess I repeat myself, repeat myself, repeat myself... BUT you guys ask the same things again and again.

RUSSIAN LADIES FEEL VERY INSECURE, AND HAVE VERY LOW SELF-ESTEEM.

I was the perfect example. Russian reality makes a person think she is worth nothing. I am only starting to believe that I am beautiful, intelligent and talented. Many people told me about it, and I guess there should be a bit of truth, as so many people can't be mistaken. It looks like I am curable but it will take time.;-)

OK, it's all lyrics.

For a girl your relationship is not real until she meets you in person. My colleagues from local Russian agencies told me that only about 5% of men who write letters to girls ever visit Russia. It's why girls need to be told that you are serious, that you are planning to visit Russia and when, that you are really interested in her. She will hardly believe in it, but at least she will feel more secure that you are not just wasting her time.

Many girls told me they were dumped by their foreign friends. The girls refused other guys, and then their virtual boyfriends said "Sorry", they found a girlfriend in USA or corresponded with several ladies and decided on another.

It's why I say that when you think you have found your one and only, tell her straight away about that and try to see her as soon as possible. You don't have to rush into marriage, but as long as you know the person good enough, you must go and see her. Usually the guy who first meets a lady, will get her.


How long time usually takes correspondence? If I have time to visit Russia only in 2 years time, when should I start?

It depends on the couple, but usually couples meet after exchanging 5-15 letters. If you correspond via email, it will take much faster. The aim of correspondence is not to do it for a definite period of time but to know each other better. You can write only 1 letter but if you talk to each other few times by phone, you will have often more information about another person than if you have been corresponding for years.

I know cases where a couple met after 1 month, and fell hopelessly in love with each other; and where two were successfully corresponding for 2,5 years and were deeply disappointed by personal meeting.

As a rule, as soon as you feel that the other person is the right partner, go and see your pen pal. If you hesitate, you may happen to be too late.

For the same reason you cannot start your search for Russian wife 2 years in advance, you will just waste your time. You must be able at least to find a week to visit your virtual girlfriend when you have decided she is the right one.


On my ad I have received a few letters from women 24-25 years younger then me. I'm flattered that such a young girl would find me attractive to them, but I'm worried about the long term prospects. Do you think they are attracted to me or my financial security?

My opinion is that 25 years difference is too much, but I also know the cases when it worked. Ask the girls themselves, why not? Tell them exactly what you told me, and listen to answers.

It's certain that your financial stability has a distinctive impact. Women live nearly in poverty in their native country, and they want to make sure that with all the problems of relocation they won't have another one with everyday survival.

A woman must be confident that you will be able to provide for the whole family, and she wants to raise her children in a happy and stable atmosphere. So your financial circumstances help, but no one will be attracted to a stupid and arrogant person; women always take your personality in consideration.

Nevertheless, as a rule you should avoid candidates that you feel are too young .


I received about a dozen e-mails from very nice women in FSU through your "starter" service. I wrote back to about 3 or 4, and most of those have not written back. I wrote again to several of them a couple of days ago, and still no response back. I am wondering, do you think they will respond?

The thing about responses - many ladies check their mail boxes occasionally, once every week or two. The responses will come. If a lady gave you her postal address, you can write to this address, sometimes you can get response quicker than via email.

The best remedy for unanswered letters is to send another one, saying that you sent her a letter a while ago and now are worrying as to why she is not responding.

Yes, it's that simple. Tell her that you are REALLY interested in her, and would like to hear from her. Ask her to respond if she is not interested, just to let you know. Tell her that every day you check your mail box to see if there is a response from her.

Russian women are very insecure about themselves. The question I am asked the most "Can I really find a man who will be interested in me?". The usual fear is "I can't believe that this intelligent kind man is really interested in me."

The other thing: Russian women do NOT respond promptly. She can answer a letter in 2 weeks time, and even then not think it's too late.

If you have a lady's postal address, ALWAYS send a letter by mail when send email message (at least, in the very beginning when you don't know each other well).


All women become much less enthusiastic when I bring up the subject of my strong belief in God. Is it possible to find Russian lady who is interested in Christian morality?

You must not tell too much about your religious views. Say that Christian values are very important for you but do not go in depth. Ladies do appreciate Christian moral values, they just cannot follow them in everyday life because of objective reasons.

A Russian woman will accept her husband's life-style, just don't try to do it from the very beginning of your new relationship. Life in Russia is completely different. It's so bad that one hardly can believe in God and that such a mess could have been created according his will. A woman will change her attitude in the West, and will accept Christian moral values with pleasure and devotion.

I would also hesitate if a man started to talk about religion from the beginning, because I would feel that I did not meet his expectations.


I have met a really nice lady through your service, and I have never seen such tenderness and giving in a woman. Are women there really this sweet?

Yes, Russian women are giving. They usually take care of their husbands like they do of babies, if you can understand what I mean. Russian men are used to be cared for; and don't really value it, for them it goes without saying.

For example, if you visit a guy at his home, he will expect you to wash the dishes, and even cook a dinner for the you two. So if you are willing to take care of her, she will do her best to make you happy.


All the indications are that I need to "act fast" when I find someone who appears to be a possibility. Does your advice imply that the best candidates are not available for very long?

Yes, it's true that the most desirable women are available only for a while. Though sometimes it happens that a lady is not happy with her initial choice, and has to hunt for a partner again. I have a few stories from ladies who refused to many candidates to just discover that the man they chose was not the one-and-only. Also some ladies said that their correspondents decided to meet another woman, and left them high and dry. All were very beautiful and intelligent ladies.

So, as you see, you must act fast, even if a lady is not engaged or married, she may already stop accepting new candidates. You must be able to attract her attention in the moment when she has just started her search.

For example, my husband was one of the few men who I wrote a letter to on the day when I decided to start my search. (I responded to several ads from our local newspaper.) Even if at a later stage I had received dozens of letters from very attractive successful men, I did not pay attention, as I was already involved in a relationship.

Even if a woman corresponds with a few men (as it usually happens), she always has a favorite. A favorite may change from time to time. The favorite attracts the most attention and feelings.

What can make one a favorite? At first, it's man's personal qualities, financial situation and appearance, but on a later stage it's how he represents himself and how he feels about the woman (and how he shows his feelings). Women in Russia feel very insecure, and will have more appreciation for the candidate who gives them his full attention.


I have been successfully corresponding with a nice lady from one of the local agencies. But I wonder how can I get rid of black thoughts. I have no idea if my lady exists at all. She could be a model. The "agency" could be some old man writing love letters to silly old American men like me. How does anyone know?

Ask your lady to talk to you by phone. I understand you hate being suspicious, me too, but it will help you to get rid of black thoughts. A Foreign Affair offers the service of conference calls with translation for about $5 or so for a minute. Ask your lady if you can talk to her by phone, and if she does not have one at home, which is quite possible, ask her to arrange it through friends.

Also, send a letter via registered mail or Russian courier service EMS GarantPost (Express Postal Services in USA). Russian postal services require an addressee to have a valid identification, and do not leave letters to neighbors or relatives as other courier services like FedEx or DHL do.

Other advice from Anatoly Neverov, one of Russia's matchmakers - send your lady flowers. Usually gift delivering services offer to make a photo of your lady with a gift.


When it comes to traveling to Russia, I am very concerned about

the Russian Mafia. I do not want to be a victim.

You won't become a victim of Russian mafia as long as you don't carry thousands of dollars in your pocket.

Guys from mafia are not as bad as you think. I knew a few people from what you will call Mafia - they are not bad people in every day life. Some of my classmates are married to guys from "mafia". I know their husbands from before they were involved in organized crime. There are many ex-sportsmen between them.

Actually, neither Russian mafia nor government are concerned about foreign tourists. It's completely safe to walk in the cities. Make all your purchases and exchange currency only in official places and never use "help" offered by the people you hardly know.


How one can find his way in Russia if he does not speak the language?

It's possible to find your way in Russia if you get lost. I know quite a few people who did not speak a word of Russian, and traveled around the country on their own.

When you get lost, you will have to ask probably a few people about your way, but eventually you will find somebody who can speak English. Russians are very helpful, and will be glad to assist you.


I think I have found my one and only... I just don't know how to organize everything further.

I am glad for your part.

When you feel you have found your one and only, do not postpone visiting your lady; the sooner, the better.

Find out from her how she feels about you. Ask to remove your data from catalogues, if she says that she feels strong towards you. Be open with her. Say that you received plenty of letters (I guess so), but you liked only her, and said to other girls "Thank you". She can always check, and she will see that you are serious.

Even if you cannot go to Russia soon, tell her she is the one and only. Say her you don't want to look further, and you could not dream about better luck.

Women in Russia feel very insecure (I guess, I talk too often about it), and it's why they correspond with a few guys. Usually the first one to visit a girl will get her. She does not know you or any other guys that well, so she just chose a few who basically meet her requirements.

Even if she feels very strong for you she may still be in correspondence with other guys. Some girls (very nice girls) said to me that they stopped corresponding with other guys and asked agencies remove their data, and then a guy said "Sorry, I found a fiancee in USA" or that he decided to see another girl. It happens! Imagine how the lady must feel.


Can you help in organizing my visit to Russia (Ukraine, Belarus, Kazakhstan)?

Yes, I can. Currently I have subscribers in 42 cities of the former Soviet Union, including Moscow, St Petersburg, Kiev and Minsk, and I can connect you to a local agency that will be happy to arrange everything you need from meeting at the airport and accommodation to full-time translator and sightseeing. Click here to contact us.

Also, there is a new service - Moscow Transit - that I highly recommend to anybody traveling to a regional city via Moscow. It will ensure you won't get lost, and will be able to see the best of this beautiful city. It will be a shame to be in Moscow and not see the city itself. A few hours that you have between the flights can make the difference between seeing the Red Square and seeing the hall at the airport.

You can also book online through Russian Brides Cyber Guide partner - AsiaTravelMart, which provides everything from tickets to car rental, hotels and transfers. Click here to make your arrangements online.
---
Comments, suggestions? We want to hear from you!
Click here to Contact us
---
READ ALSO:
Russian women secrets - how to win their hearts...
The Universal Crib On Finding A Russian Wife
In a hurry? Find the most compressed, step-by-step guidance on finding, courting and marrying a Russian woman.
Immigration scams: ARE YOU AT RISK?
Any man who even remotely considers the idea of marrying a Russian woman will face the question of immigration scams: that a woman will marry him with the only purpose of gaining residence to his country, and will divorce him soon after the marriage. Is it true that there are many Russian women that will marry a man only for the purpose of immigration? How common are immigration scams in marriages with Russian women?
PLACING YOUR OWN PERSONAL AD: How to outperform 95% of men who place their personal ads - I have been asked many times how to ensure the best results when placing your personal ad. Here you will find step-by-step-instructions how to outperform 95% of men and get the most out of placing your own ad for Russian women to respond.
---
RECOMMENDED:
New Ebook You Cannot Afford To Miss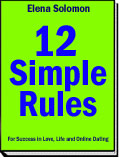 Dating can be complicated... it doesn't have to be! You can jump start your love life - or you can keep wandering in the dark; the choice is yours!
When it comes to dating, most men make the same silly mistakes with women - over and over, with disastrous results.
Do you want to do BETTER than 99% of other guys? Click here
---
MUST READ!
New e-book by Marina Smiley (the author of famous "The shocking truth about Russian brides").

Discover why so many guys continue to go to Russia, again and again they spend their money and time and are still unable to find their woman.
Learn how you can dramatically improve your success with Russian women and win when other fail.
Most intimate questions answered by a Russian woman - Medical Doctor.
---
---