Why American women lose their eligible men to Russian women
True-life story of Kevin and Elena
Hello Elena,

This letter will be a small one, I just spent the last hour browsing your website.
I have been working on getting my fiancee here for the past year and a half. I met my fiancee through a Russian friend of mine here in Kansas. I immediately started to listen to audio tapes in order to learn how to communicate in Russia.
Our first meeting was March 2001 and I had the friend from Kansas go to Russia with me. I spent 11 days in Tver Russia with Elena, and we hit it off immediately (after 3-4 months of e-mailing each other prior to the trip). We decided each was exactly what the other was looking for, and wanted to move forward with the relationship.
Elena has a son 10 at the time and twin daughters 8 at the time, and we fell head over heels over each other, although their mother kept their distance from me for this first visit, for fear of attachment, we became very close. After my return to the USA, I immediately started taking Russian lessons from my friend Marina.
I was totally miserable without Elena and the children that I decided to go to Tver again in July of the same year (4 months later) and stayed 3 weeks this time. Elena and I became totally in Love, and the children now looked at me as their father (their real dad has nothing to do with them and never wants to see them) we then decided to make application for the fiancee visa.
After one denial by the embassy (improper name on 1 document) I decided to go back to Tver this past April, and on April 11 we received visa's for her and the children. Elena, graduates with the red diploma in July, then will be traveling to New York, where I will meet them and we, together will fly home to Kansas to start THE REST OF OUR LIFE'S TOGETHER.
I got off track, the purpose of this letter is to say, everything I have read in your writings is true.
The one thing I would like to add to your comments is before you go to Russia to meet your bride, study and learn their language, and don't ever expect them to become Americans, because they are proud to be Russian, and I am proud to say I have a Russian wife, and never ask them to forget their language. If you demand that they forget their nationality, it becomes easy for them to forget you are their husband.
If only American women could see how competitive they have become in our society, they would understand why they are loosing their eligible men to Russian women.
Kevin Weaver --- Kansas, USA
---
READ ALSO:
I'm an American woman married to a Russian MAN!
A true-life story from C. Rychkova: "I'm an American woman married to a Russian MAN and wouldn't have it any other way. ...Once you go Russian, there's no going back. Who would want to?"
It was mind-blowing to realize how many women are out there who just wanted what I was looking for, a stable, happy, loving family!
A true-life story of Stephen and Sophia
Your information unlocked the process for me
Read the story of Frank and Ludmila
---
Comments, suggestions? A story to share? We want to hear from you!
Click here to Contact us
---
JUST RELEASED! New E-book by Elena Petrova:
"How To Find And Marry A Girl Like Me"
Comment from the reader:
"This may well turn out to be the best purchase I have made... I hope not too many of my competitors find this book!"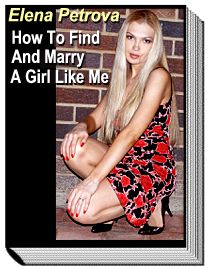 Discover how to find, court and finally marry a beautiful Russian woman!
This is the only book written by a beautiful Russian woman married to a western man - for more than 5 years! - and who is also the owner of a highly successful Internet dating agency.
Find out once and forever what Russian women are really looking for, why they are looking for it and how you can give them exactly what they want!
Get responses on your letters to beautiful Russian women - 9 out of 10, GUARANTEED!
With "How To Find And Marry A Girl Like Me" you'll learn knock-out techniques that will instantly boost your success rate in dating Russian women - online and in real life. You will have more beautiful girls that want to be with you than you can handle!
And not just ordinary girls! They will be beautiful, intelligent, but most of all - honest and sincere! You will be the one to take your pick!
STOP wasting your time and money in search for a Russian wife... Get it done - painlessly, easily, and certainly! Moreover, have lots of fun along the way!
Yes, you too can marry a girl like the one on the picture... Click here!
---
RECOMMENDED:
New Ebook You Cannot Afford To Miss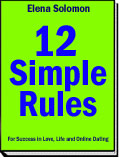 Dating can be complicated... it doesn't have to be! You can jump start your love life - or you can keep wandering in the dark; the choice is yours!
When it comes to dating, most men make the same silly mistakes with women - over and over, with disastrous results.
Do you want to do BETTER than 99% of other guys? Click here
---
---