Any man will consider himself lucky if he marry a Russian lady
True-life story of Fred from USA
I liked your site very much.
Now I am lucky, proud and happy to be married with a Russian Lady. We met on the Internet on July 2000, I invited her to the USA on October 2000. Because she has two teenage children and a job in Russia, she was able to get a visa (only 4 out of 120 people got their visa that day). We both are Physicists and have many common interests. We spent one month together in the US and had a wonderful time then we got married before she leaves. I filed all the immigration papers for her and her children.

Then I visited Russia and fell in love with this country in December 2000 and 2001. They will arrive here on July as immigrants.

She is from Rostov-On-Don. I visited Moscow, St. Petersburg and other cities as well. Russia is a beautiful country. Her family and friends treated me as one of them. I am 12 years older than her and her children love me and very happy that I will be their step father.

In my opinion, any man will consider himself lucky if he marry a Russian lady.

I am one of those lucky men.

Russian women are honest, smart, loyal and very caring.

Fred, USA
---
READ ALSO:
If Kharkiv was not so cold and boring, I would not be married today!
A true-life story of Dave and Evgenia
You brought two people together
A true-life story from Mike and Tanya
---
Comments, suggestions? A story to share? We want to hear from you!
Click here to Contact us
---
JUST RELEASED! New E-book by Elena Petrova:
"How To Find And Marry A Girl Like Me"
Comment from the reader:
"This may well turn out to be the best purchase I have made... I hope not too many of my competitors find this book!"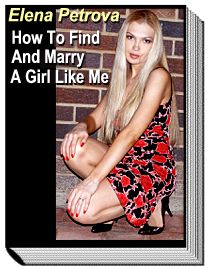 Discover how to find, court and finally marry a beautiful Russian woman!
This is the only book written by a beautiful Russian woman married to a western man - for more than 5 years! - and who is also the owner of a highly successful Internet dating agency.
Find out once and forever what Russian women are really looking for, why they are looking for it and how you can give them exactly what they want!
Get responses on your letters to beautiful Russian women - 9 out of 10, GUARANTEED!
With "How To Find And Marry A Girl Like Me" you'll learn knock-out techniques that will instantly boost your success rate in dating Russian women - online and in real life. You will have more beautiful girls that want to be with you than you can handle!
And not just ordinary girls! They will be beautiful, intelligent, but most of all - honest and sincere! You will be the one to take your pick!
STOP wasting your time and money in search for a Russian wife... Get it done - painlessly, easily, and certainly! Moreover, have lots of fun along the way!
Yes, you too can marry a girl like the one on the picture... Click here!
---
RECOMMENDED:
New Ebook You Cannot Afford To Miss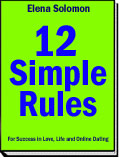 Dating can be complicated... it doesn't have to be! You can jump start your love life - or you can keep wandering in the dark; the choice is yours!
When it comes to dating, most men make the same silly mistakes with women - over and over, with disastrous results.
Do you want to do BETTER than 99% of other guys? Click here
---
---