Women join HERE!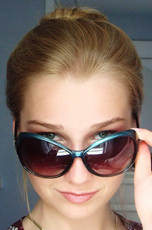 Do you plan to visit Russia?
If you travel to a regional city, make sure you have seen Moscow - one of the most beautiful cities in the world... Even a few hours between the flights can make a difference.
Click here to find out more about MOSCOW TRANSIT

What people say about Russian Brides Cyber Guide
---
I very much enjoyed your site. It is very interesting and informative. I greatly enjoyed learning more about Russia, feel I have a better view of the world. It is disheartening and yet exciting to learn of the changes that Russia and Russians are going through. The US media has left a lot out!!! I like your frankness and candor. THANK YOU for sharing your insight. Best wishes.
J. G., USA
Meet me today!


Irina, 24


Maria, 24


Daria, 18


Natalia, 25


Aliona, 38


Irina, 28


Olga, 28


Katya, 27


Olena, 24


Lana, 33


Elisabeth, 22


Olesya, 34


Irina, 30


Zhanna, 34


Elena, 25

Zofiia, 25


Sofia, 25


Oksana, 23


Tatiana, 27


Victoria, 37


Alisa, 23


Viktoria, 28


Natalia, 23


Tatyana, 22


Lisa, 31


Angelina, 34


Alyona, 35


Darya, 25


Tanya, 43


Dana, 19


Oksana, 31


Anna, 27


Nina, 22


Svetlana, 37


Irina, 38


Raisa , 26


Julia, 42

Polina, 25


Anna, 27


Camilla, 18


Irina, 50


Avrora, 23


Kateryna, 25


Kseniya, 23


Olga, 44


Tatiana , 44


Polina, 18


Anastasiya, 29


Olga, 28


Oksana, 45


Ekaterina, 28


Veronika, 26


Natasha, 30


Olga, 28


Victoria, 20


Anna, 30


Aida, 30


Alissa, 21


Alexandra, 24


Valeria, 22


Diana, 19


Hurshida, 24


Victoria, 23


Olga, 20


Lili, 30


Angelika, 27


Shirin, 20


Olga, 27


Kseniya, 27

Russia
---