Contest: "Personal Experiences"
---

Why Look for a Wife in Russia?
By Clinton Carey

"I'm not happy, and I want to move out."
Consider what you would do in that situation. I had returned home from work, after a short business trip, and returned home to find the house vacant. Not an unusual circumstance. My wife worked, but much shorter hours than I did. I just thought she must be working a little later than normal. So, as was customary in our house, whoever gets home first makes supper. I made the meal and put her portion in the oven to keep warm. Over an hour later she finally got home. We ate our supper watching TV and, as usual, in silence. Finally at the end of the meal I asked if she had to work late.
In a rather hostile tone of voice, she snapped: "No!" Well, here we go, I thought, another icy silence, and night of walking on eggshells, because I didn't want to further upset "She Who Must be Appeased." I danced around the subject a little, not because I wanted to check up on her, but rather because I really was curious where she was for 3 hours after her normal work time. If I only knew then what I know now! So, I asked her if she had been in school. She was taking computer courses in college, but it wasn't her usual night for classes. She glanced at me, and said "No" again. Well, this was getting nowhere, so I gathered up the dishes and put them in the sink. I returned to the living room, sat on the couch, and our two small dogs jumped into my lap begging to be petted. It seemed to infuriate her. She looked at me and said:
"I have something to tell you."
Here it comes, I thought. "Yes?"
"You're not going to like it."
I thought I knew where the conversation was headed. "Well, if it's important, tell me."
"I don't know if I should tell you."
OK, this is getting annoying. "If you have something to say, say it. It's obviously something that's bothering you, what is it?"
"I'm not happy, and I want to move out."
Well. There it was. Full stop. Finally out in the open. How does a person feel about this? There are many emotions a person feels when the marriage is effectively over. Do you blame yourself? Do you offer to change? Do you suggest counseling? Then it hit me: the overpowering emotion, that overruled them all, was a feeling of immense relief.
We had been living a sham marriage for the past four or five years. In our 12 and a half year relationship, I can truly say we were probably happy for about 4 years. I married her out of guilt. Raised in a very religious family, I felt obligated by the judgment of my parents to marry her because we had "lived in sin" for two and a half years before we married. She married me, because she didn't think she would be able to find anyone else. In retrospect, she was probably right. I found out later the true reason she wanted to leave was she had been cheating with another man while I was on business trips. Their relationship lasted less than six months after we separated.
When we met, she was 5' and 130 pounds. Not fat, but she still wanted to lose a few pounds. If she lost 15 pounds she would have looked great. But, I am not wrapped up in appearances, and a few extra pounds on a woman does not concern me. When she left, she was 5' and 245 pounds. Let's face it. That bothered me. How she could just let herself go like that was an indication to me that if she cared so little about herself, how could she care for me? And, physical attraction, while it should NEVER be the sole part of a relationship, obviously does have an effect on a person. A woman in Ohio that I talked to summed it up nicely. She said: "Obviously attraction and appearance makes a statement about a person. When I go into a bar, on a girl's night out, I don't see an overweight guy, with both greasy hair and dandruff, unshaven, with sloppy clothes, and think 'Hmm. I bet he has a great personality.' A person's appearance does have an impact on other people."
So. There I was in a conundrum. Do I accept this and move on? Do I try to make amends? Do we work this out and try to save our loveless marriage? Then she hit me with: "I don't want this to be a big fight for a divorce. How do you want to split up the bills?" Here it was again. She was very materialistic. At one point in our marriage, she had said to me:" Why can't you make $60,000 a year so I can stay at home?"
"For what?", I asked, "We don't have kids, we don't have other obligations, why should I work longer hours, have less of a social life, so you can sit at home, eat bon-bons, watch Oprah and videos?" She was the type who would go shopping for herself every weekend, but would begrudge me if I ever wanted to buy something just for myself. I was apparently greedy when I bought clothes for myself twice a year.
At any rate, it was quite obvious to me that this was not a marriage worth saving. I slept at the office for the next two weeks. She gave me her two week's notice that she was leaving. Very business-like. Her father was coming from out of town to pick her up and help her move. Following the long weekend that she moved out, I returned home. She had left me the furniture that we had bought together, and taken the furniture she had before we met. Perfectly fair. The only part that bothered me was seeing most of the photos we had taken together over the years we were together, thrown in the trash like she couldn't bear to be reminded of our life together. I filed for divorce the day after the long weekend.
Fast forward a few months...
My family was very supportive of me during the divorce. I bought a new computer, and was looking for work where I did not have to travel as frequently as I did. One day, over a beer with my brother, he suggested to me that I place an ad on the Internet with a matchmaking agency. I laughed, and dismissed the idea. As the weeks went on, I thought to myself, "Why not? I travel a lot. I don't have time to meet women normally, and I definitely don't like the bar scene with its' head games and lack of quality in both men and women. So, I placed an ad, and sent a few letters. The vast majority of the letters from women in North America came with a photo that was nothing like they had described themselves in the letters, or were so vapid and meaningless that I had absolutely no interest. many of them started out in the letter like this: "My name is ....., Thanks for writing. What do you do for a living?" My first thought when they wrote this was their actual question was: "How much do you make, and when can I get it?" In the reply, I would usually mention that I traveled a lot, and that is why I didn't have time to meet women in my hometown. I would make no mention of the money I made, and that is usually the last I would hear from the women. Then, I got a letter from Russia.
I got the letter in email form, from a devastatingly beautiful girl, who wrote an almost apologetic letter to me. She apologized for her English, and ended by saying she would understand if I did not want to talk to her as she was so far away. More out of curiosity, I wrote back. We exchanged a few letters, then BAM! There was the letter requesting money to come to visit me. Well, my mama didn't raise me to be a fool, so I sent her a letter saying I would not give her money upfront, but I would happily reimburse her for her expenses when she got here. Needless to say, I never heard from her again.
But that letter had piqued my interest. I began to research the Russian Women dating/matchmaking situation. The more I read, the more interested I became. Here were women, often very well educated, cultured, with traditional values, more conservative in many aspects than the women I knew, and often very attractive, who seemed interested in me for ME. Not my bank account, or job status, or even worried about where I lived. Not meaning to sound arrogant, but I had dated a few very attractive women in North America, but there was always something missing in the relationship. They seemed empty, hollow, or just plain airheads. I had a few female friends that were just that: friends. Those seemed to be the best relationships. We were friends, but knew it would be nothing more.
On the contrary, here were Russian women who I seemed to have a similar relationship with, with the added benefit that I felt a strong attraction to them, and THEY WERE ACTUALLY INTERESTED IN A RELATIONSHIP. I began a serious correspondence with a lady in Russia, and we seemed to be getting along quite well. I made plans to meet her, and I was looking forward to the trip. But then, less than 2 weeks before I was to meet her I received a letter telling me she had met another man and was engaged.
I was not quite heartbroken, as we had not yet met, and we had not proclaimed that we had feelings for each other. But I was very disappointed. I did contact Elena from this site, and bought a starter package to hopefully be able to meet someone when I was there, because I certainly wasn't going to cancel my trip at this late date.
A long story short: I replied to a few of the more than 100 responses I had in 10 days, and made arrangements to meet 2 ladies, and a third who was not able to contact me until I arrived in Moscow. The first was a lady who agreed to meet me at the airport, and help me find my way to the hotel I was staying at. The second traveled by train 2000 kms each way to meet me. I was stunned! I also had offers from a lady in Belarus who would take the train to meet me in Moscow. At home, most women will not travel to the other end of the city to meet you!
I also took some copies of some profiles I liked from an agency in Moscow, with the intentions of meeting with the agency while I was there. Well, I didn't need the profiles! Of the sincere ones (I did have more than a few scammers write to me from other agencies in the past.) who wrote to me during the correspondence phase, there seemed to be a very straightforwardness to the letters. Not quite to the point of being blunt, but it seemed they were very clear in knowing what they wanted or expected from a relationship, and they told what they had to offer to a relationship. Many of them were also very forthright in describing their faults as well. It seemed to be that the sincere ones were very honest and realistic in their letters.
So, I was off to Russia, a lot of nervousness and trepidation on my part, and thinking I must be crazy to fly halfway around the world just to meet women who I had only written a few letters to. But, in the end I thought: I've wanted to visit Russia since I was 15 years old. If nothing else, I will just relax and enjoy my vacation. My flight was late in arriving in Moscow, my luggage was lost, and I was delayed through customs. I was thinking this girl would never be there by the time I got through the line. Since I still had to search for my luggage, I asked the Lufthansa representative to escort me through the customs line so I could see if I still had people waiting for me. After pushing through the crowd, I eventually found the driver with my name on a card. Standing next to him was a devastatingly gorgeous lady. When she said my name, I could not believe this was the same lady I had written to. My first thought was "Her pictures do NOT do her justice!" She looked surprised to see me, and gave a small gasp and put her hand over her heart when she realized it was really me.
We went to the hotel, she waited for me and watched TV while I had a shower, then we went for supper in the hotel and began to get to know each other. During the meal we couldn't stop staring into each other's eyes, and I actually began to feel uncomfortable. I finally asked her if I was doing something culturally wrong, as she kept staring at me. She laughed and said: "No, it is just the restaurant, the wine, the candles....you....phew!" while she waved her hand in front of her face. Well, that broke the ice!
We laughed and talked for hours. We went to the lobby of the hotel and talked some more. She asked if I would like to come with her the next day to meet her parents. I was very flattered, but had to tell her I couldn't because I had made arrangements to meet another lady who was coming by train to meet me. She was disappointed, and looked it. I told her I would love to see her again later in the week, and we could see some sights in Moscow. She agreed and said she would call me when the other lady returned home, as she had plans with family for the weekend. Another interesting thing she told me later, is that because I refused to go with her to her parents', and still went to meet the other lady, she knew I was a person to keep my promises.
The next day I met a girl from Ekaterinburg. Very nice girl, cared very much about her appearance, very well educated but....nothing! There was no spark between us at all. I had arranged separate rooms at the hotel and was glad I had done so. We parted on Monday morning, as friends, but with no plans to continue correspondence. It was very strange, since she was the one I most wanted to meet. But, there is no point in continuing a relationship if it will not work. Tanya arrived home, and called me the minute she walked through the door. She asked if I could talk. I said sure. She asked where my lady friend was. I said she was in her room. She said: "She is in her room, and you are in your room? Don't you like the other lady?" I said: "Not as much as you." She said: "VOT? You like ME??" and began speaking to her family in the background in rapid Russian, which I understood maybe three words! After she settled down, we made plans to meet for lunch after I took the other lady back to her train.
When she arrived at the hotel, I gave her 5 roses, and she was so surprised she almost had tears in her eyes. We spent the rest of my time in Moscow with each other, and I met her family. They were incredibly gracious and welcoming to me, and I have a new understanding of Russian hospitality!
After my arrival, I found many or preconceived ideas of Russia had very little merit. Here were some of the warmest, friendliest people I had ever met. It helps of course, that I met them in the presence of the lady that became my future wife. But her whole family welcomed me, almost a stranger, into their home. They fed me, made me welcome, and her parents even gave up their bed for me to sleep in so I wouldn't have to sleep on the floor. I was touched! Never had I seen such generous, giving, people.
At one point, I had slipped in the snow, and sprained my ankle. Her mother immediately gave me first aid, and I have to admit, there must be something to those old folk cures. She wrapped my ankle in bandages and applied some sort of lotion to ease the pain. I was able to walk normally again two days later. Any time I had sprained my ankle at home, I had been unable to walk normally for a week. Before I left, her father gave me a family ring, my wife gave me a medallion, and I felt almost embarrassed that all I had brought to give them were a bottle of champagne, and a scented candle set for her mother. But I was assured that what I had brought was very appreciated. I could tell that they were appreciated because her mother's eyes lit up when she opened the candles, and she immediately passed them around to let everyone in the family have a sniff before she lit one. With her family, I felt accepted from the moment I arrived to the time I had to return home.
When I finally had to return to the airport, we had a very hard time separating. In her words: we were parting as much more than friends, but not yet husband and wife. It was difficult to categorize our relationship, and I later was told that she was hoping I would tell her I wanted a more concrete relationship with her. But she understood I needed time to sort out my feelings, and decide if I really did love her, or if it was infatuation. As I went through customs, then the boarding area for the plane, I could see her standing by the customs line for half an hour after she could no longer see me. Later she told me it was because she was crying, and could not see in front of herself to walk.
We continued correspondence, phone calls and Instant Messenger for 6 months. We began to express to each other our feelings, and I eventually worked up the courage to ask her to marry me. She agreed immediately and was very excited. Again she began speaking in Russian too quickly for me to follow, and we agreed to use the computer to speak. We began to make plans for marriage, and I began getting my visa and plane tickets all over again.
We decided that IF it was possible, we would get married in Moscow. We spent 5 days jumping through the hoops of Russian beareaucracy, but in the end, we were standing before the ZAGS commissioner, and making our vows! We celebrated by having a fancy dinner at a restaurant across the street from the office, and we had the waitress take pictures of us toasting our new life together, and exchanging rings. (On the RIGHT hand of course!) When I returned home, I organized our documents, waited for the official translations from Russia, and sent in our visa application.
Did I mention that during this whole time she has not ONCE asked for money, and is insisting on paying her own translation and documentation fees? I have offered her money for expenses, after all, we ARE married, and the only time she accepted was when I sent her money on a bank card that I provided her from my bank for her to purchase a Russian Language computer course for me. (Much less expensive in Russia, than at home.)
They say that every dark cloud has a silver lining. If my divorce from my first wife was the dark cloud, I have definitely found my silver lining. She is the sweetest person I could ever hope to meet, and I consider myself fortunate just to know her. That she actually agreed to be my wife, and married me, makes me the luckiest man on the planet.
This time I got married for the right reasons.
This time, I married for love.
Clinton Carey
---
Do you have a story to tell? We want to hear from you!
Click here to Send your story
---
READ ALSO:
There's No Shipping Cost for True Love
By Jim Collins: "You should see Don's wife," said Vern, "I'm tellin' ya, she could be a model. He got her from Russia -- one of those mail order brides. He says she keeps the house spotless and hardly ever complains."
Trip Report
by Dave Fuller: "She seemed to lack a lot of self-confidence and was a sad person. Well, did I read her wrong from her letters. She was none of these. She was charming, cheerful, intelligent and friendly. Her English was not very good but we could communicate at a certain level. She was also very beautiful as well..."
Russian women are real treasures, and I found mine
"After visiting with her, I realized that she was not in any need of any material items. Her family has own business, and live very good. She just had this desire that we as all humans have inside of us, to love and to be loved in return. In fact, if she had her way, we would probably be living in Russia right now..." Read a story of Nick and Julia
I came to realize that wishes indeed come true - a story of Tom and Taya
---
Comments, suggestions? A story to share? We want to hear from you!
Click here to Contact us
---
JUST RELEASED! New E-book by Elena Petrova:
"How To Find And Marry A Girl Like Me"
Comment from the reader:
"This may well turn out to be the best purchase I have made... I hope not too many of my competitors find this book!"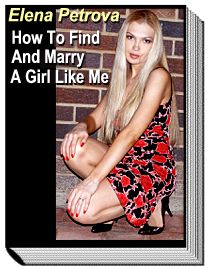 Discover how to find, court and finally marry a beautiful Russian woman!
This is the only book written by a beautiful Russian woman married to a western man - for more than 5 years! - and who is also the owner of a highly successful Internet dating agency.
Find out once and forever what Russian women are really looking for, why they are looking for it and how you can give them exactly what they want!
Get responses on your letters to beautiful Russian women - 9 out of 10, GUARANTEED!
With "How To Find And Marry A Girl Like Me" you'll learn knock-out techniques that will instantly boost your success rate in dating Russian women - online and in real life. You will have more beautiful girls that want to be with you than you can handle!
And not just ordinary girls! They will be beautiful, intelligent, but most of all - honest and sincere! You will be the one to take your pick!
STOP wasting your time and money in search for a Russian wife... Get it done - painlessly, easily, and certainly! Moreover, have lots of fun along the way!
Yes, you too can marry a girl like the one on the picture... Click here!
---
RECOMMENDED:
New Ebook You Cannot Afford To Miss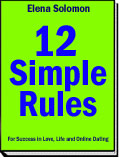 Dating can be complicated... it doesn't have to be! You can jump start your love life - or you can keep wandering in the dark; the choice is yours!
When it comes to dating, most men make the same silly mistakes with women - over and over, with disastrous results.
Do you want to do BETTER than 99% of other guys? Click here
---