Russian women are real treasures, and I found mine
A true-life story from Nick and Yulia
Dear Elena,
Hello. My name is Nick and my wife is named Yulia. I came across your website and decided to write to you and share with you our story. I met Yulia over the Internet. I suppose I was fortunate, she had a computer in her home. She is from Rostov-On-Don, Russia. We corresponded for a couple months and exchanged a few phone calls. Her English was not well at all, but at least in the beginning, we could hear each others voice and I suppose this brought a bit of reality to our letters.
Anyway, we began corresponding to each other in January, 2000 and after she invited me to come visit her and her family, on April 14, I was on my way to Russia. I stayed with her and her family for 9 wonderful days and after visiting with her, I realized that she was not in any need of any material items. Her family owns there own business in Rostov, and live very good. She just had this desire that we as all humans have inside of us, to love and to be loved in return. In fact, if she had her way, we would probably be living in Russia right now. I know that she is not someone that was just trying to get out of Russia. We both desired someone to love and to love us back in return. We both also desired to start a family.
I am happy to say that our first child is due on June 28. I live in Nashville, Tennessee U.S.A. and am 37 years old. My Yulia is 26. I have been married before, but I feel in my soul that Russian women are treasures and we could not be more happy. I was going to bring her here to the U.S. on a fiancee visa, but once I returned to America after my visit, I could not sleep, eat, or even do my work. This was true love. I am fortunate enough to work for a corporation that allowed me to take a leave of absence for 2 months so Yulia and I married in Russia. This by the way, I would not recommend to anyone unless they have a lot of patience and time. I will close this letter now, but once again, I just wanted to write to you and say that Russian women are real treasures and I found mine.
Nick and Yulia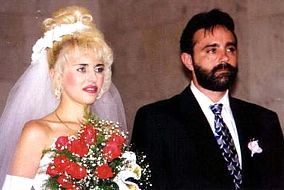 PS
Dear Elena,
Hello! This is an update on mine and Yulia's story. As you know, we both were searching for that one special person in our lives to love and to love in return and also to start a family. Well. I am very happy to share with you that our son was born on June 12, 2001 exactly 1 year and 3 days after Yulia and I were married. This is for both of us our first child and the joy that we both feel is simply incredible! It is impossible to put into words. Not only do I have a beautiful Russian wife, I also now have a beautiful son as well.
Yulia and I will be returning to Rostov-On-Don, probably around November for a visit. Her family of course is very, very happy. I think what makes me the most happy inside my soul is knowing that my Russian wife is going to be a wonderful mother as well. You know Elena, people say all the time that dreams do come true if you dare to just believe, well Yulia and I are living proof that this is true. Life is funny, just about 17 months ago, I was just your average American man, living in Nashville, Tennessee , who had been fed up with American women, now I'm married to a beautiful, good, faithful Russian woman and have started a family. If I knew that Russian women were the treasures that they are, I would have went to Russia the day the wall came down! Seriously though, just wanted to update you.
Nick, Yulia and Marco
---
READ ALSO:
Why American women lose their eligible men to Russian women
A true-life story of Kevin and Elena
Mugged in Ukraine - and I'd do it again!
A true-life story of Alan and Aryna
---
Comments, suggestions? A story to share? We want to hear from you!
Click here to Contact us
---
JUST RELEASED! New E-book by Elena Petrova:
"How To Find And Marry A Girl Like Me"
Comment from the reader:
"This may well turn out to be the best purchase I have made... I hope not too many of my competitors find this book!"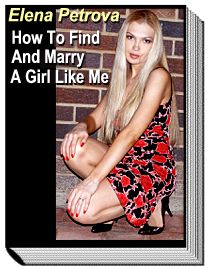 Discover how to find, court and finally marry a beautiful Russian woman!
This is the only book written by a beautiful Russian woman married to a western man - for more than 5 years! - and who is also the owner of a highly successful Internet dating agency.
Find out once and forever what Russian women are really looking for, why they are looking for it and how you can give them exactly what they want!
Get responses on your letters to beautiful Russian women - 9 out of 10, GUARANTEED!
With "How To Find And Marry A Girl Like Me" you'll learn knock-out techniques that will instantly boost your success rate in dating Russian women - online and in real life. You will have more beautiful girls that want to be with you than you can handle!
And not just ordinary girls! They will be beautiful, intelligent, but most of all - honest and sincere! You will be the one to take your pick!
STOP wasting your time and money in search for a Russian wife... Get it done - painlessly, easily, and certainly! Moreover, have lots of fun along the way!
Yes, you too can marry a girl like the one on the picture... Click here!
---
RECOMMENDED:
New Ebook You Cannot Afford To Miss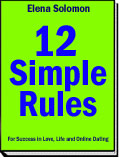 Dating can be complicated... it doesn't have to be! You can jump start your love life - or you can keep wandering in the dark; the choice is yours!
When it comes to dating, most men make the same silly mistakes with women - over and over, with disastrous results.
Do you want to do BETTER than 99% of other guys? Click here
---
---