Mugged in Ukraine - and I'd do it again!
True-life story of Alan and Aryna
People thrive on good news. We want happy endings. We seek, we dream of finding true and incredible love and compassion. We are addicted to movies of that genre: Pretty Woman. Dirty Dancing. The Sound of Music.
Your site (womenrussia.com) provides a black list of internet romance scammers. Negative information perhaps, but positively motivated in its intent to expose dishonesty and prevent unwitting victims from falling into the scammers' love trap.
And now you have added 'happy ending' anecdotes to womenrussia.com. Great idea.
Why Kiss.com, Match.com and the other global giants in internet dating are not more efficient in publishing reports of the romances that they have initiated I am at a loss to say.
I met Aryna, my Ukrainian bride, through one of these big dating sites and asked the company to publish our story. However, while the site does carry 'true stories' and its service and profiles span the globe, the company's management views and perceptions appear to be parochially American. If the romance is not "N.Y., N.Y. meets Washington D.C." it isn't worthy of publication!
I am gratified to see that Womenrussia.com is interested in stories emanating from further afield.
I (Alan) am a publisher and journalist. I work primarily in the tourism field, am Zimbabwean by birth and British by descent. Aryna hails from Odessa, Ukraine - a designer, working in upmarket women's fashion. She creates leather skirts, tops and jackets as well as other garments in various fabrics.
I first emailed Aryna on 3 February 2001. I was fortunate in that I wrote a good letter. Aryna is lovely and had had a great deal of response to her profile. She wrote me back straight away and so began the transmission of more than a hundred A4 pages of letters and photographs.
Letters were then supplemented by phone calls and two months after our first contact I took my two children (Michael is 11 and Ashleigh is 6) from Zimbabwe, via London, to Odessa to meet Aryna and her son Zhenya (9).
We spent an incredible month in Ukraine. Love blossomed. Then we ran into some troubles: Ashleigh contracted bronchitis. Aryna and I were mugged at night in downtown Odessa! Michael got severe food poisoning (from the Odessa outlet of a major international hamburger chain) and was admitted to hospital. Aryna stayed with the other two children which left me dealing with non-English speaking health professionals in a fraut and emotional situation.
We came through the bad times strongly. Our love grew and the children took to each other fabulously well.
Aryna flew to Africa in June. She flew back again in August for a month. And in October she and Zhenya arrived for good. We were married on 15 January 2002. Aryna's mother and father flew out from Ukraine and were with us for the ceremony.
Zhenya had never travelled to an English speaking country before but he is already enrolled in school and keeping up with all subjects. I am now in the process of adopting him.
Originally, both Aryna and I were highly sceptical with regard to searching for a genuine relationship on the internet. In retrospect, writing letters for several months and building a relationship through phone calls and small but special gifts is a much more exciting and fulfilling way to fall in love than meeting a future spouse at a party, or in a club. And the moment when you do meet, touch, kiss is almost unbearably wonderful - an instant to be treasured for life.
We now have a loving family of five and a great future to look forward to, though the adversity of being in Zimbabwe over the last few months has been substantial. At the end of this year we will be emigrating to New Zealand.
Aryna treasures family, home, support, care and tenderness. She has style. She listens. She is gifted in her work. And she is utterly feminine. Aryna is a woman in a million. And there are more like her.
So don't be put off by the 'strangeness' of internet romance. If you are genuine, and prepared to persevere your 'Russian' bridal dream can, like mine, become reality.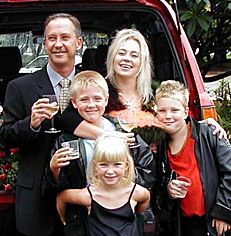 ---
READ ALSO:
Your information unlocked the process for me
Read the story of Frank and Ludmila
Russian women are real treasures, and I found mine
"After visiting with her, I realized that she was not in any need of any material items. Her family has own business, and live very good. She just had this desire that we as all humans have inside of us, to love and to be loved in return. In fact, if she had her way, we would probably be living in Russia right now..."
Read a story of Nick and Julia
---
Comments, suggestions? A story to share? We want to hear from you!
Click here to Contact us
---
JUST RELEASED! New E-book by Elena Petrova:
"How To Find And Marry A Girl Like Me"
Comment from the reader:
"This may well turn out to be the best purchase I have made... I hope not too many of my competitors find this book!"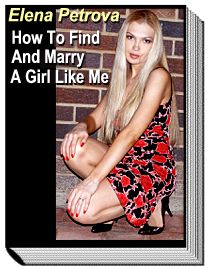 Discover how to find, court and finally marry a beautiful Russian woman!
This is the only book written by a beautiful Russian woman married to a western man - for more than 5 years! - and who is also the owner of a highly successful Internet dating agency.
Find out once and forever what Russian women are really looking for, why they are looking for it and how you can give them exactly what they want!
Get responses on your letters to beautiful Russian women - 9 out of 10, GUARANTEED!
With "How To Find And Marry A Girl Like Me" you'll learn knock-out techniques that will instantly boost your success rate in dating Russian women - online and in real life. You will have more beautiful girls that want to be with you than you can handle!
And not just ordinary girls! They will be beautiful, intelligent, but most of all - honest and sincere! You will be the one to take your pick!
STOP wasting your time and money in search for a Russian wife... Get it done - painlessly, easily, and certainly! Moreover, have lots of fun along the way!
Yes, you too can marry a girl like the one on the picture... Click here!
---
RECOMMENDED:
New Ebook You Cannot Afford To Miss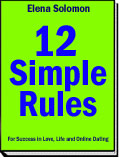 Dating can be complicated... it doesn't have to be! You can jump start your love life - or you can keep wandering in the dark; the choice is yours!
When it comes to dating, most men make the same silly mistakes with women - over and over, with disastrous results.
Do you want to do BETTER than 99% of other guys? Click here
---