True life fairy-tale from Bart and Irina
+ Comments on Myths and Realities

Since almost a year I was browsing through many dating-sites and looking at
the Ad's of Russian women. The reason I did that was that I just wanted to
have a woman who identifies the 'normal' values in a relationship like, love, respect, trust, devotion, loyalty and affection. For two years I couldn't manage to find such a woman in my own country (too many weirdo's). Due to several Dating-sites, which almost always write that (most) Russian-women still have such 'values' I thought to myself, why not try to find a new partner in Russia. But that's easy to say, but difficult to act, at least for me it was.

Unfortunately, I have had a 'bad' experience with my last partner concerning
trust and respect, so I was very vulnerable and very insecure to just start writing a complete unknown woman. Also because of the fact that you also
read that not all of the women on those Dating-sites are 'honest' with their meaning of finding a new partner in the 'west' part of this world.
But one day day, I found your site Elena, and I think I have read your site more then 10 times, I mean about the FAQ's and your '9 myth's' and to be honest, your site gave me hope and courage to finally take the initiative to really write a woman (when I find one, who gives me a reason to write). One of your advice (after I send you an email to give you a compliment about your site) was try to look at Kiss.com, because your experience was that this site was pretty reliable. So, one night, in the beginning of June, I started to write my Ad and uploaded it with a photo to this site.
After that, I started to browse through the women's ad's. Of course there was a big choice of available women, but their ad's where pretty equal to each other, what I mean is, it was very difficult just to choose one. But then, when I was reading one special Ad, I discovered a difference with all the other Ad's. This Ad was written in a very personal way, not like all the other's, I really could read 'between' the lines, if you know what I mean. Although the Ad was only half a page, I really could imagine what kind of woman she was. So I decided to respond to this woman with a letter, but because at that time it was already late in the night and I decided to write her the next day, so I bookmarked her Ad, to come back the next day.

The next day:
I started my computer and first (like I always do) opened my email-box. And I saw that I received a response from someone from Kiss.com. I started to read this letter and became a little bit excited, because this letter was very personal, open, honest and without lines like somebody who is trying to 'sell' herself, if you know what I mean. This was a response of someone who really was attracted by my Ad and the way I expressed and described myself in my Ad, but at the same time she was writing also in a very special way and like I said before, very 'open' too, she already wrote down her real email-address and her real-postal-address too, so this gave me courage to believe that she wasn't just somebody who wants to 'play' using internet. Of course I was very curious to know who she was and I clicked on her link to her Ad to hope if she also had a picture on her Ad.
Well Elena, I can't remember if I already told you this before, but when I opened her Ad, it was the woman I bookmarked the night before, the woman I had chosen to respond to her Ad.
At that moment, I really needed a break, because for me this was to 'unreal' to believe this was true. I mean from all of the thousands women who have their Ad's at Kiss.com, I just picked out one woman and believe it or not, that woman had picked out me. From this moment on, I already knew, this is
the one, this is not just a coincidence, this must have be a reason, 'somebody' is trying to get these two persons together, that's how I was thinking about this coincidence.
The same evening I started to respond her letter and explained her also what
happened (about the coincidence). I wrote her a very large letter and asked her if she had the possibility to reply me with a confirmation that she had received my letter (because I didn't know yet if she had the possibility to use a computer with an internet connection).

The next day (Friday) I received a confirmation and a short comment that she thanked me very much for my large and very interesting open letter, but that she only could reply me on the next Monday, because she only could access a computer at her work. Well I was happy to receive this email, because I knew that she had received and read my letter and was waiting very impatience for her reply on Monday.
Of course this weekend was a very long weekend for me, waiting till Monday, was terrible. Anyway, as promised I received Monday (late in the evening) her reply. First she made a compliment to me about the 'open' way I was writing to her, it made her feel very comfortable and very personal too. From my first letter, she was very impressed about me, she compared me with other 'men' who also replied to her Ad, she said, comparing to me, those other 'men' weren't even 'close' to me. From the beginning of our 'writing-period' Irina was very happy with me. I think the reason was that I can be very open (when the 'feeling' is right), sensitive and I am not afraid to talk or write about emotions. But the more we were writing, Irina became more and more insecure.
Because of the fact that, from the beginning, we really 'fit' with each other, we share the same (emotional) thoughts, habits, dislike the same inhabits, share the same hobbies and other important things in life and above all, from the beginning we said to each other, "let us not try to act like if we are 'other' persons than we really are", in other words, from the beginning we both were ourselves, not better, not worse.
But she still was insecure. because for her, I was too good to be true. Sometimes she thought, this was only a dream, this is not real and I had much trouble to convince her that I was not just a dream. The more we were writing, and after a short time, also phoning each other (every day at least one time), the more difficult it became to maintain this kind of relationship, I mean just writing and phoning is not enough of course, we really were longing for each other, to hold each other, to feel each other, just to look in each other's eyes.

So after we wrote almost everything about ourselves (I think Irina even knows me better now then my own mother and vice versa), I proposed her to
visit her. Irina didn't need much time to say, yes, please, come as soon as possible, because I can't eat anymore and if you are not coming soon, I will die from hunger. So I bought an open ticket (thank God I am working at an Airline company, so tickets are almost 'free' for me), arranged an invitation from a hotel in Moscow and rushed to the Embassy to get me a visa. I had to wait for 5 days for the Visa and then ......D-Day!

Well, Elena, you will remember my email to you about the first contact, about how I should act and above all, about my insecureness to meet Irina finally in 'person'. Would she still like me, wasn't I a 'stranger' to her, what shall I do when I see her at the first moment? all questions which crossed my mind during those 5 long days.

So, D-day had come and I traveled to the airport, with presents for her daughter, mother, brother and of course for Irina too. I had a (new) perfume, 15 red roses and a golden necklace with a diamond which I kept for a possible romantic evening-present.

In time I arrived at Moscow Intl. airport, but had to wait for almost 2 hours before I got through the passport/visa control. Irina would pick me up at the airport and I figured (knowing her) that she already was waiting for more then 3 hours and beside that, it was very hot that day and together with my nervous feeling, while I was waiting for the passport control, I felt terrible nervous. Thank God the waiting had an end and I started to walk to the exit.

'Millions' of people were waiting there and I was thinking, how the heck will I find her between all those people. I decided just to walk through the bunch of people and wait at a spot where it was more quiet. But then, suddenly, a hand came between all those waiting people from nowhere, grabbed me while somebody was calling my name and before I knew I was embracing a beautiful woman named Irina. (By the way, she took the initiative!)
In the beginning we didn't talk, we were just looking at each other like if we wanted to know if this still was not a dream, but then we were disturbed by a man, who was asking to me if I was Mr. D from Holland, and I said yes. It seemed to be the man from the car rent company where I hired a car, I almost forgot that I hired a car.
So we walked to the parking place, he explained something about the car and then Irina and I started our first car trip to the center of Moscow, where my hotel was. During the car trip we talked and talked like we knew each other already for years.
The talking was very comfortable and I kept on looking to her, which made her a little bit shy. I explained her: my dear Irina, I received so many letters from you, so you don't have to tell me what kind of person you are, but I never saw you in 'person' before, so I will keep on looking at you, because comparing to all those letters, I am far behind with looking at you. And then she started to smile (little bit shy again) and from this moment I felt in love again with her, but this time for 'real' if you know what I mean, this time it was real, not just a letter or a picture, but a real person in 'life'. Her smiling made me feel like walking on clouds, but unfortunately I couldn't look too much to her, because I was driving a car in Russia, well everyone, who ever was in Russia before, knows what I mean by that.

After we found my hotel and checked in, we drove to her village, Klyazma, about 35km north of Moscow, there I met her mother, brother and Anna, her daughter of 4 years old. I bought a big bear for Anna and she was grateful when I gave her that, I also had some presents for her mother and brother, they both were very happy for Irina, that I was here with her in Moscow. Her mother wants Irina to be happy again and after a little time, her mother told Irina, that I was a man with very 'open' eyes and that she already knew that I was the right man for her.
That night I stayed in her house, in fact I stayed the whole period, I was in Russia, in her house. (We both were only staying in the hotel when we had a late night out in Moscow, so we didn't had to drive back home.) Although it was still the first day, for the both of us it looked like we knew each other for years, everything we did, like walking in her house, like I was there many times before or playing with Anna, like I used to do that when I was there, in fact it was a little bit weird, I mean being there the first day and we went along with each other like it was 'normal' for us to be there, no silences between us, no nervous feelings, it just felt good and we both felt very comfortable being together.

The next (second) day we went to Moscow to visit some things, from this day, the real romance between us developed by touching each other, like holding hands, kissing each other, just like we were two people who were incredible in love with each other (and we were!). And the other days, our love was only growing and growing. We really are at the same 'level' we didn't rush but we didn't wait too, we both just had the same 'speed' to develop our love for each other and we even were at the same frequency with 'normal' things.
When I was looking at something, for example in a shop, she, at the same time, was looking at the same, when we were drinking coffee somewhere outside and she looked at some person for one of another reason, I did the same, without saying to each other we did. When I started to tell her something, then at that time she was thinking about the same I was starting to tell her, I mean, we have the same thoughts (sometimes at the same time), hobbies, interests, the way we want to show our love to each other, the compliments I give to her and she to me, there really was nothing which didn't fit with each other.

So Elena, I can talk about every day we spend with each other, but these days were the same, except for the love-part, this was only getting bigger and stronger. We both feel very secure with each other and we both are very certain about each other.
So, one evening, when we went out for dinner, it was a very romantic evening, I gave her the golden necklace with diamond to her and told her that I want her to stay with me for the rest of our life, in other words, I asked her to marry me and she said yes!, without any hesitation, just "Yes I do", like she was expecting I would ask her, like it was very 'normal' that we should marry each other.
I know it sounds a little bit 'early' to make such big, important step, but why wait? wait for what?, sometimes two people can meet each other and from that very first moment, they both know, that he/she is the man/woman I was waiting for and I think we are those kind of people, we don't have a reason to wait.

When I went back to Holland again, we both were crying at the airport like two kids. But from the first day I was back home again, we both started to make arrangements for her visit to Holland and to gather all the necessary papers to apply for a permanent citizen license for Irina. Of course we phone each other every day and we both are very busy with all kind of official paper-matters, like dealing with the Ministry of Foreign affairs and other official offices.

To end this letter, I will give you some feedback on your 9 myth's. Those 9 myth's were very helpful for me before I decided to write a Russian woman, but I have to tell you, the feedback I give has everything to do with Irina and the impression I got when I visited Moscow. Of course the answers are also depending of the kind of woman you meet, but in general, you are very right with your answers.

Lots of greetings,
Bart
PS This is the final part of our story ;-)))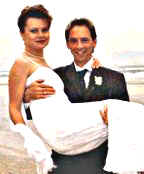 ---
FEEDBACK ON YOUR 9 MYTH'S:

Myth 1:
Russian women are more beautiful, feminine and stylish.
I THINK THERE ARE A LOT OF BEAUTIFUL WOMEN IN THIS WORLD, BUT ABOUT THE FEMININE AND STYLISH PART, I CERTAINLY AGREE.
Internet marriage agencies publish photo of models to receive money for the
false addresses from lonely Western men.
I THINK, WHEN YOU READ THE FIRST (REPLY) LETTER VERY CAREFUL I MEAN, READ ALSO 'BETWEEN' THE LINES (for example, try to read if she really wrote this letter personal to you) THEN YOU ALREADY CAN SEE IF THIS LETTER IS A 'PERSONAL' ONE OR A 'READY-MADE' ONE.

Myth 2:
Russian women are not interested in career and dream to be housewives.
THE 'CAREER' PART IS RIGHT, BUT THEY ARE VERY SERIOUS AND DEVOTED ABOUT THE WORK THEY DO, ALSO IF THEY ONLY WORK TO HAVE A 'LIVING'. BUT DREAMING ABOUT TO BE A HOUSEWIFE IS NOT REALLY A 'DREAM', I THINK IN THE BEGINNING THEY WILL LIKE IT, TO DO THINGS FOR THEIR 'OWN', TO HAVE TIME FOR THEIR OWN, BUT
WHEN THEY GET USED OF THEIR NEW LIFE, I THINK WORKING (PERHAPS NOT FULLTIME) WILL CERTAINLY BECOME AN OPTION AGAIN. (EXCEPT WHEN THERE IS ANOTHER REASON, FOR EXAMPLE: BECOMING A 'MOTHER' AGAIN, THAT WILL BE A FULLTIME JOB TOO [ha,ha])
Russian women are dependent, shy, reserved and don't want to work;
NONSENSE, RUSSIAN WOMEN ARE VERY 'HARD' WORKERS (MORE THEN MEN I WOULD SAY), BUT YES, THEY ARE DEPENDENT, BUT NOT FOR THE MONEY OR WHATEVER, THEY ARE DEPENDENT OF THE LOVE FROM THEIR PARTNER, LIKE I AM DEPENDENT OF HER LOVE, AND ABOUT 'SHY', WELL, IRINA IS A LITTLE BIT SHY, BUT ONLY WHEN I CAN'T STOP LOOKING INTO HER EYES, FOR THE REST, IRINA IS A WOMAN WHO KNOWS WHAT TO DO IN THIS/HER LIFE, SHE IS VERY INITIATIVE AND KNOWS WHAT TO DO IF SHE WANTS TO REACH SOMETHING IN HER LIFE.
you will have to feed a Russian wife for the rest of your life.
I THINK IRINA WILL FEED ME, BECAUSE COOKING IS ONE OF HER GREAT HOBBIES!!

Myth: 3
Russian women appreciate traditional family values, they are serving and
sacrificing.
I WILL AGREE WITH THIS ONE, BUT ABOUT THE SACRIFICING, IRINA WILL NEVER DO THINGS IN HER LIFE WHICH SHE CAN'T AGREE WITH HERSELF. OF COURSE SHE WILL DO EVERYTHING FOR HER DAUGHTER AND FOR ME TOO I THINK, BUT ONLY IF SHE WANTS TO AND ONLY IF IT ISN'T AGAINST HER FAITH OF HER LIFE.
Half of women featured by Internet introduction agencies are prostitutes, the other are already married.
I THINK THIS IS COMPLETELY NOT TRUE!

Myth 4:
Russian women are well educated and intelligent.
CONCERNING IRINA? YES, SHE IS! IRINA IS A VERY INTELLIGENT MEDICAL RESEARCHER IN A WELL KNOWN INSTITUTE OF MOSCOW.
Russian women live in a completely different world, they are stupid in the
simplest everyday things; it will be very difficult for a Russian woman to
study language and adapt.
THIS IS NONSENSE TOO!, RUSSIAN WOMEN (LIKE I EXPERIENCED FROM MOSCOW) CERTAINLY KNOW WHAT IS HAPPENING ON THE OTHER (WEST) SIDE OF THIS WORLD, LIKE FASHION, MUSIC, MCDONALDS, WORLD NEWS, FOR ME IN MOSCOW THERE WAS NO DIFFERENCE LIKE I AM USED TO HAVE IN MY OWN COUNTRY. AND ABOUT THE LANGUAGE, DURING THESE DAYS, IRINA LEARNED A LOT OF DUTCH WORDS, WHICH SHE STILL REMEMBERS, WHILE I AM PHONING TO HER, I OFTEN USE DUTCH WORDS, JUST TO GET HER USED TO IT AND SHE DOESN'T HAS ANY PROBLEM TO REMIND THOSE WORDS.

Myth 5:
Russian women are very fond of Western men.
I THINK YOU ARE RIGHT, BUT ONLY FOR THE REASON THAT WESTERN MEN STILL SEEMS TO HAVE SOME 'MANNERS' TO TREAT A WOMAN AND TO MAINTAIN A GOOD RELATIONSHIP OR FAMILY TRADITION (AT LEAST I DO).
Russian women dislike Russian men. All Russian women are eager to escape Russia for the better life on the West.
IT IS NOT THAT RUSSIAN WOMEN WANTS TO ESCAPE 'RUSSIA', THEY WANT TO ESCAPE THEIR CURRENT LIFE, WHICH MOSTLY DOES NOT HAVE A GOOD (PARTNERSHIP) FUTURE WITH RUSSIAN MEN. AND BECAUSE THEY HAVE TO SEARCH 'OUTSIDE' RUSSIA (WITHIN RUSSIA, THERE ARE NOT MANY SINGLE WESTERN MEN), THAT'S THE REASON THEY START TO LIVE IN AN OTHER COUNTRY.

Myth 6:
Russian women prefer much older husbands. One can easily find a young
beautiful Russian woman who will be happy to marry him.
THIS IS ALSO COMPLETE NONSENSE, IF THEY HAD THE OPPORTUNITY, THEY WOULD PREFER A MAN OF THEIR OWN AGE OR AT LEAST A LITTLE BIT CLOSE TO THEIR AGE, OUR AGE-DIFFERENCE IS 8 YEARS, FOR HOLLAND, THIS IS NORMAL TOO. BUT AGE-DIFFERENCES LIKE 15, 20 OR 25 YEARS IS NOT WHAT RUSSIAN WOMEN ARE LOOKING FOR.
Men, who are looking for Russian wives, are unattractive, old and desperate
losers.
THIS IS NONSENSE TOO, THE REASON I WAS LOOKING FOR A RUSSIAN WOMEN, WAS ONLY FOR THE REASON THAT THE LAST 2 YEARS, I ONLY MET WEIRD AND FRUSTRATED WOMEN, THANK GOD, RUSSIAN WOMEN STILL THINK THAT REAL LOVE, RESPECT AND TRUST ARE THE MOST IMPORTANT THINGS IN A RELATIONSHIP.

Myth 7:
Making contact with Russian ladies will cost you almost nothing, so why
don't you try?
WELL, THE FIRST CONTACT WAS INDEED FREE FOR ME, BUT WHEN WE STARTED TO DEVELOP OUR RELATIONSHIP, PHONE CALLS, AIRLINE TICKETS, VISA, HOTEL AND OTHER THINGS ARE NOT THAT CHEAP, BUT FOR THE PRICE OF A NORMAL 2 WEEKS HOLIDAY, YOU ALMOST CAN 'BUY' A NEW EVERLASTING FUTURE FOR YOURSELF, SO EVERY PENNY IS WORTH IT, TO GIVE IT A TRY.
Marrying a Russian woman is a difficult and costly exercise, and one barely
will succeed.
CONCERNING THE PAPERS YOU NEED FROM THE RUSSIAN WOMAN, YES, THEY ARE DIFFICULT TO GET (especially in Russia), BUT NOT IMPOSSIBLE. BEFORE SOMEBODY (WANTS TO) STARTS A RELATIONSHIP WITH A RUSSIAN WOMAN, HE MUST KNOW WHAT HE/SHE NEEDS (OFFICIAL PAPERS) IF THEY BOTH DECIDE TO LIVE WITH EACH OTHER. AND ABOUT MARRYING EACH OTHER, IF SHE HAS THE RIGHT PAPERS, MARRY WILL COSTS AS MUCH LIKE ANY OTHER WEDDING. PREFERABLE IS MARRY EACH OTHER IN THE COUNTRY WHERE THE MAN LIVES, BECAUSE THE PAPERS WILL BE AUTOMATICALLY OFFICIAL. (THIS CONCERNS HOLLAND), YOU ALWAYS CAN GIVE A 'SECOND' WEDDING-PARTY IN RUSSIA WITH HER FAMILY AND FRIENDS. AND IF THIS MARRIAGE WILL SUCCEED? I THINK THERE IS NO DIFFERENCE WITH MARRYING A RUSSIAN WOMAN OR A WOMAN FROM MY OWN COUNTRY, BUT TO BE HONEST, I THINK THERE IS A DIFFERENCE, I THINK THAT RUSSIAN WOMEN HAVE MORE LOYALTY TO THEIR HUSBAND THEN WOMEN (I KNOW) FROM MY OWN COUNTRY.

Myth 8:
Russian women are not interested in your money or financial situation;
YES AND NO, IRINA IS NOT INTERESTED IN MY MONEY, BUT SHE IS INTERESTED IN A 'NORMAL' LIFE, THE LIFE I LIVE, NOT CONCERNING MONEY IN SPECIAL, BUT FOR EXAMPLE, THE INFRASTRUCTURE IN OUR COUNTRY IS MUCH BETTER THEN IN RUSSIA, FOR ANOTHER EXAMPLE, SHE HATES TO TRAVEL EACH DAY 2 TIMES FOR 2 HOURS WITH THE LOCAL TRAIN TO GET AT HER WORK. SHE DISLIKES TOO, THAT SOMETIMES IN HER VILLAGE, JUST LIKE THAT, THE ELECTRICITY GOES DOWN FOR AN UNKNOWN TIME. AND OF COURSE HAVING AN AVERAGE SALARY IN MY COUNTRY, FOR HER THAT WILL GIVE HER THE FEELING THAT SHE IS 'RICH'. LIVING IN A COUNTRY WHERE THE ECONOMY IS VERY HEALTHY, IS FOR HER ALMOST 'PARADISE' COMPARING TO RUSSIA. I HAVE MY OWN HOUSE, OWN CAR, OWN MOTORCYCLE AND A VERY GOOD JOB, BUT SHE NEVER 'ASKED' ABOUT MY SALARY OR LIVING STANDARD. I, VOLUNTARY TOLD HER THAT BY MYSELF. I THINK RUSSIAN WOMEN ARE VERY MODEST CONCERNING THIS MATTER, AT LEAST IRINA IS.
Corresponding to a Russian woman is just a scam to make you send her money.
NOT TRUE, LIKE I SAID BEFORE, SHE NEVER ASKED ME ABOUT ANY MONEY, SHE EVEN WAS ASHAMED AND FELT GUILTY THAT I HAD TO PAY FOR MYSELF SO MUCH MONEY TO VISIT HER. BUT OF COURSE I VOLUNTARY PAID HER TICKET TO VISIT ME AND I PAID FOR THE MONEY SHE NEEDS TO GET ALL THE OFFICIAL PAPERS TO LIVE WITH ME. BUT I ALSO WOULD DO THAT FOR ANY OTHER WOMAN FROM ANY PLACE OF THE WORLD.
a Russian girl will love you as you are.
CONCERNING IRINA, YES!, SHE DOES AND WILL

Myth 9:
It will be a paradise on the earth after I marry a Russian woman.
IT CERTAINLY WILL BE A PARADISE WHEN I MARRY IRINA AND I WILL GIVE HER THE FEELING THAT SHE IS IN PARADISE WHEN SHE MARRIES ME!
Russian women are only after passports, and will divorce their husbands as
soon as they have the passport.
MAYBE SOME ARE, BUT I BELIEVE THAT'S ONLY A VERY SMALL PART OF ALL THE WOMEN WHO WANTS TO LIVE WITH A WESTERN MAN. BY THE WAY, A FOREIGN WOMAN WHO STARTS TO LIVE IN HOLLAND, HAS TO STAY AT LEAST 5 YEARS BEFORE SHE CAN GET A DUTCH-PASSPORT, DURING THESE 5 YEARS SHE ONLY HAS A 'TEMPORARY' CITIZEN-LICENSE. I THINK NOBODY CAN 'FAKE' 5 YEARS AND LEAVE THEIR HUSBAND AFTER THAT JUST BECAUSE OF HAVING THAT PASSPORT.

Again I give you my best regards and all the luck with your web-site.
We'll keep in touch!
Bart
---
READ ALSO:
Mugged in Ukraine - and I'd do it again!
A true-life story of Alan and Aryna
---
Comments, suggestions? A story to share? We want to hear from you!
Click here to Contact us
---
JUST RELEASED! New E-book by Elena Petrova:
"How To Find And Marry A Girl Like Me"
Comment from the reader:
"This may well turn out to be the best purchase I have made... I hope not too many of my competitors find this book!"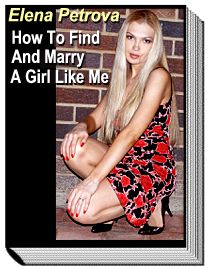 Discover how to find, court and finally marry a beautiful Russian woman!
This is the only book written by a beautiful Russian woman married to a western man - for more than 5 years! - and who is also the owner of a highly successful Internet dating agency.
Find out once and forever what Russian women are really looking for, why they are looking for it and how you can give them exactly what they want!
Get responses on your letters to beautiful Russian women - 9 out of 10, GUARANTEED!
With "How To Find And Marry A Girl Like Me" you'll learn knock-out techniques that will instantly boost your success rate in dating Russian women - online and in real life. You will have more beautiful girls that want to be with you than you can handle!
And not just ordinary girls! They will be beautiful, intelligent, but most of all - honest and sincere! You will be the one to take your pick!
STOP wasting your time and money in search for a Russian wife... Get it done - painlessly, easily, and certainly! Moreover, have lots of fun along the way!
Yes, you too can marry a girl like the one on the picture... Click here!
---
RECOMMENDED:
New Ebook You Cannot Afford To Miss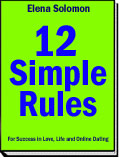 Dating can be complicated... it doesn't have to be! You can jump start your love life - or you can keep wandering in the dark; the choice is yours!
When it comes to dating, most men make the same silly mistakes with women - over and over, with disastrous results.
Do you want to do BETTER than 99% of other guys? Click here
---
---