Looking for your True Love in Russia? There is no need to re-invent the wheel!
A true-life story from Rainer (USA)
Dear Elena,

Thank you for the "Nine Rules for Dating Russian Women." I contacted you in December 2002, and you placed an ad for me with my photo in January 2003 for a reasonable fee. I bought a copy of your Anti-Scam Guide. I also recently bought a copy of How to Marry a Woman Like Me. To keep well informed and insure success, I also purchased two of Marina Smiley's books.
I received letters from about 80 different women in one year. There were
some scam artists (the prettier ones are more devious) and stayed out of
trouble by calling an immigration attorney for a second opinion on some
occasions.

Communication went very well with a Russian woman in Tashkent starting in February 2004. We went from e-mail to Instant Messages, talking daily for many weeks. I went to visit Julia, and her ten-year-old son, Igor, in Tashkent, Uzbekistan in June 2004.
The flight was an ordeal: three flights, Boston to London, London to Istanbul, Istanbul to Tashkent. Two months before I went to see her, suicide bombers blew themselves up downtown. Two months after I was there, bombs went off again at the U.S. embassy, the Israeli embassy, and the prosecutor's office a few days ago.
We have worked hard to get all the paperwork and documents for the fiancee visa; however, the U.S. embassy in Moscow is very strict about income guidelines, and have raised it again before the year is over by more than $1,000. We have our great challenges and great difficulties to overcome so we can be together.

Your books and great deal of information at your website were of tremendous help from the beginning. I never dreamed of going to Tashkent to meet a beautiful blonde Russian woman and her son. I saw so much and learned a lot about another culture and people. I saw and experienced things the western press is ignorant of and does not care about.

I still patiently get CDs and books to be more comfortable with the Cyrillic alphabet in learning Russian. Since the Cyrillic alphabet is not a phonetic one, pronunciation is the hardest for me to learn and REMEMBER.

I hope our difficulties with the U.S. embassy and immigration will have a happy ending. I am glad to be one of the ten percent of men who got the tickets, got on the airplane, and went 6,000 miles to meet a sensitive, energetic, intelligent, ambitious Russian woman. I encourage you to continue to resist and defeat the "mail order Russian bride" nonsense. Your website and information for your dating service is of great benefit for all men and women who are honest and sincere.

There is no need to go out and learn by making mistakes when your books and website educate and inform. In English the expression is, "There is no need to re-invent the wheel."

I still get a lot of resistance from people in the U.S. who do not care to learn a second language and have much hostility toward foreigners, especially Russians, whom they still think of as the "enemy." When they learn why I went to Tashkent, they have only evil to say and call me a fool for going. A compatible Russian women with many fine qualities is worth going any distance, and my trip confirms that. Your open and frank honesty in the information you give has been very helpful, and reading about your own experience with the man who became your husband was also very helpful.
The greatest service you do is giving us plenty of accurate information so we make much fewer mistakes, do not offend, and never break any Russian woman's heart out of ignorance or because of lack of valuable knowledge. Thank you for everything!

With best regards,
Rainer (USA)
---
READ ALSO:
Any man will consider himself lucky if he marry a Russian lady
A true-life story of Fred from USA
Why Look for a Wife in Russia?
By Clinton Carey: "One day, over a beer with my brother, he suggested to me that I place an ad on the Internet with a matchmaking agency. I laughed, and dismissed the idea. As the weeks went on, I thought to myself, "Why not? I travel a lot. I don't have time to meet women normally, and I definitely don't like the bar scene with its' head games and lack of quality in both men and women. So, I placed an ad..."
---
Comments, suggestions? A story to share? We want to hear from you!
Click here to Contact us
---
JUST RELEASED! New E-book by Elena Petrova:
"How To Find And Marry A Girl Like Me"
Comment from the reader:
"This may well turn out to be the best purchase I have made... I hope not too many of my competitors find this book!"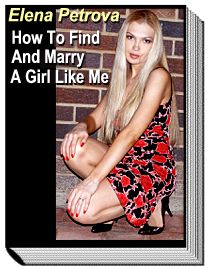 Discover how to find, court and finally marry a beautiful Russian woman!
This is the only book written by a beautiful Russian woman married to a western man - for more than 5 years! - and who is also the owner of a highly successful Internet dating agency.
Find out once and forever what Russian women are really looking for, why they are looking for it and how you can give them exactly what they want!
Get responses on your letters to beautiful Russian women - 9 out of 10, GUARANTEED!
With "How To Find And Marry A Girl Like Me" you'll learn knock-out techniques that will instantly boost your success rate in dating Russian women - online and in real life. You will have more beautiful girls that want to be with you than you can handle!
And not just ordinary girls! They will be beautiful, intelligent, but most of all - honest and sincere! You will be the one to take your pick!
STOP wasting your time and money in search for a Russian wife... Get it done - painlessly, easily, and certainly! Moreover, have lots of fun along the way!
Yes, you too can marry a girl like the one on the picture... Click here!
---
RECOMMENDED:
New Ebook You Cannot Afford To Miss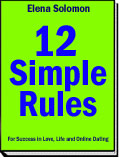 Dating can be complicated... it doesn't have to be! You can jump start your love life - or you can keep wandering in the dark; the choice is yours!
When it comes to dating, most men make the same silly mistakes with women - over and over, with disastrous results.
Do you want to do BETTER than 99% of other guys? Click here
---
---