---
Why do so many US men want a "trophy" wife, with all the risks that entails?
Your blacklist site is excellent. Out of interest I went through all the pages today, and one thing strikes me. All the photos of scammers are of beautiful, model type young women, studio posed and professionally done. This alone should ring alarm bells. Having made many trips to Russia, I know in most cities you can sit down at a cafe and watch a selection of probably the most beautiful women in the world. Real women exist in Russia, especially those over 35 and into their 50's who are educated and intelligent and would like to get to know you for who you are, not how much you make. Why do so many US men want a "trophy" wife, with all the risks that entails. The best way is simply to go to Russia and meet them personally. Ron
Dear Ron,

Most scams are pulled over men who never thought about finding a Russian wife. Scam artists just email men who place their profiles at general dating sites, and send beautiful pictures promising love and marriage. Men got confused and send money. They probably would never go to Russia and look for a wife, it is too complicated, but when everything is "done" for them, they just need to send money, they are tempted to solve their personal situation in the easy way. They believe they won a lottery, and it is their "American dream". We all know good things take an effort but we all still want it hassle free. This is the weakness scammers exploit.
Regarding just going to Russia and meeting all those beautiful girls in person, a good idea. Not many people can afford to leave their jobs for such a long time though. This is why they use dating agencies to meet women that would be interested in moving abroad, start corresponding with them and then visit them in Russia. I think it is a reasonable approach just as high possibility of success as going to Russia and living there.
---
What will a Russian woman think of foster parentship?
Since I do not have contact with any one who knows the Russian women as you do I hope you can answer my question. I am a single male foster parent. I take in children from infants to 12 years old. This is important for me and I love doing it. It is my understanding that no such thing exists in Russia. What will the women I write to think of this and how do I explain it?
Elena Petrova:
Patrick,

It is true that foster parentship does not exist in Russia. It will be not easy to explain to Russian women what it is. You will need to go into detail and explain that it is normal in America and Europe, and it is your way of doing this world a better place. I think a woman who has her own child or children will be much more accepting of what you are doing.
---
How is Medical Aid like in Russia?
My girlfriend told me she is in the hospital and will have to stay there for 2 weeks. I am worried if her illness is so serious? Jack
Elena Petrova:
Dear Jack,

In Russian hospitals they keep patients for 2-3 weeks according to the "official" time of hospitalization for this particular disease. For example, pneumonia is 2 weeks, uncomplicated natural birth - 1 week, etc. It does not mean the patient feels very bad - most people that are kept in hospitals are already feeling well but they still should finish the treatment, then the doctor makes tests and only after the tests are fine the patient is discharged. Medical aid in Russia is free so people do not pay for the hospitalization, they only have to buy some medicine if the hospital does not have free medicine (which is usually the case; because of poor financing).
There is a list of diseases that should be treated only in hospitals, and pneumonia is one of them. They do not allow people to treat it at home, you must ask a special doctor's permission to be allowed to treat it at home. When you are sick, a doctor issues to you an official document - "Sick List" - which should be presented at work and without this document your absence will be treated as without a reason, and you can be fired (even if you are off for 1 day). So the doctor says you have to go to hospital or you will not receive the "Sick List".
Students also have to present "Sick List" if they missed some tests, otherwise they will not be allowed to take them again soon - only later, with the students who failed, and also they will be treated as students who failed (there is still some scholarship paid to successful students, students who fail exams do not receive scholarship).
Medical aid in Russia is a very formalized structure with many rules, coming from Communist times. Medical aid in Russia is free, insured by the government.
---
It makes me very sad to see these women compromising their potential.
Correspondence 1
I was doing research for a college project on my Russian heritage when I stumbled on to this site. I did not know about "mail order brides" and I spent some time reading your FAQ about the situation. I am very surprised that these beautiful women need to be selected out of magazine! I come from Los Angeles CA, and this seems very depressing. Marriage is so transient these days, it makes me very sad to see these women compromising their potential, but I hope to understand the reasons why. My Grandma is a Russian Jew and fled Russia many years ago. I would like to come to Russia and save all these women, I know that is not possible... but I would like to meet Russian women in Russia or America. Maybe I can help, I would like to. Thanks for reading this. Michael
Elena Petrova:
Dear Michael,

I am not sure what compromise you are talking about; Russian women have no inhibitions about seeking husbands abroad! They do not consider it offensive to be selected from a catalog; isn't it how all personals sites operate - lists of pictures and profiles? There is nothing wrong with it. If in one place there is abundance of something, and in another place there is lack of something, isn't it just reasonable to get from one place to another?
Compromise, it is when people have to settle for less than they can get. Russian women seeking husbands abroad are doing that because they do not want to compromise on the quality of family life, and realized they can do better with looking for a husband abroad than in Russia. If one cannot find a marriage partner where she/he lives, what's wrong with meeting through an ad? Much less mind games, at least.

Correspondence 2
I never thought about it like that. I guess I saw it with jaded eyes. Why would such beautiful women need to advertise themselves, I did not mean it as a put down in any way, much the opposite. Like you said when one area doesn't have a resource another area must export the resource to fill that void. That is true... what I meant about compromise was, America has much to be thankful for, it is worth any voyage for love, or not love, for the freedom. I think that this may instill some quasi notion that there is an equality difference. I am in no way criticizing your work, or your method, or your web site, or the brave women. I was just interested, you taught me a new way of looking at it. If they are looking for security, which it seems obvious that they are, would it not be wise to request bank statements etc. Just old age, is not enough to provide security, nowadays it is easy for a young adult to make more money than 40+ year old man or woman. There should be a deposit of 20,000$ into an account to prove financial security. What happens if a Russian girl gets married to some kinky old man who is about to keel over, that situation would be insecure at the least. Or some crazy killer. What was your experience like originally? Were you frightened? Michael
Elena Petrova:
Dear Michael,

Your immigration officials take care of security issues. They request bank statements and tax return forms, which has to be sent by the USA fiance to a woman and brought by her to her Visa Interview at the Embassy. Some men do not know about it when they start... Regarding my experience, I was not frightened, why should I, if you have met the guy in person and you are not blind, you will see who he is. Your husband can kill you in Russia as well (as an American husband can kill an American wife too), if you do not care too look after yourself, and there is 4 times bigger possibility it will happen with a wife in Russia than in the USA, according to statistics. I agree some women might feel lost in a country like the USA, and be afraid to report abuse. But now there are lots of websites offering help to Russian women married to foreigners; we also have a support group for Russian women living abroad on our Russian site http://www.zamuzh.com/support. Things become more clear and see-through for Russian women marrying foreigners; there is quite a bit of collective experience accumulated over the years, and Russian people are intelligent enough to get hold of this information. "Poor Russian mail order brides" phenomena is a thing of the past. There are still some Russian/Ukrainian women whose situation is desperate that they would marry anybody just to get out, but they are a minority. Most Russian women do seek love and not only security. Security alone will not bring you a loving Russian wife. Please do not pity Russian women seeking husbands abroad. They know what they are doing. If you think they are selling themselves, you are wrong: they seek love, respect and partnership in marriage.
---
What is the Russian Women's outlook on oral sex?
Please forgive my rather forward question but I had been interested in looking into this whole Russian Bride culture after seeing an amazing documentary of the subject on the Discovery Channel here in Florida. But an acquaintance of mine said that it would be a big mistake because of the various cultural differences. One of the biggest was the Russian Women's outlook on oral sex. My friend said they consider it taboo and an act that would only be performed by a prostitute. I asked him if he was sure that it was a cultural issue and not a personal issue with this particular woman, I mean, not EVERY woman here in the United States enjoys it but it certainly isn't a cultural taboo. Could you please inform me if this is a fact or an urban myth. This young lady was from St. Petersburg and after reading your web page I would have thought women from St. Petersburg and Moscow were much more cosmopolitan. Thank you for your time and I apologize if my question has embarrassed you in any way. Regards Reg. By the way...you have a wonderful website.
Elena Petrova:
Dear Reginald

No, oral sex is not a taboo in Russia and most women don't have any inhibitions about it. It used to be kind of a "forbidden" thing before the "iron curtain" was lifted, but not anymore. Thank you for your interest and for visiting.
---
What are the specific expectations of roles and behaviors from each side of American man and Russian woman in order to succeed in their relationship?
Your website advice says that if the American man and Russian woman stay with the expected roles and behaviors that each has of the other, the relationship should be successful. Can you give me a specific set of these expectations from each side? I cannot find them on the website. I think I can guess some of them but would prefer to have a more firm list. (I am 58 years old in case the expectations are different for someone my age.) Thank you for your time. Bob.
Elena Petrova:
Dear Bob

Thank you for your email. The roles can be described as that of many years ago that were present in family life. The man must be the provider of the family and leader. The woman will be the mother of their kids and involved in the duties that are expected from a women in a household.
---
The problem with compatibility of life, hobbies, reaction pattern...
The problem with compatibility of life, hobbies, reaction pattern etc. Is that really very few are totally "brothers and sisters of one mind". Take myself for an example. Finding a this one - a good-looking and even-tempered lady interested in history, not hysterical about last fashion, adaptable to a city of 60,000, not addicted to high culture, and I could continue for ever - would be an exercise in futility. It is better that I for my part, as well as she on her own part surely will, make my way of life as clear to her as I can from the very beginning. Both parts will study the mailings very carefully and find out whether this guy is the one for me, if he is then as in my case invite him over to me to see if hearts catch fire. Both parts will in the end adapt, everyday life will in the end be a reasonable compromise between the two. In my case - take an interest in high culture, obey every slightest hint on personal, food and house hygiene, connect her with the Russian environment in the town (many), be supportive in every way I can concerning adaptation to local culture and nature. In her case (I hope) - accepting a nature and culture as it is without too much whining, accept that though I may sometimes be a bore I am at least working on the case always trying my best to become a good life mate for her.
Elena Petrova:
Dear Asgaut

Your comment is very true. But with Russian women, it is easier since they
have to be very flexible in Russia in order to survive in daily life, since
life in Russia is very unpredictable and changes often. So Russian women are
used to compromise. It is their life style. Most women would go great lengths for the man they love; they would change their whole life for him, for finding a good man for marriage is the most important thing for a Russian woman. It is indeed a good idea to let the woman know as much as you can about your daily life and values.
---
Is belief in astrology common among Russian and Ukrainian women?
I am interested in Russian and Ukrainian women, but notice that many of them seem to be preoccupied with astrology, even to the point of specifying that men who contact them should be born under a specific sign of the Zodiac. Is belief in astrology common among these women?
Elena Petrova:
Dear Steve

Many women in Russia believe in astrology but many don't. If you oppose astrology, you should just omit ads that express such interest.
---
Do women really care if the man is out of their preference on age?
In your comments you say to respect the woman's preference on age. If
she is looking for 40 - 50 and you are 52, write someone else. My Finacee had 40-55, and I wrote to her and asked her to see my profile, and to know that I was older - at 59, but to please read my profile and if she would consider writing to me. She did and we are engaged to be married. I would suggest that a person write to anyone that they feel attracted to and let cupid take his course. Thank You, Don.
Elena Petrova:
Dear Don
A few years difference with what woman expects will not scare a woman away
but a man should make it clear why he decided to write to her, despite her
expressed preferences. In many cases women will not respond if the reasons are not spelled clearly. Then men complain about the lack of responses. In fact, I agree with you that one should not be afraid to write to women that he feels really attracted to. It does not hurt to try.



---
Letters: Page 1 | Page 2 | Page 3 | Page 4
---
Comments, suggestions? We want to hear from you!
Click here to Contact us
---
READ ALSO:

The latest E-book of Elena Petrova:
"How To Find And Marry A Girl Like Me"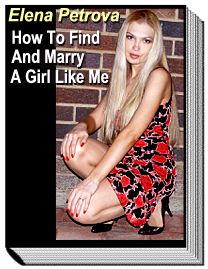 This is not just another book about dating Russian women!
This is the book that will change the way you look at Internet dating. It will boost your success rate with Russian women in an instant. You will have more girls that want to be with you than you can handle!
And not just ordinary girls! They will be beautiful, intelligent, but most of all - HONEST AND SINCERE! You will be the one to take your pick!
Want to marry a girl like the one on the picture? Click here
---
Why Russian Women? - If you decided to find yourself a Russian wife, you would be inundated with questions of the type "Why Russian Women?" from everybody you cared to share your idea with. Surprisingly, every Russian woman you are writing to will ask the same question: "Why do you want to find a wife in Russia?" After a while, you might start questioning your own sanity in doing the thing which everybody, including your dates in this Internet rendezvous, consider strange enough to request explanations. Here you will find some ready-to-use answers for your family, friends and Russian women you are writing to.

Myths and Reality - There is too much prejudice towards Russian women seeking men, both positive and negative. I call this prejudice "myths", and consider them one by one.

Russian women secrets - Do's and don'ts in your relationship with a Russian lady.

The Universal Crib On Finding A Russian Wife - The most compressed, step-by-step guidance on finding, courting and marrying a Russian woman.
---
MUST READ!
New e-book by Marina Smiley (the author of famous "The shocking truth about Russian brides").

Discover why so many guys continue to go to Russia, again and again they spend their money and time and are still unable to find their woman.
Learn how you can dramatically improve your success with Russian women and win when other fail.
Most intimate questions answered by a Russian woman - Medical Doctor.
---
MUST READ!
12 Simple Rules

This book will light a few light bulbs in your head.

If you wonder what is the cause of your problems with women/men, this book will open your eyes and give you precise instructions on how you can get the love life you always wanted.
If you were out of the game for a while and struggle to get back, this book will help you re-gain your lost confidence and learn a few new tricks along the road.
If you consider yourself an expert on dating, you will find several tips that will make you pinch yourself and say, "I can't believe I didn't think about it before!"

The secrets in this book will give you an unfair advantage in the battle of sexes, so much that you may even feel guilty of using them... because you know EXACTLY what results you are going to get when the other party doesn't have a clue! It's like taking a candy from a baby.

So, if you want to keep your life the way it is...
DON'T read this book.
Because you'll NEVER be the same person again.
I promise.

DON'T CLICK HERE unless you are ready to get MORE love, MORE money and MORE success in your life!
---