By Nily Glaser
©All rights reserved, 2004

GENERAL INFORMATION
We recommend that if possible, both bride and groom will attend all interviews. First things first! Always carry a note pad and pen to write down important information and questions that may arise during your interview. In order to comparison shop and select wisely, interview at least 3 Florists, Floral Designers and or decorators.
Flowers are a central component of your wedding. They set the atmosphere and are often a focal point as they add beauty and fragrance to any occasion including engagement parties, bridal showers, rehearsal meals and of course weddings.

Before starting your search for your wedding flowers specialist, you need to
Choose the time of year for your wedding

Choose the time of day for your wedding

Choose your wedding theme and colours

Decide if your wedding will be casual or formal

Secured both your ceremony and reception sites

Shop for your flower and decorations specialists as early
as possible and give them a general idea of what you want. Leave the actual details for 1 or 2 months before the wedding.
Whether yours is a simple at home wedding, a lavish black tie affair or any wedding style in between, you need flowers that are arranged in good taste and coordinate well with all other components of both marriage ceremony and wedding reception.
Check both your ceremony and reception sites to find out if flowers are included in their wedding package, if they have specific in house floral specialists and decorators they work with, and what their policies regarding flowers and wedding decorations are.
Arrange with the management of those that allow you to choose a professional, a specific time slot for the flowers and decorations to be placed.
Request that the flowers and decoration professionals confirm a few days before your wedding.
Find out if yours is the only wedding on the date you chose. If not, you may be able to save by coordinating flower arrangements with the preceding or following wedding party and splitting the costs. Other money saving ideas include:
Using your ceremony flowers and decorations at the reception,

Asking the bridesmaids to place their bouquets as centrepieces (they can not carry them throughout the reception but they will take them home),

Choosing seasonal flowers that are common and plentiful in your geographical region,

Decorating with purchased or rented potted plants, shrubs and trees,

Utilizing a floral design or interior decorating school in your area.
Check your phone book to see if there is a flower design school in your area. While you offer the students hands on experience you will most probably pay only for the flowers. The students are supervised by a professional instructor and are graded on their work. Generally, the instructor goes over each arrangement with the creating student, correcting and explaining, all the while assuring that the end result is of the highest quality. As you prepare to choose a florist or a floral arrangement coordinator you must define what you want. Consider the choices available to complement your wedding within your flowers budget. such as: Fresh or silk flowers?
Read the article Flower Options for your Wedding and beyond at:
http://www.a-weddingday.com/flowerfreshorsilk.html. The colours and forms of all bouquets.
Consider the overall colour scheme of your wedding, the colour of your bridesmaids dresses, and whether you prefer a cascading or a compact and bunched bouquet. Traditionally, the bouquets carried by the maid of honour and the bridesmaids are of the latter design. Which and how many of the following arrangements will you need?
Altar and aisle arrangements for the ceremony site

Reception tables centrepieces

Guest book table

Memorial table

Cake and or cake table

Decorations and centrepieces for the reception site

Bridal bouquets

Bouquets for the maid of honour and bridesmaids

Boutonnieres for the fathers and for the male attendants

Corsages for the mothers

Head dress for the flower girl

Garlands

Flowers or petals for the flower basket

Other.
Do you want specific flowers at all cost or do you prefer flowers seasonal to your wedding date?
Read What you should know about flowers at: http://www.a-weddingday.com/articles/AboutFlowersDion.html.
Are you set on traditional wedding flowers, would you prefer exotic and original arrangements, or would you like to explore the current trends?

How would you like your reception decorations and or centrepieces displayed?

Traditional centrepieces, garlands, flower rings surrounding each centrepieces, floating within your centrepieces, individual flowers, potted plants, other?

Are you considering decorating your wedding cake with flowers? The symbolic meanings of flowers can assist you in expressing your feelings for each other. Read - What you should know about flowers. You can probably come up with some more ideas.

OTHER IMPORTANT CONSIDERATIONS
Traditionally the groom pays for the flowers adorning the ceremony facility and for the flowers given the wedding party and parents. The bride pays for the flowers adorning the reception facility. However, it is becoming quite common place for the bride and groom to split the costs. Many brides and grooms have a joint bank account or a special wedding account and pay all their wedding expenses from that account.
Request that your flower and decoration professionals consult with the management of your reception venue and ask for their advice on how to decorate the facility in the most complementary and effective way. Small rooms are usually easy to decorate while large rooms and halls require deeper thought and planning.

WHO IS THE RIGHT WEDDING FLORIST - FLORAL DESIGNER FOR YOU?
A local professional florist or floral designer who is familiar with your wedding ceremony and reception venues and who will:
Consult with you and be open to your suggestions

Be able to supply you with your desired flowers and look in any season

Be able to provide you with alternatives and work with you within your budget

Be willing to work with fabric swatches to assure complementing colour schemes

Be able to provide you with photos and samples of their creations

Berate traditional, original, exotic, contemporary and trendy designs

Be able to suggest what will enhance your wedding theme

Be willing to coordinate and work with your wedding cake designer

Guarantee the work, freshness, on time delivery and placement of your flowers

Carry liability and performance insurance.
The tips, questions and ideas you gathered here and in part II, What to ask .......... http://www.2.a-weddingday.com/weddings/askfloristsfloral
designers.html provide a wonderful preparation for your interviews.
---
ABOUT THE AUTHOR:
Nily Glaser is the founder of A-wedding Day. a very popular Wedding Resource and Information Centre, and a discount shopping mall for gifts, wedding supplies and bridal accessories.
---
Do you have an article we could publish? We want to hear from you!
Click here to Submit your article
---
READ ALSO:

Do You Love? - Once you have love inside, youíll receive more of it, because thatís what youíll be sending out.
Ten Terrific Reasons to Tell Your Cyber Sweetheart the Absolute Truth -
by Kathryn Lord
Winter Theme Wedding - Are you planning to get married in winter? Read this
7 Simple Ways To Have An Endless Supply Of Great Conversation Topics - Do you ever get stuck for words or experience embarrassing silences when you meet people? If you do, you need to apply these 7 tips right away!
Can You be an Optimistic Realist? - Being optimistic doesn't mean not being realistic. Find out how to be "optimistic with life the way it is".

Have You Prepared Your Child For The School Bully? - School violence. The very words send shivers down a parent's spine. Does the phrase school bully evoke the same emotions? It should. If your wife immigrating with children you should read this.
How To Turn Your Break up Into A Blast Off - What do you do when a relationship ends? What do you do with the pain, the grief and the power of those emotions?
---
JUST RELEASED! New E-book by Elena Petrova:
"How To Find And Marry A Girl Like Me"
Comment from the reader:
"This may well turn out to be the best purchase I have made... I hope not too many of my competitors find this book!"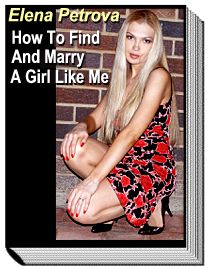 Discover how to find, court and finally marry a beautiful Russian woman... from a beautiful Russian woman!
Find out once and forever what Russian women are really looking for, why they are looking for it and how you can give them exactly what they want!
With "How To Find And Marry A Girl Like Me" you'll learn knock-out techniques that will instantly boost your success rate in dating Russian women - online and in real life. You will have more beautiful girls that want to be with you than you can handle!
And not just ordinary girls! They will be beautiful, intelligent, but most of all - honest and sincere! You will be the one to take your pick!
STOP wasting your time and money in search for a Russian wife... Get it done - painlessly, easily, and certainly! Moreover, have lots of fun along the way!
Yes, you too can marry a girl like the one on the picture... Click here!
---
MUST READ!
12 Simple Rules

This book will light a few light bulbs in your head.

If you wonder what is the cause of your problems with women/men, this book will open your eyes and give you precise instructions on how you can get the love life you always wanted.
If you were out of the game for a while and struggle to get back, this book will help you re-gain your lost confidence and learn a few new tricks along the road.
If you consider yourself an expert on dating, you will find several tips that will make you pinch yourself and say, "I can't believe I didn't think about it before!"

The secrets in this book will give you an unfair advantage in the battle of sexes, so much that you may even feel guilty of using them... because you know EXACTLY what results you are going to get when the other party doesn't have a clue! It's like taking a candy from a baby.

So, if you want to keep your life the way it is...
DON'T read this book.
Because you'll NEVER be the same person again.
I promise.

DON'T CLICK HERE unless you are ready to get MORE love, MORE money and MORE success in your life!
---