Mr Good Citizen finds his Russian bride
A true-life story from Chris (USA)
My wife and I (Irina Anfarovich) found each other through Kiss.com (now part of Udate.com) in early 2003. At the time I was living in Santa Barbara but have since moved back to Australia. We are currently waiting for her immigration papers to be approved.
Irina has helped a few of her friends join various sites and we both have had input to help others.
I just happened to come across your site and your information to prospective husbands about their Russian brides is first class.
Irina and I knew from about email number two that there was something special between us. Upon joining Kiss, she had several responses. Within a week she was not corresponding with anyone else. We met in Santa Barbara. She came over to stay with me for ten days. I purchased the airline ticket and sent it by UPS to her in St Petersburg. We did have trouble with her visa, her first application was rejected. I rang the US consulate in SP and spoke with a consular officer for about thirty minutes. I also followed up with faxed information, emails and mailed letters. At Irina's subsequent visa interview, she was interviewed by that consular officer and a visa was granted. On her return to SP she presented herself at the consulate to prove she was back.
On her next trip to Santa Barbara, the procedure was similar; a second application was required.
The next visit was from me to her in SP in February; not the best time to visit from Southern California. During this visit we put in her papers to the Australian Embassy in Moscow. They have been frustrating and of course we are still waiting on the outcome.
There are a couple of things I would like to add; both to help the foreign males and the Russian females. For the females, please provide a more natural photograph(s) and smile. Please don't look serious; the camera often presents a scowl which appears intimidating.
Russian women may have an email address through mail.ru. A mail.ru address may be refused by a US or Australian email provider because there are many spammers behind mail.ru addresses. It took us a while to work out why I could receive Irina's emails through the work network but not directly to me at home. A Yahoo.com or Hotmail.com address will get through without problems.
Letters from Russia tend to come in a reasonable timescale but anything I sent to Irina could have very lengthy delays. A small airmail post pack I sent to her from the United Kingdom was in SP for about five weeks before she got it - and then she only got it because of her almost daily persistence in getting the post office staff to search the office. I had been given the tracking details up to the point where it arrived at the main sorting office in SP. After that, every document and airline tickets etc. were either sent by UPS or FedEx, depending on the speed I needed it to arrive.
Russian women can show tremendous warmth and personality through their eyes. Just seeing Irina's eyes in her initial photograph told me she was a special person. American and Australian girls (unless they are from Slavic families) generally don't have that same characteristic.
Particularly noticeable at SP airport, when I was leaving Russia, many American males were discussing the women they had met as if it was a meat market they had been attending. Of course, the quiet ones such as myself, did not stand out but it is easy to see why the "dating" game can get bad connotations.
Once again I thank you for advice to males and I hope you can screen out the nasty characters so that Mr Good Citizen can find his wonderful Russian bride and be as happy as Irina has made me.
---
READ ALSO:
Looking for your True Love in Russia? There is no need to re-invent the wheel! - A true-life story of Rainer: "I am glad to be one of the ten percent of men who got the tickets, got on the airplane, and went 6,000 miles to meet a sensitive, energetic, intelligent, ambitious Russian woman..."
She said I was a thief... I stole her heart - A true-life story from Claude: "My 6th sense was kicking in and I knew I wanted more between us and so as she..."
Why Look for a Wife in Russia?
By Clinton Carey: "One day, over a beer with my brother, he suggested to me that I place an ad on the Internet with a matchmaking agency. I laughed, and dismissed the idea. As the weeks went on, I thought to myself, "Why not? I travel a lot. I don't have time to meet women normally, and I definitely don't like the bar scene with its' head games and lack of quality in both men and women. So, I placed an ad..."
---
Comments, suggestions? A story to share? We want to hear from you!
Click here to Contact us
---
JUST RELEASED! New E-book by Elena Petrova:
"How To Find And Marry A Girl Like Me"
Comment from the reader:
"This may well turn out to be the best purchase I have made... I hope not too many of my competitors find this book!"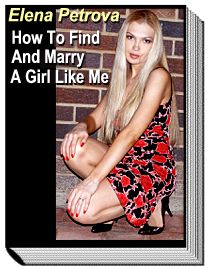 Discover how to find, court and finally marry a beautiful Russian woman!
This is the only book written by a beautiful Russian woman married to a western man - for more than 5 years! - and who is also the owner of a highly successful Internet dating agency.
Find out once and forever what Russian women are really looking for, why they are looking for it and how you can give them exactly what they want!
Get responses on your letters to beautiful Russian women - 9 out of 10, GUARANTEED!
With "How To Find And Marry A Girl Like Me" you'll learn knock-out techniques that will instantly boost your success rate in dating Russian women - online and in real life. You will have more beautiful girls that want to be with you than you can handle!
And not just ordinary girls! They will be beautiful, intelligent, but most of all - honest and sincere! You will be the one to take your pick!
STOP wasting your time and money in search for a Russian wife... Get it done - painlessly, easily, and certainly! Moreover, have lots of fun along the way!
Yes, you too can marry a girl like the one on the picture... Click here!
---
RECOMMENDED:
New Ebook You Cannot Afford To Miss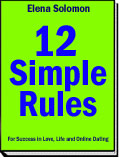 Dating can be complicated... it doesn't have to be! You can jump start your love life - or you can keep wandering in the dark; the choice is yours!
When it comes to dating, most men make the same silly mistakes with women - over and over, with disastrous results.
Do you want to do BETTER than 99% of other guys? Click here
---
---