She said I was a thief... I stole her heart
A true-life story from Claude
We started out as friends. I would tell her about my ex when I was still living in the same house with her and the girls I liked on the web. I told her of Olga from Omsk who I fell for and she fell for me even though Olga was married and I might as well have been living with a woman for 16 years and raising two children. Anyway my Olya of Ukraine had a boyfriend Robert from California who romanced her when she was barely 21 and told her he was 47 and lied to her about many things. He showed up in Kiev and he was 67 and not who he said he was. She was furious and hurt. I almost lost my best friend over this.
I am lucky I had her full name and address. I started to write her letters all the time. And as the wounds on her heart from Robert bled and she had scars from him, those letters of friendship and care ate on her mind and heart... During that period she almost married a local guy who was a rebound relationship for her. She almost made it to the alter with him... but those darn pesky letters. I had no idea if she got them or read them. I just kept sending them for about 6 months while I was dying inside because Olga from Omsk was cruel to me and I needed my best friend. I was a man trapped in a bad relationship with two children and a heart that was sick from abuse from one Olga and a cold domestic partner. I almost cry telling this story it was so bad during those months.
I did use one of the detective agencies I found on your site. I had Olya from Ukraine checked out. I was concerned that she was a little girl who fell in love with me and ran off or was taken off the computer by her parents. The ex-police officers told me that she was real and lived at the right address and that she was 25 with no criminal record. They also gave me her phone number and other info as well as letting me know she was OK but seemed sad. I kept up the writing and I even sent her a Lara Croft poster for Christmas. It was early when I sent it. I wanted her to have it in time for my Christmas and maybe prompt her to get online and talk with me. I so much missed our conversations about tea and oatmeal and having fun. When I was destroyed inside from all the shit that went on, I could run to her and feel on top of the world. There was no love there in a romantic sense, its just that we had two souls that clicked and we got along perfectly. Just like we always knew each other.
Then one day the email came out of the blue after she was gone on a trip for a few days. In this period she went to meet Robert from California. I had no idea at the time what she was doing or that she met a man on her trip. She was devastated and I was clueless. The letter says "Dear Claude, I must live in the real world and not the virtual. You are my friend and I will miss you. Your Olya."
You know I waited for her every day for 6 months straight every night between 10 pm and midnight for her to log in. Just like a dog waits by the door for its master even long after he is dead. Faithful to the end. Then one night it happened.
She sent me an email that said "Dear Claude, I am sorry I have been away. I miss you too very much. I will buy an internet card and we will talk very soon. It was the most wonderful thing. I was elated that my friend had not forgotten me." It was about 3 more weeks till she got online. She went and bought a card and one day her name lit on my ICQ. It was like heaven had come to visit and nothing else mattered. I was happy that my friend was there. I missed her so badly. I needed her because my life was a living hell and I did not realize hers was too and what effect my letters had on her.
You know even then I did not think of her as a prospective girlfriend. And little did I know she was so hurt by Robert and almost married by someone else. This was a chance fluke from hell. There is nothing to compare to this situation. For now I was very happy. I picked up with her where I left off and I told her I missed her so badly. It seemed to raise her spirits so much. She fed my soul and I fed hers. We were helping each other, but neither knew what the other was going through. It was the time in this story when the evil chapters were coming to a close and things would brighten a little. I continued to talk to her over our Christmas holiday and I sent her another gift for her Christmas as well as Russian Christmas cards for her parents. She gave me her phone number and I began to talk to her by phone.
By this time I had cut off Olga from Omsk because she was so cruel and terrible. I didn't need her because my best friend was with me and I could be myself and feel good instead of bad all the time. Shortly after Christmas and New Years my domestic partner after 16 years moved out with the children and left me all alone. Hell had once again set in on me and my life was falling apart. She left me with a mess of gigantic proportions and a house full of cats. She left 12 cats behind when she moved and a terrible mess. It was the end of my world again as it was 14 years previous when I came home and found my partner with the neighbor in bed. I have had my share of disappointment in my life and I did not need more. They say that God does not give you more than you can handle. I am glad I was able to handle this, and with my best friend it was much easier. I can remember crying in bed at night.
Shortly after this sad period she started to tell me of Robert and what they had and of her almost marriage. She said that I was a great source of comfort to her and my letters and care were greatly appreciated. You know those words meant a lot to me. As time progressed in the next few months I spoke to her on the computer before her work and on my lunch break which was her evening on the phone for 15 min or so each day and maybe half hour on the weekends. I did not realize it but we were helping each other rebuild inside. It was then I realized that she was interested and I was interested in her. You know, we had so much in common to start with. She is smart and technical like I am. She is as comfortable discussing trigonometry as she is life and eating grapes. We are so much alike that it is scary. We have this weird way of knowing what the other one is thinking before anything is said. We were getting closer and she started calling me Claudie. I knew she was fond of me and I was calling her sweetheart and Olyechka. She scolded me a few times and told me that I had no idea how strong those words were in Russian... but I did know because of your site. I read it all and much more.
Since my partner left me I was dating local girls and girls I met off of Yahoo and other services I tried. Some services were so bad that I would have looked better with a blonde wig in a dress than the girls there. As I narrowed down my selections Olya and I became much closer and more in tune with each other. My 6th sense was kicking in and I knew what she was thinking before she said it. I would regularly scare her with how well I knew what she was thinking and she was beginning to become that way too with me. It was scary for her and I worked very hard to make her comfortable and happy. She said I was a very dangerous man and a thief. I knew she was referring to me stealing her heart. One day I was telling her on the phone how I felt about her and all the good things I wanted for her. She was quietly sobbing because I touched that inner soft spot and the love was taking root in a badly scarred heart. I asked her are you crying sweetie? She said yes, I am melting. The hard and strong was soft and broken by love. It was almost magical. I started to talk to her about us and wanting more. She was very happy that we were headed that direction. She never mentions the L word, but I know what is inside her heart. She is so badly damaged, that until I set foot on Ukrainian soil, she will not say the L word. We have been getting tighter in these past few months and it has been a wonderful experience.
I went and closed my yahoo personals and I stopped seeing all the local girls here. It was hard and I had to tell some nice girls no... Some of those girls cried and it made it very hard, but destiny and love are very selective and I really wanted to do this with my best friend who all I wanted to do with was share a bowl of oatmeal or an apple. Just to be with her is heaven beyond compare. And now this little dream is scaring the hell out of her. Now I have a passport, a Visa, and I have airline tickets in my hand. I am going to spend a half month with her in her country and before I leave I may ask her for her hand. Do you think the courtship is too short? I say BS! Any marriage or friendship is an exercise in managed risk. I already know that the metal in my and her both are tried by fire, and I am crazy enough to make this work and I think she is stubborn enough to love me in spite of any drakes that come along in our path. I know that this is right and I cannot help but think of her all the time.
Recently she found out that I like short hair. I don't advertise this but my close friends know and it is a bit of a thing for me. We will just leave it at that... but you get the idea. I would pick out a girl with a cute crop in a split second over a long haired lass. Anyway... she found out, and her mid back, and breast length hair was gone. She told me that she was going to go eat and to call her in an hour. She went to her dresser mirror and pulled out the scissors and sliced off her pony tail and ran off to the salon and told them to cut it short like Charlize Theron's hair in The Astronaut's Wife. Her hair was gone, her beautiful ears and neck exposed. When I called her on the phone she giggled like a school girl and sounded like the cat that ate the canary. She told me to guess what she had done. Then she told me she cut her hair very short and sent me a picture. I was stunned, shocked and very pleased. That is sacrifice. I was more important to her than her hair. Her only goal is to please me, and I know she has to love me. And to boot, I did not realize how beautiful she was and how perfect God had made her features until they were not hidden anymore. She is wonderful beyond compare and I am one lucky guy to have captured her affections. So I surprised her today with my announcement that I have my tickets to visit. Wish me luck.
I hope to be coming back with a commitment from her that is way more serious that what we have now. There is no doubt that she loves me and that we can do this. All is left now for us is to court in person and for her to come be with me for Christmas. Maybe my judge buddy will get to perform a duty or two over the holidays. My sweetheart Olyechka is more valuable than all the gold in the world. No sweeter soul exists in my world. I am going to quote a gentleman from your site. How true his words. "If my breakup from my first partner was the dark cloud, I have definitely found my silver lining. She is the sweetest person I could ever hope to meet, and I consider myself fortunate just to know her." Amen!
---
READ ALSO:
Looking for your True Love in Russia? There is no need to re-invent the wheel! A true-life story of Rainer: "I am glad to be one of the ten percent of men who got the tickets, got on the airplane, and went 6,000 miles to meet a sensitive, energetic, intelligent, ambitious Russian woman..."
Mr Good Citizen finds his Russian bride
A true-life story from Chris: "Russian women can show tremendous warmth and personality through their eyes. Just seeing Irina's eyes in her initial photograph told me she was a special person"
Why Look for a Wife in Russia?
By Clinton Carey: "One day, over a beer with my brother, he suggested to me that I place an ad on the Internet with a matchmaking agency. I laughed, and dismissed the idea. As the weeks went on, I thought to myself, "Why not? I travel a lot. I don't have time to meet women normally, and I definitely don't like the bar scene with its' head games and lack of quality in both men and women. So, I placed an ad..."
---
Comments, suggestions? A story to share? We want to hear from you!
Click here to Contact us
---
JUST RELEASED! New E-book by Elena Petrova:
"How To Find And Marry A Girl Like Me"
Comment from the reader:
"This may well turn out to be the best purchase I have made... I hope not too many of my competitors find this book!"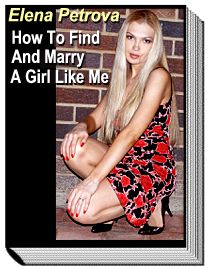 Discover how to find, court and finally marry a beautiful Russian woman!
This is the only book written by a beautiful Russian woman married to a western man - for more than 5 years! - and who is also the owner of a highly successful Internet dating agency.
Find out once and forever what Russian women are really looking for, why they are looking for it and how you can give them exactly what they want!
Get responses on your letters to beautiful Russian women - 9 out of 10, GUARANTEED!
With "How To Find And Marry A Girl Like Me" you'll learn knock-out techniques that will instantly boost your success rate in dating Russian women - online and in real life. You will have more beautiful girls that want to be with you than you can handle!
And not just ordinary girls! They will be beautiful, intelligent, but most of all - honest and sincere! You will be the one to take your pick!
STOP wasting your time and money in search for a Russian wife... Get it done - painlessly, easily, and certainly! Moreover, have lots of fun along the way!
Yes, you too can marry a girl like the one on the picture... Click here!
---
RECOMMENDED:
New Ebook You Cannot Afford To Miss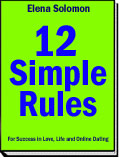 Dating can be complicated... it doesn't have to be! You can jump start your love life - or you can keep wandering in the dark; the choice is yours!
When it comes to dating, most men make the same silly mistakes with women - over and over, with disastrous results.
Do you want to do BETTER than 99% of other guys? Click here
---
---