I will learn Russian for you...
A true-life story from S.Clark

Elena,
I was reading your comments on "The Traditional Family" and I know you have received perhaps 10 million explanations--so I won't give you mine! You are right, though--it is something we search for. It is how our fathers lived and how their fathers lived. I realized that most of these marriages fail because the guy won't learn Russian (except words like "Lapushka", "Bilochka", "spaciba" etc). I began to study Russian. They mostly laugh at culture, I enjoy music and literature--my favorite is Vysotskiy and Shevchenko. They also won't be willing to live in her country, which is another reason I began to study Russian.
I think many of these women arrive here and for the first month they are astounded that our televisions have 100 channels--as opposed to Russian tv where you have your choice "Santa Barbara", "Vladimir Putins Gardening Show", "Kukli", or "Nu Pogodi, The Early Years--includes introduction by Boris Yeltsin".
Then they become tired of eating at McDonalds, and everything is new, big, and yet people are not as friendly. They begin to miss Ukraine or Russia, and then they decide to go back home. So I began to learn the language, the culture, the music, etc.
It was strange, I am a good cook and I can clean my home. They didn't believe that and they would always ask me for my favorite recipies (just to see if I could cook?!). But later, the women began to say "Well, to be truthful, I really don't like to cook!". That's one thing I already realized. The women would advertise that their hobbies are: "Cooking, cleaning house, knitting, scrubbing floors--and I loooove to wash dirty pelyonki!".
I picked the women who didn't raise their dresses in the picture--the modest women, ones near my age. The others, just really tried to look too sexy. I told them that they really didn't need to learn English, as I could speak enough Russian (Actually, writing is MUCH different than speaking!--They assumed I could speak it fluently, and they would chatter "fnflhgfl cnyp8ntopb48qtunpv8gq4ugjujg8q3485gj983q985j98-9q8kf845g08qj0" and all I could say was "CHTOOOOO!!!???"
I had some good luck, I think, but things simply didn't work for us. But I wish all of the other guys could try those things--they'd have great luck. Someday, I will meet the zhena of my dreams and 15 dochki--but until then I will try.
I translated a lot of my writings and poetry into Russian and the girls liked that--it is good to have a woman whom I can discuss poetry and literature with--most of the women are really educated, and at first I was worried that they wouldn't want to be mothers when they were already highly educated, but I was wrong. I think if the guys can learn enough Russian to converse with the woman, and will make the effort to learn enough of her customs and her literature and history--they will always have enough in common.
Then they will discover that there is a group of women just as beautiful, but they don't speak any English or only a little and they are just as good as the girls who speak enough English. Even if she speaks good English, it still is good for them to speak some Russian--so they can know what the mother and father are saying about them! :)
I am glad that you have your site and that you can give these guys the truth about these women--it is sad to see a woman lonely with children simply because her husband was abusive, when she could be happy with a man from America. Well, I should be quiet now--Ya Boltayu!!!
---
READ ALSO:
Family first and all else is a gift
A true-life story from George: "Many woman Russia stated that Family is the most important and the rest is a gift so as the adventures. I am married to a woman that places family first and she is wonderful."
Looking for your True Love in Russia? There is no need to re-invent the wheel! A true-life story of Rainer: "I am glad to be one of the ten percent of men who got the tickets, got on the airplane, and went 6,000 miles to meet a sensitive, energetic, intelligent, ambitious Russian woman..."
Mr Good Citizen finds his Russian bride
A true-life story from Chris: "Russian women can show tremendous warmth and personality through their eyes. Just seeing Irina's eyes in her initial photograph told me she was a special person"
---
Comments, suggestions? A story to share? We want to hear from you!
Click here to Contact us
---
JUST RELEASED! New E-book by Elena Petrova:
"How To Find And Marry A Girl Like Me"
Comment from the reader:
"This may well turn out to be the best purchase I have made... I hope not too many of my competitors find this book!"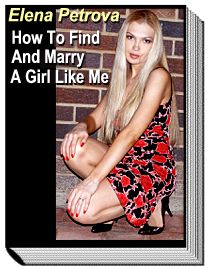 Discover how to find, court and finally marry a beautiful Russian woman!
This is the only book written by a beautiful Russian woman married to a western man - for more than 5 years! - and who is also the owner of a highly successful Internet dating agency.
Find out once and forever what Russian women are really looking for, why they are looking for it and how you can give them exactly what they want!
Get responses on your letters to beautiful Russian women - 9 out of 10, GUARANTEED!
With "How To Find And Marry A Girl Like Me" you'll learn knock-out techniques that will instantly boost your success rate in dating Russian women - online and in real life. You will have more beautiful girls that want to be with you than you can handle!
And not just ordinary girls! They will be beautiful, intelligent, but most of all - honest and sincere! You will be the one to take your pick!
STOP wasting your time and money in search for a Russian wife... Get it done - painlessly, easily, and certainly! Moreover, have lots of fun along the way!
Yes, you too can marry a girl like the one on the picture... Click here!
---
RECOMMENDED:
New Ebook You Cannot Afford To Miss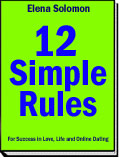 Dating can be complicated... it doesn't have to be! You can jump start your love life - or you can keep wandering in the dark; the choice is yours!
When it comes to dating, most men make the same silly mistakes with women - over and over, with disastrous results.
Do you want to do BETTER than 99% of other guys? Click here
---
---