Learning from the Russians How to Make Your House Cozy and Warm for the Winter
By Susan Dunn, The EQ Coach
Copyright 2005
This summer, I sat in a restored wood cabin on Kidzhi Island in Russia, where the winters are WINTERS and contemplated what it would be like to spend months and months in tiny quarters with your loved ones when it was freezing cold outside, and a matter of survival. One large room, with a very low ceiling, and something very special in one corner. The corner opposite the hearth was considered sacred, and held an icon. (See photo here:
http://www.zinos.com/authors/1/AU01703/AR008456_img)

Color is very important to warmth. The natural wood on the inside - walls, floor and ceiling alike - was warm, and I could imagine the glow from the flicker of the fireplace.

The homes in the Russian villages are all brightly painted on the outside, something you never seem to see in the photos. (See photo here:
http://www.webstrategies.cc/nancy_and_babushka.jpg) We were surprised at the continual "fairyland," a term the guides had learned to use because I'm
sure they heard it often.

They also spend a lot of time on their windows, which are not standardized and seem to be the "brand" of the family. Different sizes, ornately carved, painted in accent colors. Truly a fairytale. I was there in the summer, but could just picture what it would all look like in the winter. We do not want to camouflage ourselves in the snow. We want to shout out "I'm here, I'm alive, I'm warm, I'm thriving!" Consider putting something very bright on the outside of your home - door mat, door decoration, wall mounting to signal your haven from the cold.

When we entered the cabin (living history) there was a young village woman in costume seated by the window to grab the light, and to be immortalized in it - like a Vermeer, And she was doing beadwork.

Winter cheer!

KEEPING THE HOME FIRES BURNING

I've always referred to certain tasks as "keeping the home fires burning." Why did I decorate for Christmas? Why did I send cards on everyone's birthday and anniversary? Why the weekly phone calls to distant relatives, and the extra effort put into food presentation? Even my Camp Fire Girl chosen Indian name was something about "hearth."

Sitting there in Kidzhi, I imagined Neanderthals huddled around the fire, getting as close to each other and their animals as they could, to stay warm. And yes, in the Kidzhi larger cabins, one of the rooms was a winter barn for the livestock where the animals spent the winter.

I thought of "3 dog nights," nights so cold the eskimos bedded down with 3 dogs, instead of 2, or 1, or none.

I always start "nesting" in the fall. I want to stay home more, and start doing handwork again - sometimes knitting sweaters, sometimes needlepoint pillow or pictures. I bake more, fix hearty stews and steamy chilis and homemade bread, the staff of life.

What can you do to make your home "warmer" in the winter? Work with that primitive scene - the furs, the closeness, the color of fire, the need to hunker down.

15 TIPS FOR TAKING IT UP A NOTCH

1. Change to the winter slip covers, in warm fabrics such as velvet or corduroy, in deep colors of the fire. Remember it goes to "blue" when it's hottest. Deep jewel tones, dark golds, rich magentas and burnt oranges, a splash of ultraviolet blue.

2. Bring out the accent pieces - some pillows with handwork you've bought or made, the winter afghan draped casually over the sofa.

3. Rearrange the furniture just a litte, bringing things in closer, and closer to the fireplace, so people can figuratively "huddle."

4. Throw down some throw rugs. (You can always find some super deals on carpet-remnant area rugs if you look around.) I live in South Texas where I enjoy the tile floors for the 8 months it's over 90 degrees, but they are sooo cold looking and feeling in the winter, so I bring out the area rugs.

5. Buy a Lab and put him on his bed in front of the fireplace. j.k. about buying one for the occasion, but is there anything like watching your animal companion nestled in his bed by the hearth? Buy him a special winter bed; it's very much a part of the scene, isn't it?

6. Change out the bedspreads and duvets to the winter fabrics and color scheme, and bring out the flannel sheets.

7. Start a collection of 'winter' pictures you build over the years. I've framed different photos of the kids skiing, in their snowsuits, and trying to catch snowflakes with their tongues. They peek out at me at different ages, bringing back warm winter memories.

8. Change a few photo frames seasonally. Pictures I have in the guest bath, I change according to season. The color scheme is neutral, and I have a winter set of towels, soaps, dishes, and frames.

9. Work with the lighting if you can, especially if you work at home. It's the season for SAD (seasonal affective disorder) and we need as much light as we can get. If you have a home office, try some of those health lamps.

10. Change lamp shades in the living areas so they "glow".

11. If you have an especially cold room - in temperature and/or in decor - buy one of those wood stoves.

12. Make it smell warm and cozy. Do some real cooking on the weekends when everyone's home. Few of us get to walk in the door at night and smell the pot roast cooking or the wonderful odor of stew simmering on the back burner, but you can do this on the weekend. Special breads as well. If you're not allergic to candle aromas, work with those.

Even a touch or two can make a difference. On the North Shore of Chicago where I lived as a teen, in the windy city where it was always "colder by the Lake," the sign that winter was coming was the funkia blooming, and that's when my mother changed out the slipcovers and coal was dumped down the chute into the basement. I always got that excited twinge - ah ... winter was coming.

13. This year why not redo the fireplace accessories? They're often the focal point of the great room. Spruce up the screen and hardware, and perhaps find an exceptional new container for some logs Invest in a set of sumptuous brass andirons like these: http://tinyurl.com/y84s . Brass and pewter are great for "warming up" a room. You "sink into them," not "bounce off."

14. Stay warm AND SAFE - Get the carbon monoxide detectors, escape ladders, smoke alarms, smoke guards, creosote removers, stove boards and hearth extenders that are critical products to improve the safety of your home and family from fires. Here is a source: http://fireplaceoutfitters.com/safetyessentials.htm. Choose a hearth rug for ambiance but safety as well.

15. Put a bird feeder at at least one window where you can always see it. There's nothing like watching a cardinal hop around on the window sill to cheer.
---
Susan Dunn, The EQ Coach(tm), www.susandunn.cc. Want to be an EQ coach? Get in early; it's growing fast because of its exceptional value to ALL clientsand businesses. We train and certify EQ Coaches - http://www.eqcoach.net - and offer the products you need to start your EQ practice. Rigorous, rapid, affordable, no residency requirement. All DL, featuring two courses on the Internet.
Other articles of Susan Dunn:

This eBook May Bring You the Man of Your Dreams - by Susan Dunn, MA, The EQ Coach. "Reading this ebook MAY bring you the man of your dreams, but so MAY dying your hair blond, getting a better education, or dumb luck". Read Susan Dunn's tips to learn how to manage your emotional intelligence - "understanding emotions in yourself and others and managing them to make good decisions".

The Top 10 Reasons to Postpone Sex - by Susan Dunn, The EQ Coach - "Regardless of what you think (intellectually), sex has powerful consequences and implications." …" Here are the top ten reasons to postpone physical intimacy".

Some DOs and DON'Ts for Travel in Russia - by Susan Dunn, The EQ Coach - When travelling, avoid feeling like a lost puppy in Chinatown…or in Russia. Read on these reminders for your travel to Russia.
---
Do you have an article we could publish? We want to hear from you!
Click here to Submit your article
---
READ ALSO:

SHOOTING THE BULL: Slaying Dragons and Finding Love - by Dawk Ziti, PhD. The candid and perplexed experience of Dawk Ziti in his search for a Russian bride: "I was pleased with my ditty and immediately sent a mass mailing to 10 women who were on my list. I got no reply, but instead of panicking, I decided to give them a few minutes to read the letter. With the time differential between the US and Eastern Europe, they were probably asleep right then anyway." If you aren't sure that search for a Russian bride is for you, you MUST read this to remove any doubts about dropping this idea once and forever!

Why Look for a Wife in Russia?
By Clinton Carey: "One day, over a beer with my brother, he suggested to me that I place an ad on the Internet with a matchmaking agency. I laughed, and dismissed the idea. As the weeks went on, I thought to myself, "Why not? I travel a lot. I don't have time to meet women normally, and I definitely don't like the bar scene with its' head games and lack of quality in both men and women. So, I placed an ad..."

Myths and Reality
There is too much prejudice towards "Russian brides" - Russian women seeking men for marriage, both positive and negative. I call this prejudice "myths", and consider them one by one.
Why Russian Women? - If you decided to find yourself a Russian wife, you would be inundated with questions of the type "Why Russian Women?" from everybody you cared to share your idea with. Surprisingly, every Russian woman you are writing to will ask the same question: "Why do you want to find a wife in Russia?" After a while, you might start questioning your own sanity in doing the thing which everybody, including your dates in this Internet rendezvous, consider strange enough to request explanations. Here you will find some ready-to-use answers for your family, friends and Russian women you are writing to.
Russian women secrets - Do's and don'ts in your relationship with a Russian lady.

The Universal Crib On Finding A Russian Wife - 101 tips for men seeking a young, beautiful Russian bride: the most compressed, step-by-step guidance on finding, courting and marrying a Russian woman.
---
JUST RELEASED! New E-book by Elena Petrova:
"How To Find And Marry A Girl Like Me"
Comment from the reader:
"This may well turn out to be the best purchase I have made... I hope not too many of my competitors find this book!"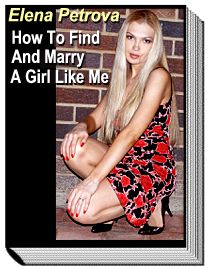 Discover how to find, court and finally marry a beautiful Russian woman!
This is the only book written by a beautiful Russian woman married to a western man - for more than 5 years! - and who is also the owner of a highly successful Internet dating agency.
Find out once and forever what Russian women are really looking for, why they are looking for it and how you can give them exactly what they want!
Get responses on your letters to beautiful Russian women - 9 out of 10, GUARANTEED!
With "How To Find And Marry A Girl Like Me" you'll learn knock-out techniques that will instantly boost your success rate in dating Russian women - online and in real life. You will have more beautiful girls that want to be with you than you can handle!
And not just ordinary girls! They will be beautiful, intelligent, but most of all - honest and sincere! You will be the one to take your pick!
STOP wasting your time and money in search for a Russian wife... Get it done - painlessly, easily, and certainly! Moreover, have lots of fun along the way!
Yes, you too can marry a girl like the one on the picture... Click here!
---
---