Some DOs and DON'Ts for Travel in Russia
By Susan Dunn, MA, Clinical Psychology, The EQ Coach
Traveling anywhere, you should keep an open mind. Don't compare things in Russia by Western standards, which will be tempting, as the streets and people will look similar to "back home." However, the political, social and cultural background is very different.

1. DO read the US State Dept Travel Advisories re: safety and immunizations, and any literature from your agency.

2. DO get your passport and VISA right away; it takes time.

3. DO get immunizations, important for any 3rd world country.

Get a DT booster, hepatitis if you feel a need; bring mosquito patches or repellant; consider the malaria treatment afterwards. (See your personal
physician.)

4. DO bring American money into Russia.

Russian law states that Rubles be used for all purchases of goods and services in Russian, however, many establishments and vendors will readily accept US Dollars. But they're picky about the appearance of American paper money.

5. Do NOT bring old, dirty US bills.

They won't accept a bill prior to 1990 or one that's dirty, torn, or grungy. Go get some fresh, crisp bills from the bank - $50 in 1s, then 5s, 10s and 20s.

6. Do NOT take Russian money into Russian.

7. Do NOT bring traveler's cheques. They're rarely accepted.

8. DO declare your gold jewelry properly upon entry, because Russia has strict laws on letting gold out of the country.

9. DO bring a set of universal adapter plugs.

10. Do NOT expect bathrooms to have "Western amenities," such as, says my guide book, "quality towels, soap and toilet paper."

11. DO pack with this in mind: in the summer the temperature can range from sunny and warm (80s) to overcast and rainy (40s). Check here for more info: www.TSATravelTips.US

12. DO make a copy of what you bring with you - passport, credit card, driver's license, etc. in case they get stolen.

13. Do NOT expect Russian buildings and elevators (including museums, churches and tourist spots) to be wheelchair accessible. They aren't.

14. DO inform you credit card companies before you leave you'll be using your credit cards in Russia.

15. DO remember ice is water. Most tourists understand to avoid water, uncooked food and eating off the street in another country, but often forget that the ice in their drink was made from water!

16. DO pay for good traveller's medical insurance if you aren't covered by, say, AAA, and make sure it includes emergency evacuation all the way home,
not just to "a" hospital.
---
Susan Dunn, MA Clinical Psychology, The EQ Coach, http://www.susandunn.cc. Offering EQ coaching and resources for all your needs - career, relationships, resilience, positive psychology, midlife transition, getting momentum, multicultural.
Other articles of Susan Dunn:

This eBook May Bring You the Man of Your Dreams - by Susan Dunn, MA, The EQ Coach. "Reading this ebook MAY bring you the man of your dreams, but so MAY dying your hair blond, getting a better education, or dumb luck". Read Susan Dunn's tips to learn how to manage your emotional intelligence - "understanding emotions in yourself and others and managing them to make good decisions".

The Top 10 Reasons to Postpone Sex - by Susan Dunn, The EQ Coach - "Regardless of what you think (intellectually), sex has powerful consequences and implications." …" Here are the top ten reasons to postpone physical intimacy".
---
Do you have an article we could publish? We want to hear from you! Click here to Submit your article
---
READ ALSO:

Learning from the Russians How to Make Your House Cozy and Warm for the Winter - By Susan Dunn, The EQ Coach – "Keep the home fires burning". Read these tips to prepare your house for the winter - rearrange furniture, replace accessories, throw down some rugs…a touch or two can make a difference.

Some DOs and DON'Ts for Travel in Russia
- By Susan Dunn, MA, Clinical Psychology, The EQ Coach – When travelling, avoid feeling like a lost puppy in Chinatown…or in Russia. Read on these reminders for your travel to Russia.

SHOOTING THE BULL: Slaying Dragons and Finding Love - by Dawk Ziti, PhD. The candid and perplexed experience of Dawk Ziti in his search for a Russian bride: "I was pleased with my ditty and immediately sent a mass mailing to 10 women who were on my list. I got no reply, but instead of panicking, I decided to give them a few minutes to read the letter. With the time differential between the US and Eastern Europe, they were probably asleep right then anyway." If you aren't sure that search for a Russian bride is for you, you MUST read this to remove any doubts about dropping this idea once and forever!

Why Look for a Wife in Russia?
By Clinton Carey: "One day, over a beer with my brother, he suggested to me that I place an ad on the Internet with a matchmaking agency. I laughed, and dismissed the idea. As the weeks went on, I thought to myself, "Why not? I travel a lot. I don't have time to meet women normally, and I definitely don't like the bar scene with its' head games and lack of quality in both men and women. So, I placed an ad..."

Myths and Reality
There is too much prejudice towards "Russian brides" - Russian women seeking men for marriage, both positive and negative. I call this prejudice "myths", and consider them one by one.
Why Russian Women? - If you decided to find yourself a Russian wife, you would be inundated with questions of the type "Why Russian Women?" from everybody you cared to share your idea with. Surprisingly, every Russian woman you are writing to will ask the same question: "Why do you want to find a wife in Russia?" After a while, you might start questioning your own sanity in doing the thing which everybody, including your dates in this Internet rendezvous, consider strange enough to request explanations. Here you will find some ready-to-use answers for your family, friends and Russian women you are writing to.
Russian women secrets - Do's and don'ts in your relationship with a Russian lady.

The Universal Crib On Finding A Russian Wife - 101 tips for men seeking a young, beautiful Russian bride: the most compressed, step-by-step guidance on finding, courting and marrying a Russian woman.
---
JUST RELEASED! New E-book by Elena Petrova:
"How To Find And Marry A Girl Like Me"
Comment from the reader:
"This may well turn out to be the best purchase I have made... I hope not too many of my competitors find this book!"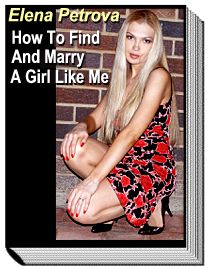 Discover how to find, court and finally marry a beautiful Russian woman!
This is the only book written by a beautiful Russian woman married to a western man - for more than 5 years! - and who is also the owner of a highly successful Internet dating agency.
Find out once and forever what Russian women are really looking for, why they are looking for it and how you can give them exactly what they want!
Get responses on your letters to beautiful Russian women - 9 out of 10, GUARANTEED!
With "How To Find And Marry A Girl Like Me" you'll learn knock-out techniques that will instantly boost your success rate in dating Russian women - online and in real life. You will have more beautiful girls that want to be with you than you can handle!
And not just ordinary girls! They will be beautiful, intelligent, but most of all - honest and sincere! You will be the one to take your pick!
STOP wasting your time and money in search for a Russian wife... Get it done - painlessly, easily, and certainly! Moreover, have lots of fun along the way!
Yes, you too can marry a girl like the one on the picture... Click here!
---
---