The Top 10 Reasons to Postpone Sex


By Susan Dunn, MA, EQ and Dating Coach
Copyright 2005
Most of us beyond a certain age can think of at least one good, promising relationship we had that became irredeemable because of having sex too soon. I hear these stories frequently as an EQ and Dating Coach. Here are the top ten reasons to postpone physical intimacy.

1. STDs
Practice safe sex!

2. People regard sex differently.
It can mean committment, or recreation, or nothing at all, or the best cure there is for the pain of another breakup - it varies. you will save yourself some grief if you get to know the other person well enough to find out what meaning
the act has for them.

3. Regardless of what you think (intellectually), sex has powerful consequences and implications.

4. Sex puts your feelings 'on speed,' magnifying and distorting them.
"Reproduction" is a powerful drive from the reptilian brain which is interested in survival, and sends us the strongest messages we have to deal with. When encountering situations of sex (or threat), our brains pump out chemicals designed to stop us from thinking. Is that really where you want to
be with someone you hardly know? At the crucial stage of getting to know someone, you won't be clear-headed enough to make good decisions
.
5. Sex releases bonding chemicals. Do you want brain chemicals deciding to whom you become bonded? Stop, look and listen and you can save yourself the very real agony of breaking up with someone unsuitable that you've become attached to because of the sex.

6. Sex releases a stream of feel-good chemicals, particularly good for diffusing anxiety and negative states (including depression). In some residential drug rehab programs, for instance, participants are separated by gender because program directors have found that otherwise they'll just "fall in
love," the feel-good chemicals take over, and rehab ends. In other words, it can be a show-stopper. A little 'anxiety' is not a bad idea when you're getting to know a stranger, and contemplating a life partner. It's a time when you should be thinking as well as feeling, and a time when there is work to be done.

7. Sex narrows options. It can define the relationship prematurely, not letting in unfold naturally. It can become a substitute for the other forms of communication a developing relationship needs to sustain it. And, worst-case scenario, do you need the pressure of a pregnancy impinging on an important life decision? (Practice safe sex!) Some of the unhappiest people I know are those who felt they didn't have a free choice in marrying the person they married.

8. Anticipation is a sort of tension, but it's delicious. Don't deprive one another of that. You'll appreciate something more if you have to wait for it. That's human nature.

9. Engaging in sex too early implies a lack of restraint and lack of respect. It is human nature to conclude from an early jump into the sack that the other person has no restraint and won't be faithful, and also to doubt your own ability to hold to your standards where this person is concerned, i.e., they'll
'make you write bad checks.' This is part of what's meant by putting pressure on the relationship. Those conclusions may or may not be true, but why complicate an already complex issue?

10. Having sex too soon truncates an important period of fantasy and dreaming. This is particularly important for men, who are said to "fall in love in the spaces." Men need the challenge and the work. Women ... need to remember that most men decide immediately whether the woman is marriage-material or not, and if he considers you the latter, he'll still have sex
before he exits.
---
Susan Dunn, MA, The EQ Coach, http://www.susandunn.cc . Individual coaching, Internet courses and ebooks around emotional intelligence for your personal and professional success. Susan is the author of "Midlife Dating Survival Manual for Women." She also trains and certifies EQ
Coaches internationally. Mailto:sdunn@s... for info on this fast, affordable, comprehensive, no- residency program. Email for FREE EQ ezine.
Other articles of Susan Dunn:

This eBook May Bring You the Man of Your Dreams - by Susan Dunn, MA, The EQ Coach. "Reading this ebook MAY bring you the man of your dreams, but so MAY dying your hair blond, getting a better education, or dumb luck". Read Susan Dunn's tips to learn how to manage your emotional intelligence - "understanding emotions in yourself and others and managing them to make good decisions".

Some DOs and DON'Ts for Travel in Russia - by Susan Dunn, The EQ Coach - When travelling, avoid feeling like a lost puppy in Chinatown…or in Russia. Read on these reminders for your travel to Russia.
---
Do you have an article we could publish? We want to hear from you!
Click here to Submit your article
---
READ ALSO:

SHOOTING THE BULL: Slaying Dragons and Finding Love - by Dawk Ziti, PhD. Ziti tells his adventures on Elena's Models; how he became a member, reached his "foxes" and fell head over heels in love with Maria. "Do you yearn to learn how I found the love of my life, lost her, located another, got dumped, and then did it again?" Follow his advice to assist you in your endeavours.

Why Look for a Wife in Russia?
By Clinton Carey: "One day, over a beer with my brother, he suggested to me that I place an ad on the Internet with a matchmaking agency. I laughed, and dismissed the idea. As the weeks went on, I thought to myself, "Why not? I travel a lot. I don't have time to meet women normally, and I definitely don't like the bar scene with its' head games and lack of quality in both men and women. So, I placed an ad..."

Myths and Reality
There is too much prejudice towards "Russian brides" - Russian women seeking men for marriage, both positive and negative. I call this prejudice "myths", and consider them one by one.
Why Russian Women? - If you decided to find yourself a Russian wife, you would be inundated with questions of the type "Why Russian Women?" from everybody you cared to share your idea with. Surprisingly, every Russian woman you are writing to will ask the same question: "Why do you want to find a wife in Russia?" After a while, you might start questioning your own sanity in doing the thing which everybody, including your dates in this Internet rendezvous, consider strange enough to request explanations. Here you will find some ready-to-use answers for your family, friends and Russian women you are writing to.
Russian women secrets - Do's and don'ts in your relationship with a Russian lady.

The Universal Crib On Finding A Russian Wife - 101 tips for men seeking a young, beautiful Russian bride: the most compressed, step-by-step guidance on finding, courting and marrying a Russian woman.
---
JUST RELEASED! New E-book by Elena Petrova:
"How To Find And Marry A Girl Like Me"
Comment from the reader:
"This may well turn out to be the best purchase I have made... I hope not too many of my competitors find this book!"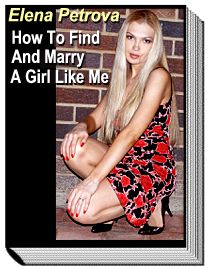 Discover how to find, court and finally marry a beautiful Russian woman!
This is the only book written by a beautiful Russian woman married to a western man - for more than 5 years! - and who is also the owner of a highly successful Internet dating agency.
Find out once and forever what Russian women are really looking for, why they are looking for it and how you can give them exactly what they want!
Get responses on your letters to beautiful Russian women - 9 out of 10, GUARANTEED!
With "How To Find And Marry A Girl Like Me" you'll learn knock-out techniques that will instantly boost your success rate in dating Russian women - online and in real life. You will have more beautiful girls that want to be with you than you can handle!
And not just ordinary girls! They will be beautiful, intelligent, but most of all - honest and sincere! You will be the one to take your pick!
STOP wasting your time and money in search for a Russian wife... Get it done - painlessly, easily, and certainly! Moreover, have lots of fun along the way!
Yes, you too can marry a girl like the one on the picture... Click here!
---
---