Sexy, beautiful, intelligent and educated women... Mail Order Brides!
By Elena Petrova

There is no single man who would not want to meet a woman who is beautiful, intelligent, educated, fit, stylish and sexy.
All men want a girlfriend like this!
The problem is there are not many girls possessing those qualities that are unattached and available. Girls like this usually have a string of admirers and an attitude. You might even think they are out of your league.
Think again!
In your country, this may be true... But the world is so much bigger than that! In some countries, things are exactly the opposite way around: there is a huge shortage of nice, intelligent and stable single men!

Take Eastern Europe for example: the latest statistics from The Economist show that in places like Russia and Ukraine there are only 88 men for 100 women! In Russia alone, there are 10 million more women than men!

It means there are TEN MILLION WOMEN that will NEVER find a partner!

Historically, during 20th century, women in Russia always outnumbered men, with World War 2 that took lives of 20 million Soviet people, and other 20 million people that died in Stalin's concentration camps. 90% of them were men.

At that time, for a Russian woman, simply having a man was a blessing!

This created a unique situation between the genders where women were forced to perfect their looks in order to find and keep a mate.

Check Russian dating sites: you will find there thousands beautiful girls that are looking for a partner: well groomed, fashionable and stylish, they will leave you breathless.

Read about their education and you will be stunned: most of them possess advanced university degrees.

Don't be surprised: about 60% of people in Russia have college or university degrees, others have completed at least 2-year professional training. The system of professional education was inherited from the Soviet times, where young people were required to attend professional training after completing the mandatory high school qualification. They don't have equivalents of associate or honors degrees, and the person has to complete at least 4-year degree, or they don't receive ANY qualification. This is how the state convinces young people to complete their studies. (By the way, education and medical are still f*r*e*e in Russia.)

On Russian dating sites, you will find thousands women that are beautiful, intelligent, educated, fit, stylish and sexy - and at the same time unattached and available.

And they are looking for nice, intelligent and stable guys - just like you!

The bad news is, you will never be able to meet them...

Why?!

Because you never look at Russian dating sites. You have this attitude that "mail order brides" are something a decent man will never consider: it is only desperate losers that would look for a partner at such sites. You read in press horror stories about "mail order brides" and this phrase is strongly connected in your mind with such topics as violence, abuse, sexual exploitation, trafficking in women and immigration scams. You believe that men that seek wives abroad simply cannot find anybody in their own country and seek obedient, submissive wives. Do you?

Well, then you are for a wake up call. There is no such a thing as "Russian mail order brides" - no more than there is Santa Claus!

There are Russian women seeking suitable partners. Those women are not desperate to leave their country and are proud of their inheritance and culture. They are educated, intelligent, and smart. They are not going to become intimate submissives or maids. They will not tolerate infidelity or abuse. They truly seek SUITABLE partners and will not jump on anybody, just to get out of their misery.

In fact, they do NOT consider their life miserable! On her average salary, a Russian woman can afford to attend live performances and beauty saloons a few times a month, buy best-selling books, latest fashion and Italian shoes.

Actually, I used to have much more exciting life in Russia with overseas vacations and quality entertainment than I have now, living in the west!

The same is applicable to many Russian women seeking partners abroad. They are articulate, sophisticated, well read and well traveled.

Obedient, submissive "Russian mail order brides" do not exist!

You don't have to believe my word.

Read what American men say about that:
http://www.womenrussia.com/eight_reasons.htm

P.S. Personally, I hate this label "mail order brides". I believe it is a disgrace to imply a human being can be ordered as an item, and the sacred companionship of marriage may be purchased as an electrical toothbrush from mail order catalog.

C'mon guys! So called "mail order brides" services do not sell women. They sell access to contact information of their members, that's it - just like you join a local singles club and they give you contact details of people that may be interested in meeting you. Russian dating agencies also have socials like speed dating services where interested men and women can meet each other. Only men and women, themselves, decide whom they want to date. You cannot buy a bride!

It is 21st century, pals!

Wake up - and smell the roses! :-))
---
ABOUT THE AUTHOR: Elena Petrova is well known in the Russian dating industry by her website Russian Brides Cyber Guide (http://www.womenrussia.com), which is an informational source about Russia and Russian women. She holds master's degree in philosophy and authored several highly successful books about Internet dating.
Check Elena's latest e-book "How To Find And Marry A Girl Like Me" (http://www.womenrussia.com/book) and see what kind of women you can meet at so called "mail order brides" websites!
---
Do you have an article we could publish? We want to hear from you!
Click here to Submit your article
---
READ ALSO:

Reduce Stress: Honor Your Commitments - by Stephanie Marston, MFT - Take one day at a time to create a high quality life. Read Marston's tips to keep the credibility in yourself..."become a person who keeps her word and is trustworthy."

The Top 10 Reasons to Postpone Sex - by Susan Dunn, The EQ Coach - "Regardless of what you think (intellectually), sex has powerful consequences and implications." …" Here are the top ten reasons to postpone physical intimacy".

Some DOs and DON'Ts for Travel in Russia - By Susan Dunn, MA, Clinical Psychology, The EQ Coach – When travelling, avoid feeling like a lost puppy in Chinatown…or in Russia. Read on these reminders for your travel to Russia.

Learning from the Russians How to Make Your House Cozy and Warm for the Winter - By Susan Dunn, The EQ Coach – "Keep the home fires burning". Read these tips to prepare your house for the winter - rearrange furniture, replace accessories, throw down some rugs…a touch or two can make a difference.

Wedding Photography - By Roy Barker - Checklist for wedding photos: Pre-, during, and post-ceremony, and reception photos you cannot forget to take!

Jewish Dating: It Pays to Date Like-Minded People - By Drew Harris - ..."find a source of like-minded people to start to get to know." "Wouldn't it be easier to know their respect for God and other people, values and beliefs, mirrors your own?"

Marriage Proposals - Why Doing It Right Will Make All the Difference - by Susan Daniel and Debbie Overstreet - Limos and fancy dinners are not what makes a proposal romantic and memorable. POP the question in a way that will blow him/her mind away.

International Dating - When Love Really Means Going The Distance! - by Angela S Davis - Unsure if international dating can lead to anything permanent? Anything might happen..."there are never any guarantees in the love and romance game. Even if you shared a sandbox with the partner you marry, there's no guarantee that the flame wont go out and one day you'll wake up and find you have nothing in common with the person who shares your life, your home, your bed."

10 reasons why Russian women are NOT desperate to leave their country - an unbiased opinion of the American man who has spent in Russia 6 months, traveled to 9 cities and talked to hundreds of Russian people.

Immigration scams: ARE YOU AT RISK?
Any man who even remotely considers the idea of marrying a Russian woman will face the question of immigration scams: that a woman will marry him with the only purpose of gaining residence to his country, and will divorce him soon after the marriage. Is it true that there are many Russian women that will marry a man only for the purpose of immigration? How common are immigration scams in marriages with Russian women?

Why Russian Women? - If you decided to find yourself a Russian wife, you would be inundated with questions of the type "Why Russian Women?" from everybody you cared to share your idea with. Surprisingly, every Russian woman you are writing to will ask the same question: "Why do you want to find a wife in Russia?" After a while, you might start questioning your own sanity in doing the thing which everybody, including your dates in this Internet rendezvous, consider strange enough to request explanations. Here you will find some ready-to-use answers for your family, friends and Russian women you are writing to.

Myths and Reality - There is too much prejudice towards Russian women seeking men, both positive and negative. I call this prejudice "myths", and consider them one by one.

Russian women secrets - Do's and don'ts in your relationship with a Russian lady.

The Universal Crib On Finding A Russian Wife - 101 tips for men seeking a young, beautiful Russian bride: the most compressed, step-by-step guidance on finding, courting and marrying a Russian woman.
---
JUST RELEASED! New E-book by Elena Petrova:
"How To Find And Marry A Girl Like Me"
Comment from the reader:
"This may well turn out to be the best purchase I have made... I hope not too many of my competitors find this book!"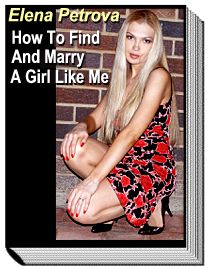 Discover how to find, court and finally marry a beautiful Russian woman... from a beautiful Russian woman!
Find out once and forever what Russian women are really looking for, why they are looking for it and how you can give them exactly what they want!
With "How To Find And Marry A Girl Like Me" you'll learn knock-out techniques that will instantly boost your success rate in dating Russian women - online and in real life. You will have more beautiful girls that want to be with you than you can handle!
And not just ordinary girls! They will be beautiful, intelligent, but most of all - honest and sincere! You will be the one to take your pick!
STOP wasting your time and money in search for a Russian wife... Get it done - painlessly, easily, and certainly! Moreover, have lots of fun along the way!
Yes, you too can marry a girl like the one on the picture... Click here!
---
---