International Dating - When Love Really Means Going The Distance!
By Angela S Davis
Copyright 2005
In today's society, the world really is getting smaller. As we leap from one technological breakthrough to the next, we find that within micro-seconds we can transfer information from one side of the earth to the other. We can live on one continent and be employed by a company on another. Air-travel means that
many people are part of a global workforce that commutes around the globe attending meetings in every international outpost of the company.

This minimizing the world is filtering slowly down through the professional world, and into our personal lives. No longer are we of the mind set that we will one day grow up and marry the boy next door. It happens, but it's just as likely to marry the boy in the next State, or next country ...or the one who lives
on the other side of the world. The Internet is probably the biggest influencing factor on current day international dating.

Throughout history there have been mail-order brides. From the women who were sent to the colonies, to the women who answered small ads from ranchers out west, and more recently, the Russian (and I'm sure other nationalities) who place ads of their own looking for a partner outside of their homelands. Despite this history, finding a mate through some form of media has maintained a "desperate" image - as if the person seeking is unable to find someone to have them locally. The Internet, even with its reputation for "adult" sites has somehow managed to remove some of the stigma, and there is now a healthy and
steadily growing international dating scene.

The big question is always "Can international dating lead to anything permanent"? The answer to this is a resounding YES! Many people are prepared to take a chance on love, and move themselves and their lives to be closer to their overseas loved one. Those who do this find that they are suddenly face-to-face on a daily basis with the name they've been typing too for a period of time, learning how to co-habit with someone who is physically a stranger, whilst at the same time learning how to handle living in a new country. By far the worst of this is being removed from family, and taking the place of communicating with your partner online, you now spend your time communicating with your family online instead!

There are still many people who regard international dating as desperate, and deem any relationship that comes of such an enterprise to be a failure waiting to happen. Ok, so it might happen, but there are never any guarantees in the love and romance game. Even if you shared a sandbox with the partner you marry, there's no guarantee that the flame wont go out and one day you'll wake up and find you have nothing in common with the person who shares your life, your home, your bed. In the best of situations, things go wrong. If the relationship came from an exercise in internet dating, the fallout is messier because then someone is left in a strange country with little by way of personal support system. They then face the situation of either toughing it out in their new country if the local immigration laws permit, or they can return to their homeland and face unemployment amidst the "I told you so" looks of friends.

For every naysayer on whether international dating can turn into a permanent loving relationship, there are two people who can stand together and say "It can work. We are proof of it!"

Whether you're looking for a long-term relationship, or just a little cultural difference, internet dating can offer you the opportunity to meet up with potential partners who may just be the person you've spent your life seeking!
---
About The Author: Looking for information about Dating?Go to: http://www.datingpr.com'Dating PR - Everything About Dating On The Net!' is published by Angela Davis - The Complete A to Z Of
Dating Resources Check out more Dating articles at: http://www.datingpr.com/articles
---
Do you have an article we could publish? We want to hear from you!
Click here to Submit your article
---
READ ALSO:

Wedding Photography - By Roy Barker - Checklist for wedding photos: Pre-, during, and post-ceremony, and reception photos you cannot forget to take!

Jewish Dating: It Pays to Date Like-Minded People - By Drew Harris - ..." find a source of like-minded people to start to get to know." " Wouldn't it be easier to know their respect for God and other people, values and beliefs, mirrors your own?"

The Best Way to Pick Up a Girl - by Paul Kyriazi - You TIMID boys...make a pitch of your shyness! "...don't 'ask her out'. Don't 'take her to dinner'. Get some tickets, and maybe she'll answer you like Cameron Diaz does in 'Charlie's Angels'. 'Tickets? I love tickets!'".

Rejection - Is It Real? - By Carol Chanel - One thing I know about rejection is that it feels real. And even though it rarely is real, it sure feels that way. Why is it rarely real?

This eBook May Bring You the Man of Your Dreams - "Reading this ebook MAY bring you the man of your dreams, but so MAY dying your hair blond, getting a better education, or dumb luck". Read Susan Dunn's tips to learn how to manage your emotional intelligence - "understanding emotions in yourself and others and managing them to make good decisions".

THE FOUR STAGES OF FINDING A MATE - by Melvin Durai - A very amusing analogy of the hideous yet wonderful process of finding a partner. Searching for a mate is just the first stage, according to Durai. ' Playing "hard to get" seems like a good strategy, even if no one is trying to get you. Everyone seems available, and if they're not, just wait a minute or two'.

Ways of attraction - by Yaya. How can you tell whether 2 people fit together in the long run?

The Best Way to Pick Up a Girl - by Paul Kyriazi. Take a chance and make polite conversation. What's the worst that can happen?

Reduce Stress: Honor Your Commitments - by Stephanie Marston, MFT. Keeping your word is critical to reducing your stress and creating a life you love, especially keeping promises to yourself.

What You Should Know About Buying Engagement Rings Online - by Paul Kozar. Buying engagement rings online doesn't have to be confusing or intimidating.

The Top 10 Reasons to Postpone Sex - by Susan Dunn, MA, EQ and Dating Coach

SHOOTING THE BULL: Slaying Dragons and Finding Love - by Dawk Ziti, PhD. The candid and perplexed experience of Dawk Ziti in his search for a Russian bride: "I was pleased with my ditty and immediately sent a mass mailing to 10 women who were on my list. I got no reply, but instead of panicking, I decided to give them a few minutes to read the letter. With the time differential between the US and Eastern Europe, they were probably asleep right then anyway." If you aren't sure that search for a Russian bride is for you, you MUST read this to remove any doubts about dropping this idea once and forever!

Why Look for a Wife in Russia?
By Clinton Carey: "One day, over a beer with my brother, he suggested to me that I place an ad on the Internet with a matchmaking agency. I laughed, and dismissed the idea. As the weeks went on, I thought to myself, "Why not? I travel a lot. I don't have time to meet women normally, and I definitely don't like the bar scene with its' head games and lack of quality in both men and women. So, I placed an ad..."

Myths and Reality
There is too much prejudice towards "Russian brides" - Russian women seeking men for marriage, both positive and negative. I call this prejudice "myths", and consider them one by one.
Why Russian Women? - If you decided to find yourself a Russian wife, you would be inundated with questions of the type "Why Russian Women?" from everybody you cared to share your idea with. Surprisingly, every Russian woman you are writing to will ask the same question: "Why do you want to find a wife in Russia?" After a while, you might start questioning your own sanity in doing the thing which everybody, including your dates in this Internet rendezvous, consider strange enough to request explanations. Here you will find some ready-to-use answers for your family, friends and Russian women you are writing to.
Russian women secrets - Do's and don'ts in your relationship with a Russian lady.

The Universal Crib On Finding A Russian Wife - 101 tips for men seeking a young, beautiful Russian bride: the most compressed, step-by-step guidance on finding, courting and marrying a Russian woman.
---
JUST RELEASED! New E-book by Elena Petrova:
"How To Find And Marry A Girl Like Me"
Comment from the reader:
"This may well turn out to be the best purchase I have made... I hope not too many of my competitors find this book!"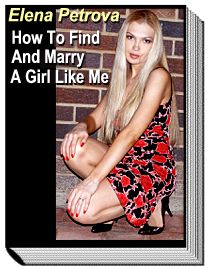 Discover how to find, court and finally marry a beautiful Russian woman!
This is the only book written by a beautiful Russian woman married to a western man - for more than 5 years! - and who is also the owner of a highly successful Internet dating agency.
Find out once and forever what Russian women are really looking for, why they are looking for it and how you can give them exactly what they want!
Get responses on your letters to beautiful Russian women - 9 out of 10, GUARANTEED!
With "How To Find And Marry A Girl Like Me" you'll learn knock-out techniques that will instantly boost your success rate in dating Russian women - online and in real life. You will have more beautiful girls that want to be with you than you can handle!
And not just ordinary girls! They will be beautiful, intelligent, but most of all - honest and sincere! You will be the one to take your pick!
STOP wasting your time and money in search for a Russian wife... Get it done - painlessly, easily, and certainly! Moreover, have lots of fun along the way!
Yes, you too can marry a girl like the one on the picture... Click here!
---
---