---
AND THE WINNERS ARE...

Why Look for a Wife in Russia?
By Clinton Carey: "One day, over a beer with my brother, he suggested to me that I place an ad on the Internet with a matchmaking agency. I laughed, and dismissed the idea. As the weeks went on, I thought to myself, "Why not? I travel a lot. I don't have time to meet women normally, and I definitely don't like the bar scene with its' head games and lack of quality in both men and women. So, I placed an ad..."
A "Fairy Tale"
By James Eisele: "Once upon a time, there was a woman named Leeah who lived in a very small town not too far from the top of the world. She was quite pretty, though she would not let anyone else know that she believed it, when they told her so..."

TONGUE IN CHEEK: The Dirty Lowdown on International Dating
by Dawk Ziti: "One day, Lisa and I were driving around, and she said, "I would very much like to get married." I did not stop to ask her whom she had in mind; instead, I zoomed into a church, perhaps a little too fast, as I barreled past the purvis, plowed through the ceiling-to-floor stained-glass window, and crashed into the first few rows of pews. No harm was done-to my car-as the savior was watching over me; I had chosen a good co-pilot..."

There's No Shipping Cost for True Love
By Jim Collins: "You should see Don's wife," said Vern, "I'm tellin' ya, she could be a model. He got her from Russia -- one of those mail order brides. He says she keeps the house spotless and hardly ever complains."

Trip Report
by Dave Fuller: "She seemed to lack a lot of self-confidence and was a sad person. Well, did I read her wrong from her letters. She was none of these. She was charming, cheerful, intelligent and friendly. Her English was not very good but we could communicate at a certain level. She was also very beautiful as well..."

My other half, my soul mate
by Warren D. Wheatle: "I remember a conversation I had with my Father one day on the verandah. Saying to him that I really think the person I am to be with is not even here in Australia, but somewhere else in this big world. And the chances of us ever meeting were millions to one..."

Our lives changed in seconds...
By Ernesto Martinez: "My wife died, leaving me with three wonderful kids Bruno (6 years old), Monica (4 years old), and Erick (2 years old). Our hearts broken, but in god we trusted and we accepted real life. Time went by and I begun to understand how important a mother is at home. To find an answer to this situation I started looking for a partner, for myself and my children..."

In Search of the Russian Gem/ Russian rose
By Andrew Bishop: "For you who have experienced the crooks and crooked, you defiantly know what I am talking about. Many lost dollars earned in my dreaming youth, spent for an address that has little truth..."

Just a Start - A letter to My Family
by Rick Gilman: "From the beginning, I thought Irina was a bright girl, and sweet too. And of course I though she was very pretty - a brunette with lovely green eyes, very slim..."

I'm doing my homework
by Paul Bannon: "There is something appealing and very romantic about finding a Russian lady. Once you experience the sound of her voice and the touch of her hand you will be caught in the grip of love. Russian ladies are sweet, intelligent, and beautiful women just waiting for a western man to sweep her off her feet or should I say she will sweep you off your feet. ..."

My personal experience of finding a Russian wife
by Greg Wilson: "My personal experience of finding a Russian wife began several years back. I was home one day watching a television program about several beautiful Russian women indicating that they were interested in marrying men from countries outside the former Soviet Union..."

E-groups: A Gold Mine of Information and Help
by Stephan Wanzek: "The fact you are reading this right now proves that you have found one of the best sources for information about FSUW available for men, the Russian Bride Cyber Guide..."

Strange way maybe the best way
by Steve Chapple: "It seems a rather unusual way to meet your wife, but maybe it's the best way getting to know someone's personality via letters and conversations before meeting in person and hormones start affecting thoughts and decisions..."

In Search of my Soulmate
By Charles Smith: "Since the break-up with my last American girl friend, I have been lonely and willing to try about anything. I contacted a Russian romantic tour company in the States and started to use their email service to correspond with various women..."

So many sites out there, so many women and so few men
By Randy Gates: "Many companies make promises, say things that aren't true or never live up to what they promise..."

My Experiences looking for a Russian Bride
by Anonymous: "I spent a wonderful, amazing week each with the two Russian beauties in Cyprus. My relationship with my first girlfriend advanced, and we had a great time together. But still, it moved slowly. But with the new girl, I had a totally awesome time! She was quite wonderful in a different way than I had expected. She spoke English fairly well, and her personality was fantastic! She was quite a kitten, and she made me feel like a king. ..."
---
Do you have a story to share? We want to hear from you!
Click here to Contact us
---
JUST RELEASED! New E-book by Elena Petrova:
"How To Find And Marry A Girl Like Me"
Comment from the reader:
"This may well turn out to be the best purchase I have made... I hope not too many of my competitors find this book!"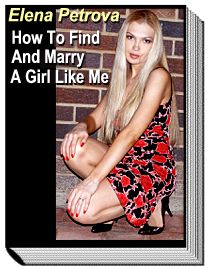 Discover how to find, court and finally marry a beautiful Russian woman!
This is the only book written by a beautiful Russian woman married to a western man - for more than 5 years! - and who is also the owner of a highly successful Internet dating agency.
Find out once and forever what Russian women are really looking for, why they are looking for it and how you can give them exactly what they want!
Get responses on your letters to beautiful Russian women - 9 out of 10, GUARANTEED!
With "How To Find And Marry A Girl Like Me" you'll learn knock-out techniques that will instantly boost your success rate in dating Russian women - online and in real life. You will have more beautiful girls that want to be with you than you can handle!
And not just ordinary girls! They will be beautiful, intelligent, but most of all - honest and sincere! You will be the one to take your pick!
STOP wasting your time and money in search for a Russian wife... Get it done - painlessly, easily, and certainly! Moreover, have lots of fun along the way!
Yes, you too can marry a girl like the one on the picture... Click here!
---
RECOMMENDED:
New Ebook You Cannot Afford To Miss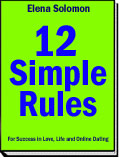 Dating can be complicated... it doesn't have to be! You can jump start your love life - or you can keep wandering in the dark; the choice is yours!
When it comes to dating, most men make the same silly mistakes with women - over and over, with disastrous results.
Do you want to do BETTER than 99% of other guys? Click here
---